BY PGF

1 year, 2 months ago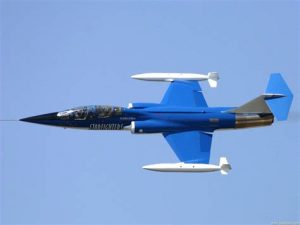 Pictured: F-104 Starfighter
Due to Johnson designing the F-104 to be better than any other aircraft, many other countries were interested in the F-104. At one point in time, the F-104 was operated by 15 different militaries.
This has always been one of my favorite aircraft. As a boy, I had a die-cast F-104 and spent seemingly endless hours destroying everything in its path. Here's an interesting background on his work.
The Man Behind Lockheed Skunk Works
SR-71 Blackbird

Following the introduction of the U-2, both the USAF and CIA loved the aircraft. However, the 1960 U-2 incident [ Wiki ] highlighted to the USAF and CIA that the U-2 wasn't invincible and needed something to prevent that.

Arming U-2s wasn't an option- this would decrease the service ceiling of the U-2 and make it easier for Soviet radars to detect. As such, the CIA contracted Lockheed to develop a new, undetectable spy plane.

Lockheed contracted Johnson, then head of Lockheed Skunk Works, to develop the U-2s replacement. Johnson soon realized that arming the aircraft was nearly impossible, so chose another route: speed.

Johnson and his team developed the A-12 for the CIA. During the 1964 Presidential Election, Republican Barry Goldwater and Democrat Lyndon B. Johnson were having a televised debate.

Here, Goldwater accused Lyndon Johnson of allowing the Soviets to out compete the US. As such, LBJ decided to reveal the A-12 program and the fact that the USAF was implementing a variant of the A-12, called the SR-71.

Kelly Johnson had designed the fly higher than the U-2, at 85,000 ft (26,000 m). Instead of giving the SR-71 weapons, Johnson designed the SR-71 to travel at Mach 3.32, making it the fastest aircraft ever.
Herschel may have posted something about Mr. Johnson previously, but if you haven't seen it, watch the Video Documentary of his career. They don't make 'em like that anymore.