BY PGF

11 months, 2 weeks ago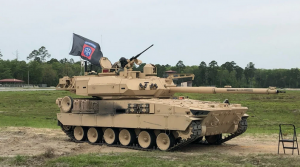 The Army awarded General Dynamics Land Systems a contract for its Mobile Protected Firepower light tank. (US Army photo)
Popular Science: Via Instapundit.
When it comes to crossing rivers on bridges, all the technology of modern warfare is still bound by the hard limits imposed by the laws of physics—the structure needs to be able to support the vehicle that's on it. To try to cope with this problem, the Army is investing in a lighter tank than its current battlefield behemoth, the M1 Abrams main battle tank. This new vehicle, which is still known by its descriptive moniker Mobile Protected Firepower, was promoted at the Association of the United States Army conference held in Washington, DC, from October 10-12.

The Mobile Protected Firepower (MPF) vehicle weighs in at 38 tons, which is heavy by all standards, except it is light compared to the 70 tons of heft of an Abrams tank. That means it can go places the Abrams can't, expanding how and where the Army can effectively fight war from vehicles. The MPF will also feature fire control and situational awareness sensors, which can allow enemy location data to be shared across vehicles in formation.

The MPF is designed to accompany Infantry Brigade Combat Teams, which are intended primarily for travel on foot. These formations, which consist of between 3,900 to 4,100 people, incorporate some vehicles, but are distinguished from Armored and Stryker Brigade Combat Teams, which use roughly heavy and medium-armored vehicles to transport soldiers and weapons around the battlefield.
Breaking Defense: (from June)
The Mobile Protected Firepower program is part of the Army's Next-Generation Combat Vehicle portfolio, which is developing future ground vehicles as part of the services' broader, multi-billion modernization effort that includes the Optionally Manned Fighting Vehicle.
Optionally Manned Fighting (ground) Vehicles and Unmanned Fighting (ground) Vehicles can now be added to the vernacular that includes UAVs.
The Army's stated acquisition objective for the program is 504 vehicles. The first production vehicle will be delivered in "just under" 19 months, Dean said, a timetable that roughly hits around December 2023. That timeline is driven in part by the time it takes to get long-lead time parts, Dean said.

Moving into production, the Army and GDLS will have to be diligent to avoid supply chain issues as production ramps up. Dean said the program was already experiencing "challenges" in the supply base.

"We are seeing challenges in the supply base right now both in cost and availability [of] materials, as well as competition for other components, particularly in the electronic space where electronic chips are in big demand," Dean said, adding the Army had "some comfort" because the proposals had "reasonable control" over their supply chain.
So, General Dynamics can't get raw materials and parts; why? Aren't these sourced entirely in the US? Building fighting machines based on a global JIT supply chain seems fairly idiotic. If there's an actual war, not one of those banker's wars, mind you, but a real war, how can the United States satisfy its national strategic interests if it can't build fighting machines and field trained fighting men? America does not appear to be a serious power anymore. The best part of the top photo is the little step stool. Is that for Generals to look down the barrel?
Here's a scale model from AUSA's recent trade show and exhibition: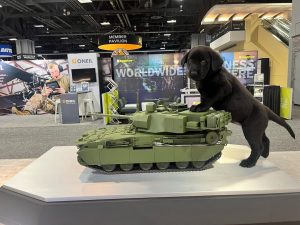 Also, at the show – (Why do we get the feeling many of these will be used in CONUS?)
AbramsX: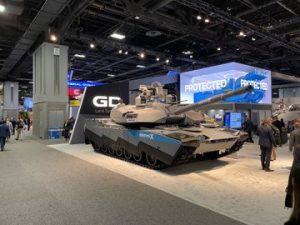 TRX Breacher: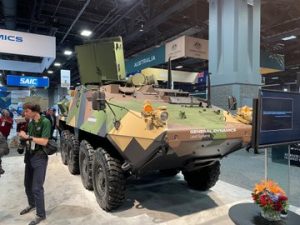 StrykerX: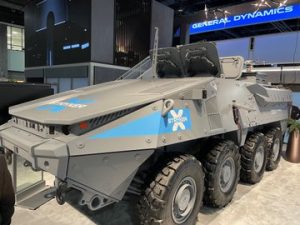 Stryker Leonidas: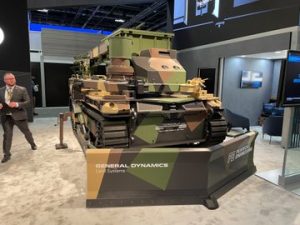 Better Photo of the Leonidas: