BY Herschel Smith

14 years, 3 months ago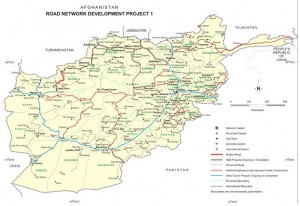 Afghanistan's ring road, courtesy of the Asian Development Bank.
Roads, logistics and transit have long been a focus of The Captain's Journal.  Naturally, we're interested to see the beginnings of one key element in the U.S. strategy, reclaiming the ring road.
Rocket-propelled grenades streaked through the fading light and exploded behind the US convoy patrolling in eastern Afghanistan. Muzzle flashes flared in the gloom as Taleban insurgents opened up with heavy machineguns and AK47s. Delta company was caught in an ambush.

Foul-mouthed soldiers swung their weapons towards a complex of mud-walled buildings 800 yards away. "Get some!" roared the gunner of an M19 grenade launcher. The thud of return fire from the Americans' vehicle-mounted weapons began.

Soldiers inside their Humvees opened bullet-proof windows and slid their rifles through. Those on the right side of the convoy scrambled out and brought their weapons to bear on the sparks flashing in the distance. Red tracer flew towards the buildings.

"Three o'clock," someone shouted. Grey smoke trails lingered in the air where the rocket-propelled grenades had exploded. Under orders to "shoot conservative", combat veterans tried to calm adrenalin-pumped novices. "Take your time," one shouted. "One burst every ten seconds."

The slew of hot shell casings from the gunners' turrets that had cascaded into the vehicles began to ease. A foot patrol cut around the insurgents' flank as darkness fell, running hard through wheatfields, ducking every 50 yards. No one spoke. Everyone sucked in air.

Afghan National Police went with them as they pushed through the mud compounds. Breaking down doors by torchlight they found terrified women and children inside who said that they knew nothing. Some shielded their dignity by facing walls. The only man there of fighting age was blind.

Attack helicopters and F15 jets growled somewhere in the skies above and confirmation came through of two kills. The rest of the attackers had vanished. "They're so much lighter than us," 3rd Platoon's commanding officer, Lieutenant Adam Novak, said. "They break faster."

Part of the first ripple in the US troop surge to Afghanistan, Delta company and its sister units are securing a 67-mile stretch of the Kabul to Kandahar highway, the country's main north-south road. Sixty per cent of Afghanistan's population live within 30 miles (50km) of one of the country's main highways, collectively known as the "ring road".

"The single biggest measure the Afghan people have in their mind of whether or not there is security is their ability to travel with freedom," Lieutenant-General Jim Dutton, Nato's deputy commander in Afghanistan, told The Times. Reclaiming the ring road is a key plank of US and Nato strategy.
We have long recommended the securing of that bad stretch of what is otherwise called Highway 1, especially from Kandahar to Kabul.  Logistics is a nightmare on this road, and many hired Afghanistan drivers have perished at the hands of the Taliban.
It was the very astute Philip Smucker who said "If Afghanistan is to ever be secure, it must first be paved."  We linked his interview in Backwards Counterinsurgency in Afghanistan, and if you haven't listened, you have another chance to hear this important conversation.
While we have strongly recommended reclaiming the ring road for purposes of logistics, security and development, it is important to remember what "reclaiming" the road means.  It doesn't mean building it or paving it, although that is certainly included.  It also means kinetic operations by infantry to find and kill the enemy.
If the Taliban are left alive and the roads are constructed, it only provides the Taliban with a means to rapidly travel from one place to another to collect their taxes and enforce their government.  Roads are inanimate objects, and alone they cannot compete with killers such as the Taliban.  Roads are at best one tool, and for this reason, The Captain's Journal has recommended that more troops be sent to Afghanistan.
TCJ concurs with Philip concerning roads.  TCJ also claims that until there is no safe haven for the Taliban, until his sanctuary has been turned against him, until the terrain in which he raises his largesse and recruits his fighters has become his death trap, Afghanistan will not be secure.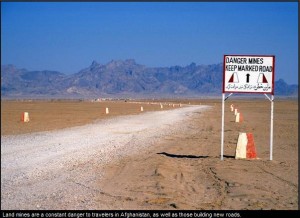 Mines and IEDs are a constant threat, but paving the roads means an immediate reduction in IEDs.  Digging in pavement is harder than digging in dirt.
Prior:
Backwards Counterinsurgency in Afghanistan
Afghanistan, Roads and Counterinsurgency