BY Herschel Smith

13 years, 7 months ago
We have discussed the difficulty of combat outposts in the mountainous Eastern part of Afghanistan, and the tactical problems caused by attempting to defend low terrain.  This contributed in no small part to the casualties at Wanat and Kamdesh.  A fire fight around Kamdesh typically looked something like this (the scene is of COP Keating from OP Fritschie).
The terrain surrounding COP Bari Alai is different.
Hostile sniper and automatic weapon fire is a normal part of life here, provided by an enemy who strains to dislodge Afghan National Army and International Security Assistance Forces from the mountaintop in eastern Afghanistan's Kunar province.

For example, in a 74-day period starting in February there were more than 50 recorded attacks against the base, U.S. Army officials said. The Soldiers who live here are well aware of how contested the base is.

"If you freeze up in combat, you're either not ready to be a leader or you aren't ready for a place like this," said U.S. Army Spc. Shawn D. Hufford, of Evansville, Ind., the mortar noncommissioned officer attached to 2nd Platoon, Troop C, 3rd Squadron, 61st Cavalry Regiment, Task Force Destroyer.

The base was set on its high summit in the Ghazibad district in March 2009 and manned by the Afghan National Army. Officials named it for an ANA Soldier killed earlier that year.

It has been almost a year since a subsequent attack killed five Afghan soldiers, five ISAF advisors and a civilian interpreter, causing a fire that levelled much of the post. Despite persistent efforts, the enemy has not been able to duplicate that act since.

The base – 3,000 feet above sea level – oversees three valleys and at least ten major villages, providing a vast overlook of the surrounding territory, according to U.S. Army 1st Lt. Richard R. Rowe, 2nd platoon's leader.

"It's all about terrain," Rowe said. "It's a pretty volatile stretch."

This position helps provide protection for neighbouring communities, the nearby district center and Afghanistan National Security Forces – as well as ISAF – as they conduct business with area residents.

The relative isolation of the post is an illusion, as ANA Soldiers at the post maintain contact with Afghan National Police who secure the communities below.

"We have a good partnership between the ANA and ANP," Rowe said. "Now that it's established, I can't imagine not having it."

Although there are taller mountains nearby, the post's position is high enough to protect the Soldiers and low enough to help protect the community, Rowe said.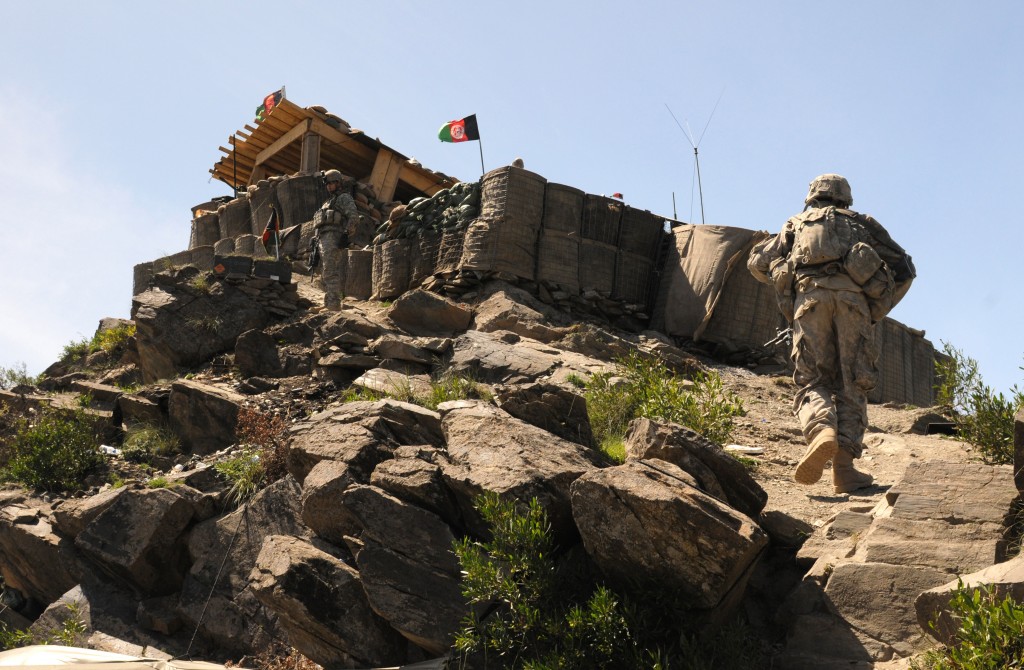 But recall that this is also the scene, approximately one year ago, of around 100 Taliban fighting uphill towards the COP, resulting in the deaths of three U.S. Soldiers due to collusion between the Taliban and Afghan National Army soldiers.  Terrain is important, but it cannot overcome treachery.  When possible though, the physical positioning of COP Bari Alai is an example of a wise tactical choice.