BY Glen Tschirgi

12 years, 3 months ago
A fascinating speech by outgoing Secretary of Defense, Robert Gates, on June 10 in Berlin at the Security and Defense Agenda think tank.
From this AP article:
BRUSSELS (AP) – America's military alliance with Europe – the cornerstone of U.S. security policy for six decades – faces a "dim, if not dismal" future, U.S. Defense Secretary Robert Gates said Friday in a blunt valedictory address.

In his final policy speech as Pentagon chief, Gates questioned the viability of NATO, saying its members' penny-pinching and lack of political will could hasten the end of U.S. support. The North Atlantic Treaty Organization was formed in 1949 as a U.S.-led bulwark against Soviet aggression, but in the post-Cold War era it has struggled to find a purpose.

"Future U.S. political leaders – those for whom the Cold War was not the formative experience that it was for me – may not consider the return on America's investment in NATO worth the cost," he told a European think tank on the final day of an 11-day overseas journey.
The Washington Post summarized it this way:
BERLIN — Defense Secretary Robert M. Gates rebuked some of America's staunchest allies Friday, saying the United States has a "dwindling appetite" to serve as the heavyweight partner in the military order that has underpinned the U.S. relationship with Europe since the end of World War II.

In an unusually stinging speech, made on his valedictory visit to Europe before he retires at the end of the month, Gates condemned European defense cuts and said the United States is tired of engaging in combat missions for those who "don't want to share the risks and the costs."

"The blunt reality is that there will be dwindling appetite and patience in the U.S. Congress, and in the American body politic writ large, to expend increasingly precious funds on behalf of nations that are apparently unwilling to devote the necessary resources … to be serious and capable partners in their own defense," he said in an address to a think tank in Brussels.
There are several points worth noting in Gates' speech. The most obvious one is aptly noted in both articles: European members of NATO have been starving their defense budgets for years and it is finally becoming painfully, no, embarrassingly clear to everyone by the Afghanistan and Libya campaigns. The AP story notes the contrast between the "mightiest military alliance in history" and the patent failure of this alliance to bring about any kind of victory against a third-rate, tin-pot dictator in Libya:
To illustrate his concerns about Europe's lack of appetite for defense, Gates noted the difficulty NATO has encountered in carrying out an air campaign in Libya.
"The mightiest military alliance in history is only 11 weeks into an operation against a poorly armed regime in a sparsely populated country, yet many allies are beginning to run short of munitions, requiring the U.S., once more, to make up the difference," he said.
Is it any wonder that the Taliban have adopted a strategy of attrition? The only, credible military force in the field seems to be the U.S., the Canadians and the British and the latter, two have already indicated that they will be pulling out of Afghanistan entirely in the near future.
Add to this the assessment by Gates that, while all NATO member countries voted in favor of intervention in Libya, fewer than half those members have made any contribution toward the effort.
On a political level, the problem of alliance purpose in Libya is even more troubling, he said.
"While every alliance member voted for the Libya mission, less than half have participated, and fewer than a third have been willing to participate in the strike mission," he said. "Frankly, many of those allies sitting on the sidelines do so not because they do not want to participate, but simply because they can't. The military capabilities simply aren't there."
Afghanistan is another example of NATO falling short despite a determined effort, Gates said.
He recalled the history of NATO's involvement in the Afghan war – and the mistaken impression some allied governments held of what it would require of them.
"I suspect many allies assumed that the mission would be primarily peacekeeping, reconstruction and development assistance – more akin to the Balkans," he said, referring to NATO peacekeeping efforts there since the late 1990s. "Instead, NATO found itself in a tough fight against a determined and resurgent Taliban returning in force from its sanctuaries in Pakistan."
So, to sum up what we have learned from Secretary Gates, the chasm between the military and political capabilities of the U.S. and its NATO allies has become so large that, for all practical purposes, NATO has become a toothless organization that cannot even fight a meager enemy like Qaddafi for any length of time without substantial help from the U.S. and cannot be counted on to supply meaningful levels of troops in hot zones like Afghanistan. And despite the strong punch delivered by Gates, at least some in Europe, according to The Washington Post are glad that it is being delivered:
[Jonathan]Eyal, of London's Royal United Services Institute, said the speech would be "very welcome" in Britain and France, however, because "privately this is what officials have articulated for years." Gates "identified the key problem, which remains Germany," he said. "You can argue that there are many countries that do not contribute their fair share, but most of the others don't matter, and smaller ones would likely fall into line if Germany did."
Eyal said: "It's a shame politicians say what they think only when they are about to depart, but the Europeans needed this cold shower, and if it's up to Gates to administer it, so be it."
The speech amounted to "an outburst of frustration that is bigger than bottom line of defense cuts," he said. "It's about the lethargic way the Europeans walk on the world stage," lacking a sense of urgency and thinking that "at the end of the day the Americans will always be there and do Europe's bidding."
But the speech "hasn't caused a great rift," Eyal said. "Deep down, there is no one in Europe that doesn't think that what Gates said is absolutely the truth. No one argues he's exaggerating problem. It's not a rift. It's worse. It's an act of indifference." The missing reaction in Europe, he said, is to reconsider burden-sharing and "how the Europeans can contribute more to the common pot."
All this is very well and needed to be said. But I cannot help but speculate that perhaps Gates had more than just the Europeans in mind when he made these statements.
Could it be that Gates was placing a shot across the bow of those in the U.S. (both in and outside of the Obama Administration) calling for reductions in U.S. military spending? Looking at Gates' remarks as a rebuke to U.S. policymakers makes equal sense.
How did Europe become so militarily defenseless? It happened as an irresistible, default choice when European capitals opted for heavy social spending at a time of declining birthrates and economic productivity.
This is the very same choice that is facing the U.S. today. The U.S. Congress is at this very moment locked in a bitter struggle against an inescapable reality: there is simply not enough money coming into the U.S. Treasury to fund the present, enormous welfare entitlements and a robust military. The decision must be made and it must be made now to either gut our military or seriously reform the welfare state as we know it. In all likelihood, given the rate at which the budget deficit is growing (due in large part to a terrible compromise on the 2011 Budget and less-than-expected revenues from a stalling economy), the markets and foreign lenders will not be content to wait until the 2012 elections for a responsible plan to control the deficit.
So, whatever satisfaction we get, whatever approval we may have for Secretary Gates' jabs at NATO members for their pathetic military budgets, the U.S. seems to be taking the very same road as Europe. There are already too many in Congress and in the political class class who gladly concede that the Defense budget should be subjected to deep cuts in order to preserve our welfare state. Here is a typical example from Rep. Barney Frank and Rep. Ron Paul. While this is expected from Democrats, even "conservatives" have been making similar noises. See this piece on Haley Barbour for example.
This is not to say that any cuts to the Defense budget are out of the question. The Captain's Journal has long advocated smarter spending, as with the proposed, new landing craft for the Marines. Savings can certainly be found in better management and prioritizing. In light of Gates' speech, it is worth re-examining the costs of keeping troops stationed in Europe versus the benefits of having troops pre-deployed close to the Middle East and to Russia. But, in the end, these savings will never amount to enough to reduce the Federal deficit in any meaningful way or balance the Federal budget.
The only way to do that is to either gut Defense or gut Entitlements.
I do not believe that the U.S. can make moderate cuts to both for the simple reason that the trajectory of Entitlement spending is such that it will eat up the entire Federal tax revenues by 2049. As shown in this chart from The Heritage Foundation (click to enlarge):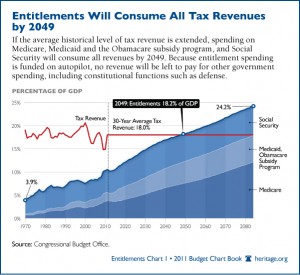 The U.S. faces now the very same choices that the Europeans faced some 50 years ago: guns or butter; continue funding social spending or provide for a credible military. We simply cannot do both and, as noted above, it is no longer possible to delay the decision. If we elect to cut Defense spending (and it will mean significant cuts) there should be no illusion about the results. We will soon be in the same position as Britain and France, sharing aircraft carriers; we will be unable to protect any national interest beyond our borders for any real length of time; we will be consigned to watching as thugs and fanatics remake the world into one of their liking. And you can be sure that such a world will not be to our liking. Unlike the Europeans, however, there will be no United States to come to the rescue.
The only answer, in the end, is to radically alter the welfare society that we have become.   Even if we were to gut Defense spending, that would be merely a sacrificial lamb to the ever-growing appetite of entitlements.  For proof we need only look to Europe to see that their decades of sacrificing Defense for social benefits has left them now facing the stark reality that there is nothing left to cut except the social spending.  But any attempt to do so results in riots and anarchy by a people too long accustomed to pampering and privilege.    God forbid that the U.S. reaches that stage of decay.
(more…)