BY Herschel Smith

13 years, 2 months ago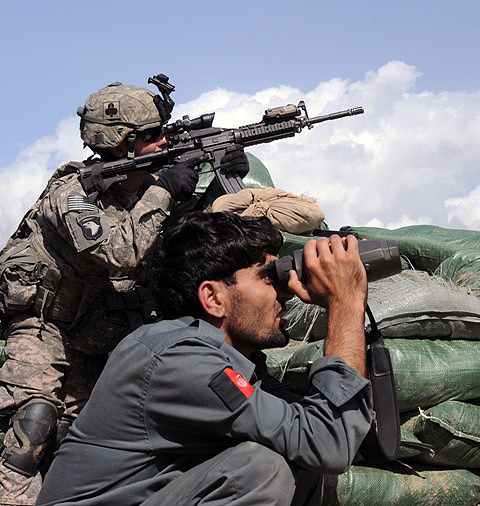 U.S. Army Pfc. Ryan L. Carson of Richmond, Va., a member of the Company Intelligence Support Team with Company A, 1st Battalion, 327th Infantry Regiment, Task Force Bulldog, and an Afghan National Police officer search the nearby hillside just prior to a more than three-hour firefight at the Shege East ANP checkpoint Sept. 18th.
In the Kunar Province, "An estimated two dozen insurgents fired rocket-propelled grenades, heavy machine guns and small arms at the post in eastern Afghanistan's Kunar Province. International Security Assistance Forces and ANP responded in kind with small arms, heavy machine gun and mortar fire. Neither ISAF nor ANP personnel were injured during the attack."
In the Paktya Province:
One Afghan security contractor and five insurgents were killed when a squad-sized element of insurgents attacked three bases near Gardez, Paktya province, Sept. 24. At least two others were injured.

The attack began when insurgents opened fire on the Forward Operating Base Goode (Gardez) entry control point with AK-47 rifles at about noon, said U.S. Army Capt. Scott M. Frederick, the FOB commander of FOB Lightning. One insurgent was killed and a truck belonging to a respected village elder was hit by a rocket-propelled grenade and set aflame in this initial attack.

After coalition forces suppressed the first wave of the attack, four insurgents who had been wearing suicide vests removed their explosive vests and began firing on the entry control point with AK-47 rifles. All four were killed. One of the suicide vests "cooked off," but caused no damage. Coalition forces seized the other three before they detonated.

The small group of surviving insurgents escaped to a nearby wadi, or dry riverbed, where they were fired upon by U.S. troops at FOB Lightning. The insurgents retreated to the tree line and began firing on both FOB Lightning and FOB Thunder, an adjacent Afghan National Army installation.

Suddur, an Afghan National Army soldier in Garrison Kandak, 203rd Thunder Corps was guarding FOB Thunder's entry control point when the attack was under way, and described the events.

"At first it was just a few people firing, we thought it was [celebratory fire for] a wedding," he said. "Then, the firing increased dramatically, and we called the quick reaction force."

The firefight went on uninterrupted for about 20 minutes, and sporadic gunfire continued for at least another hour. Rounds could be heard ricocheting inside the wire of both installations.
In the Khost Province:
U.S. Apache attack helicopters virtually wiped out a platoon-size insurgent force that was assaulting a combat outpost in eastern Afghanistan's Khost province Sept. 21, according to coalition spokesmen.

But while the AH-64 Apaches were the agents of the insurgents' destruction, a combination of at least one unmanned aerial vehicle and ground-based surveillance cameras was the key to identifying the insurgents before they were able to launch their attack, according to an account of the battle published online by Task Force Rakkasan, which is built around the 3rd Brigade of the 101st Airborne Division (Air Assault). The unmanned aerial vehicle was "an organic brigade UAV system," said TF Rakkasan spokesman Maj. S. Justin Platt.

Coalition forces suffered no casualties during the multi-hour nighttime battle at Combat Outpost Spera, said Platt. Nor were there any reports of civilian casualties.

COP Spera, located about 10 miles from the Pakistan border, is manned by soldiers from TF Rakkasan's A Troop, 1st Squadron, 33rd Cavalry Regiment, as well as Afghan forces. Platt declined to be more specific about the size of the coalition force at Spera, but according to an April story by the Associated Press, "the outpost is regularly manned by one U.S. platoon of 20-30 troops serving 10-week rotations along with an Afghan National Army company about 100-strong."
These instances are positive in their engagement of the enemy, and some of the engagement involves patrols.  All of the engagements involve patriotic Soldiers doing their duty, and any time the Taliban masses forces against U.S. troops, they lose badly or at least have a low kill ratio compared to U.S. troops.  Not a single casualty occurred in the three engagements detailed above.  This is very good.  Very good indeed.
But as we proceed through this campaign, we will win or lose based on whether these engagements are within or without the confines of FOBs.  We need to be chasing the enemy and killing them in the hills and tree lines in which they hide.  Recall the boys in the Korengal as reported by C. J. Chivers?
Prior: The Five Hundred Meter War