BY PGF

11 months, 3 weeks ago
The future of America:
A North Philly owner says he's had enough violent crime at his gas station so he's hired these guys to protect his customers and store.

Does this make you feel safer? Or uncomfortable. pic.twitter.com/ZOXvUxTvyW

— Jason Martinez (@JasonFox29) December 6, 2022
Story at Infowars.
Private security is a fast-growing business in the US. As America becomes a third-world country, one future aspect will be private militia, walled cities, and economic security zones. Many envision a return to the city-state model.
Detriot:
Lima Peru: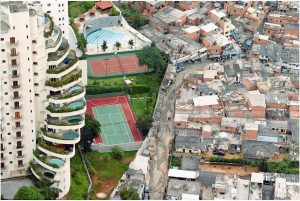 Security concerns are increasingly paramount. Government law enforcement continues to devolve into a political tool of oppression to prop up the corrupt regime. Nowhere is this more evident than leftist controlled major cities being evacuated by anybody that has the money to get out.
H/T Ed Driscoll at Instapundit