BY Herschel Smith

12 years, 9 months ago
Do you recall what Tim Lynch said about battle space weight?
Many of their Marines are suffering chronic stress fractures, low back problems as well as hip problems caused by carrying loads in excess of 130 pounds daily.  "We're fighting the Mothers of America" said one; if we lose a Marine and he was not wearing everything in the inventory to protect him that becomes the issue.  Trying to explain that we have removed the body armor to reduce the chances of being shot is a losers game because you can't produce data quantifying the reduction in gun shot wounds for troops who remain alert and are able to move fast due to a lighter load.
Do you recall what I said?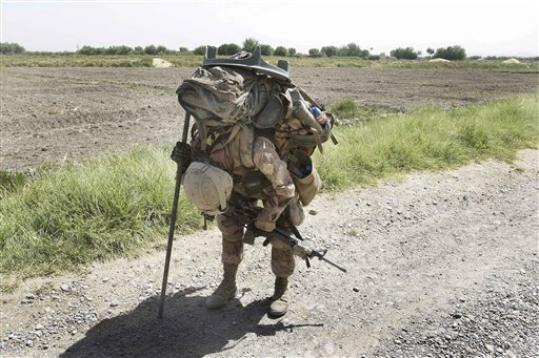 This Marine is carrying his backpack filled with food, hydration system, clothing, etc., and is also carrying ammunition, weapon, body armor, and other equipment.  He is likely going "across the line" at 120 to 130 pounds.  He is suffering in heat and with heavy battle space weight.  For weight lifters like me, let's put this in terms we can understand.  This is like putting three York 45 pound plates in a backpack and humping it for ten or fifteen miles in 100+ degree Fahrenheit weather.

Battle space weight is a recurring theme at The Captain's Journal, and will remain so.  Money should be devoted to the weight reduction of SAPI plates in body armor and other low and even high hanging fruit.  The weight of water is decided by God and cannot be altered.

Another salient point bears down on us.  This is why women are not allowed in Marine infantry (or Army Special Forces), and why women suffered an inordinately high number of lower extremity injuries (leading to ineffective Russian units) when they deployed with the Russian Army in their losing campaign in Afghanistan.  Just like God decides the weight of water, He also decides the physiques of men and women.
And NPR weighs in.
Soldiers and Marines in Iraq and Afghanistan routinely carry between 60 and 100 pounds of gear including body armor, weapons and batteries.

The heavy loads shouldered over months of duty contribute to the chronic pain suffered by soldiers like Spc. Joseph Chroniger, who deployed to Iraq in 2007.

Twenty-five years old, he has debilitating pain from a form of degenerative arthritis and bone spurs. "I mean my neck hurts every day. Every day," he says. "You can't concentrate on anything but that because it hurts that bad."

Like many soldiers and Marines, Chroniger shouldered 70 to 80 pounds of gear daily.

A 2001 Army Science Board study recommended that no soldier carry more than 50 pounds for any length of time.

"We were doing three, four, five missions a night sometimes," Chroniger says. "You're jumping out. You're running. I mean it hurts — it hurts."

Muscle strain is usually a short-term condition that has always been prevalent among soldiers.

But after a decade of war, the number of acute injuries that have progressed to the level of chronic pain has grown significantly.

According to the Department of Veterans Affairs, veterans of the wars in Iraq and Afghanistan who retired with musculoskeletal conditions grew tenfold between 2003 and 2009.

Col. Stephen Bolt, chief of anesthesia at Madigan Army Medical Center in Tacoma, Wash., says the Army has started deploying physical therapists to serve with some infantry brigades in combat areas.

"The faster you can address some of those issues at the clinic level, the less likely you are to see those injuries progress to a true chronic-pain state that's going to require them to be evacuated from theater and replaced by someone else," Bolt says.

But that's a relatively new concept.

Col. Diane Flynn, chief of pain medicine at Madigan, says chronic pain is complex and challenging for the patient and the physician.

"Primary care providers who provide most of the pain management to patients have had very limited tools in their toolbox," she says. "And it's medications for the most part and maybe physical therapy — but very little to offer in addition to that."

In an effort to provide more options for pain management and lessen the dependence on prescription drugs, the Army is starting to incorporate other forms of treatment including yoga, meditation and acupuncture.
Deploying physical therapists is a great idea.  But the best possible enhancement to warrior recovery hasn't been floated, i.e., deployment of Chiropractors.  Reduction of battle space weight is one avenue of approach to maintain healthy skeletal and soft tissue systems, but immediate medical amelioration is possibly the best effect for the dollar that could be spent.  Chiropractors are our best bet.
On another front, we find repeated accounts of the duress that our warriors are under due to battle space weight, and this, interestingly enough, at the same time that we see silly and sophomoric advocacy for women in combat roles.  But Former Spook reminds us that:
Almost 20 years ago, columnist Fred Reed published results of an Army study, comparing fitness levels among male and female soldiers. The data reaffirms that most women simply lack the upper body strength and endurance required by an Army infantryman, a Marine rifleman, or most special forces MOS's.

The average female Army recruit is 4.8 inches shorter, 31.7 pounds lighter, has 37.4 fewer pounds of muscle, and 5.7 more pounds of fat than the average male recruit. She has only 55 percent of the upper-body strength and 72 percent of the lower-body strength… An Army study of 124 men and 186 women done in 1988 found that women are more than twice as likely to suffer leg injuries and nearly five times as likely to suffer fractures as men.

The Commission heard an abundance of expert testimony about the physical differences between men and women that can be summarized as follows:

Women's aerobic capacity is significantly lower, meaning they cannot carry as much as far as fast as men, and they are more susceptible to fatigue.

In terms of physical capability, the upper five percent of women are at the level of the male median. The average 20-to-30 year-old woman has the same aerobic capacity as a 50 year-old man.

The same report also cited a West Point study from the early 90s which discovered that, in terms of fitness, the upper quintile of female cadets achieved scores equal to the lowest quintile of their male counterparts (emphasis ours).

So, what's a chief diversity officer supposed to do (don't laugh–the commission recommends creation of that very post, reporting directly to the SecDef). Water down the standards so more women will qualify for combat service, removing that "barrier" to reaching the flag ranks? Or create some sort of double-standard, allowing females to punch their resumes in the right places and continue their climb to the stars.
Good data and perspective, but he equivocates by saying:
No one disputes the benefits of more flag officers who are women or members of minority groups. But the real emphasis should be on demanding excellence from all who aspire to flag rank, and promoting those who meet–and exceed–a very high bar. Some of the "remedies" outlined in the Lyles report seem closer to social engineering, particularly when you introduce the notions of "measurement" and "metrics."
So that no one is confused and to ensure that I'm not misinterpreted, and just to make sure that we know that Former Spook is incorrect in this first assertion, let me state unequivocally and without reservation: I do dispute the benefits of more flag officers who are women or members of minority groups.
Note that this is from someone who would vote for a certain black man for president of the U.S. before any white man I know (and my co-blogger agrees).  I see no need to recruit the presumed "brightest" from Ivy League schools, and no one has offered me a compelling reason to believe that the principles of war and strategy and tactics in warfare are a function of race or gender, any more than, say, the sciences or engineering could benefit from a white, black, male or female presence.  Anyone who believes something like that doesn't understand the sciences or engineering (or warfare).  That kind of thought is reserved for onlookers who want to do social engineering.  It's for the land of make-believe, the domain of people who spent too much time and money learning from effeminate professors in college classrooms.
And so too the notion that women can handle loads of 120 pounds on ten miles humps when male bodies are breaking down doing it.  Long gone are the notions of winning hearts and minds by driving to the front in vehicles and drinking tea as a means to combat the insurgency.  This is an infantryman's war, and it means fighting.
Finally, just to make sure that you know the stakes, let me make one thing clear.  If you claim that combat "roles" should be opened up to women but don't clearly delineated that you mean infantryman (for the Marines that MOS 0311), you are hedging and not being honest.  At least be honest with what you say.  And finally, if you claim that the infantryman MOS should be opened up to women but exclude special operations forces, you are a liar.
Let me make it clear again.  If you want to open the infantryman billet to women but exclude SOF (SEAL, Ranger, Green Beret, Army Combat Diver, Marine Scout Sniper, Force Recon), you are a liar.  You are being disingenuous and dishonest, and it's not even worth debating you.  You don't really even believe what you are saying.  You want to believe that infantry is now only part of so-called "general purpose" forces, that they serve only as policemen in our new nation-building paradigm.  Leave it to SOF to do the kinetics.  But you know that this won't last.  Your paradigm is a pipe dream, and Afghanistan and Iraq have shown that.
So if you care to debate the issue I am open to such a debate.  But let's be clear that it doesn't begin at opening "combat roles" to women (whatever combat roles means).  The debate will be an honest one, which means that in order to be consistent and honest, you must advocate that all billets, including SOF, be opened to women.  Otherwise, don't even bother with the debate.