BY Herschel Smith

11 years, 7 months ago
Regarding the Battle of Wanat that has received so much attention here at TCJ, it appears as if the field grade officers involved in the planning and decision-making for the outpost have been issued career-ending reprimands.
Myer, along with two of his superior officers who were not at the battle, have received career-ending letters of reprimand for failing to prepare adequate defenses in the days leading up to the attack.

Forty-nine Americans and 24 Afghan soldiers had been ordered to set up the outpost deep in enemy territory.

It was July of 2008, and according to Sgt. David Dzwick, they were short of not just troops, but basic necessities.

"The second day we were extremely low on water," Dzwick said. "When you start running out of water it's very hard to continue working through the heat of the day.

Despite warnings from villagers that an attack was imminent, an unmanned surveillance drone which had been watching over the troops was diverted to a higher priority mission.

"Not having surveillance was the concern for me," Dzwick said. "Part of the planning is that we would have some."

The first Apache helicopters got there an hour and five minutes after the Taliban opened fire. By then, Captain Myer was the only officer still alive.

Myer can still appeal but right now he has been both decorated and reprimanded for the same battle.
I am no fan of witch hunts, and in general I think such things are destructive of any organization which implements such tactics.   Furthermore, we must allow our military to be a learning institution, and if errors cannot be silently addressed, then intransigence will win the day.
Yet … the failures at Wanat are severe.  We have discussed them in detail: failure to believe local intelligence, lack of timeliness in setting up the Vehicle Patrol Base (almost one year of negotiating with the local elders to obtain their approval) allowing Taliban to plan, deploy and mass forces, lack of force protection, lack of logistics, awful terrain problems with the VPB and especially Observation Post Top Side, lack of adequate forces, and so on the list goes.
But why stop at Colonel?  The same kinds of expectations are still customary in other parts of Afghanistan.
BALA MURGHAB, Afghanistan — The gunfire came as no surprise, several short volleys smacking the dirt as soldiers bounded across an open field.

The U.S., Italian and Afghan soldiers were keenly aware that by venturing just a few miles south of their base, they'd crossed into enemy territory. Taking fire was almost a given.

"They always shoot at me," Staff Sgt. Jason Holland said in mock bemusement afterward. "I like this country, but they always shoot at me."

Since November, the men of the 82nd Airborne's 1st Battalion, 508th Parachute Infantry Regiment have fought pitched battles in Bala Murghab to take a small bubble of key terrain in this Taliban-controlled valley in Afghanistan's remote west.

But the mission here is hamstrung by a shortage of forces. And except for these show-of-presence patrols, that security bubble is as far as they can go until Afghan reinforcements arrive.

Insurgents sit to their north and to their south, ready at the trigger.

For the men of Company B's second platoon, it feels like being on the front lines of the wrong war.

"We are not doing anything right now," said Sgt. Alfred Seddon, 24, from St. Petersburg, Fla. "All we hear is we want to push south but we don't have enough people. So why not just stay where we are and accomplish something?"

"I was excited when I heard we were doing a COIN (counterinsurgency) mission," he added. "I thought, 'Yeah, great, we are gonna achieve something.' But now it feels like a facade."

Bala Murghab is not a priority under Gen. Stanley McChrystal's strategy of focusing on main population centers to combat the insurgency. So unlike in the south, where a new surge of U.S. forces is pouring in, the 82nd Airborne soldiers here are stretched thin, manning this valley that they like to describe as a Taliban vacation spot with a small contingent of forces and just barely enough supplies …

"This is just no man's land crawling with Taliban, and one small platoon sitting right in the middle of it," said Hand.

"There's a definite line," said Holland. "The minute you cross it, they open fire."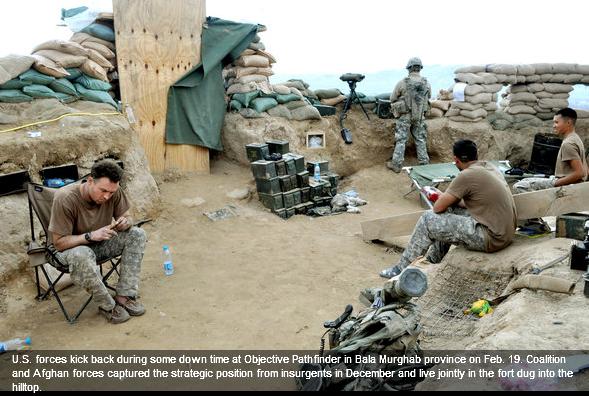 While it appears that they have dealt with the terrain issues, they are ready-fodder for a massed assault.  So where does the accountability end up the chain of command, and how does this get balanced with the need to be a learning institution?  Expectations clearly continue to point in the direction of insufficient troops to meet the demands being placed on them.
Prior on the Battle of Wanat and Kamdesh:
Second Guessing the Battles of Wanat and Kamdesh
Taliban Tactics: Massing of Troops
Kamdesh: The Importance of Terrain
The Battle of Wanat, Massing of Troops and Attacks in Nuristan
The Contribution of the Afghan National Army in the Battle of Wanat
Investigating the Battle of Wanat