BY Herschel Smith

14 years, 5 months ago
Regular readers know all about our deep love for good logistics, and our disdain for improper planning.  We have said repeatedly that field grade logistics officers will determine how fast we can draw down in Iraq, not the administration, and not flag officers.  Logistics can be the ultimate bottleneck for warfare.  Logistics can also be the most remarkable capability in the battle space.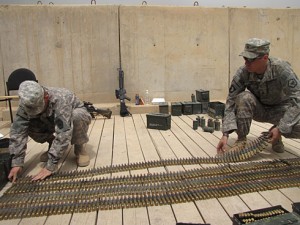 Staff Sgt. Alfred Luna, right, and Spec. Randy Neff count ammunition that 4th Engineer Battalion has to turn in before it departs Baghdad. The unit is getting ready to redeploy to Afghanistan, after arriving in Iraq just a few weeks ago.

Welcome to Iraq. Now go to Afghanistan.

That was the message delivered to the Army's 4th Engineer Battalion just two weeks after arriving in Baghdad for what was supposed to be a year-long tour.

Despite the stress caused by the unusual change of plans last month, many of the unit's approximately 500 soldiers said they realized their specialty — clearing roads of bombs and other obstacles — is more needed in the area of southern Afghanistan, where they'll likely begin patrols in a few weeks.

"If we were in the frying pan, we're now heading directly into the fire," Capt. Heath Papkov, one of the unit's company commanders, said this week as the soldiers packed their gear to leave.

Moving a unit directly from one theater of war to another on such short notice is very rare, said Lt. Col. Kevin Landers, the battalion's commander. Usually when troops are shifted from Iraq to Afghanistan, the change occurs between regular rotations abroad, after they spend several months at their home base.

The decision underscores how military commanders are scrambling to meet President Obama's orders to draw down the U.S. presence in Iraq while deploying an additional 21,000 troops to combat the growing insurgency in Afghanistan.

Even after a spate of bombings in Baghdad in recent weeks, the overall rate of violence in Iraq remains at levels not seen since 2003, according to the U.S. military. Meanwhile, attacks on U.S. andNATO troops are on the rise in Afghanistan, and roadside bombs are the cause of 75% of coalition casualties there.

The region where the 4th Engineer Battalion is being deployed accounts for about 60% of all roadside bombs in Afghanistan.

The battalion's transfer is "either an indication of the improving situation in Iraq or the quickly deteriorating situation in Afghanistan," said Loren Thompson, a military expert at the Lexington Institute. "It's probably more of the latter."

The unit has continued its patrols in Baghdad while preparing for the move, a huge undertaking that includes the movement of millions of pounds of gear and dozens of heavy-armored vehicles. It could take 40 to 60 flights to transfer everything.

Commanders could not put a precise estimate on the additional cost of the move, but 2nd Lt. Gregory Smith, a logistics officer, said it will cost "millions and millions of dollars."

"It's been pretty stressful," Smith said. "But it's a good feeling to be going where we're really needed."
Logistics rules.  Without it, the battle space doesn't work.  Period.  End of discussion.  Next time you see a logistics NCO, give him props for the good work he had done.
Postscript: I would have made an outstanding logistics officer, I think.  Yes.  Outstanding.  I'm sure of it.