BY Herschel Smith

15 years, 8 months ago
In British Negotiations with Taliban, I covered the secret negotiations between British MI6 agents and mid-level Taliban commanders aimed at splintering the leadership the Taliban.  We covered how there was an effort underway by Hamid Karzai to obtain the loyalties of the lieutenants of Mullah Omar and thus split the organization.  The price for this loyalty is a place at the table in the new Afghanistan.
But the British bypassed Karzai in their effort to make peace with the Taliban, and for this secrecy were ejected from the country.  Yet the deed had been done, and the price for realignment of one specific Taliban mid-level commander was governorship of Musa Qala, that fated city which once was handed over to local leaders, retaken by the Taliban, and then retaken again by NATO forces months later, costing both lives and blood of NATO forces.  Mullah Abdul Salaam switched sides, and was rewarded with rule over the region.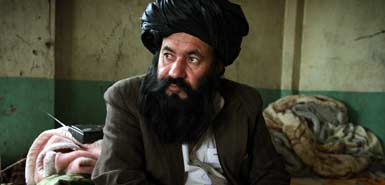 Matt Dupee at Afgha.com waxes positive about the deal, even suggesting that Salaam enabled the victory to retake Musa Qala, or at least caused it to be more timely.
Musa Qala district in southern Helmand province was the secluded epicenter of Taliban activity throughout 2007, a symbolic "crown jewel" in the Taliban's jet-black turban, before Afghan and Coalition forces launched Operation Snake Pit last month and reestablished government rule. The highly touted operation lasted nearly a week with the heaviest fighting occurring on the outskirts of the city and areas further south. The operation's speed and relatively tidy conclusion is due in large part from a back-door political deal hammered out between the Afghan government and a local Taliban strongman, Mullah Abdul Salaam Alizai, last October.

Mullah Abdul Salaam is a powerful and influential cleric of the Alizai tribe, Helmand's largest Pashtun tribe, and holds sway over hundreds, if not thousands of armed loyalists throughout Musa Qala. His defection was secured after several secret meetings with Afghan and British officials during October and November. Rival Taliban factions attempted to assassinate him with a suicide-bomber, but British media reveal his body guard contingent of over 200 armed men helped foil the bomber's plans.

The government's deal with Mullah Abdul Salaam included his future position as Musa Qala's governor, which he was appointed to on January 7, and allowed him to pick and choose other local authorities such as the new police chief. Afghan officials hope his prestige and influence over the locals will perk up their image in the south where many residents are sympathetic to the Taliban and deeply mistrustful of the central government. Officials also expressed optimism in bringing other "moderate Taliban," meaning less ideologically driven fighters, into the fold of the government. For those fighters unwilling to cooperate, Salaam and his men have vowed to fight them.
But is this assessment too positive?  In a somewhat more desperate tone, The Times gives us a picture of what really happened prior to and during the battle for Musa Qala.
Britain's last chance of securing this treacherous corner of Afghanistan lies in the hands of a piratical, black-turbaned figure with long beard, white cloak and silver-sequinned slippers with curled toes.

Mullah Abdul Salaam may not look much like a white knight. He served as a commander in the Taleban and even today his true loyalties remain suspect. The 45-year-old former Mujahidin guerrilla could, however, decide the fate of the British mission to stabilise the lawless province of Helmand, where this week he was put in charge of the key district of Musa Qala.

"He's not just the best show in town," one British officer remarked. "He's the only show in town."

Mullah Salaam's rise to power in Musa Qala, the test case for British efforts to evict the Taleban and install central authority, is a classic Afghan tale of intrigue, bloodshed, farce and fate. In an interview with The Times the former warlord explained how last year he had severed relations with the Taleban, was courted secretly by a foreign diplomat and eventually swapped sides to join the British-led effort.

"The Taleban called a shurah [council] to attack the district centre and coalition forces there but though invited I did not attend nor fight," he said. "It was not a good thing."

He was then approached by Michael Semple, an Irish diplomat working for the European Union in Kabul. Mr Semple, a fluent Pashto-speaking veteran of Afghanistan, was expelled last month by the Government in Kabul for his back-channel contacts with the Taleban.

Before being ordered out he managed to put together a deal with the former Taleban commander. "We discussed reconciliation and unity in Afghanistan," Mullah Salaam said of the first of his several meetings with Mr Semple. "I was surprised to hear of his recent expulsion."

Mullah Salaam went to Kabul for a meeting with President Karzai last autumn. He caught the Afghan leader's imagination with the promise of a tribal uprising against the Taleban, which could, potentially, deliver Musa Qala into government hands with barely a shot being fired. The idea led to a War Cabinet meeting in Kabul, which included the British and American ambassadors, President Karzai and General Dan McNeill, the commander of Nato forces in Afghanistan.

The result was operation Mar Karadad, which had to be accelerated at the end of November when Kabul heard news that Mullah Salaam, now back in Musa Qala, had attracted the attention of the Taleban and the uprising was imminent.

There was no uprising. When Afghan, British and US units closed in on Musa Qala last month, Mullah Salaam stayed in his compound in Shakahraz, ten miles east, with a small cortège of fighters, where he made increasingly desperate pleas for help.

"He said that he would bring all the tribes with him but they never materialised," recalled one British officer at the forefront of the operation. "Instead, all that happened was a series of increasingly fraught and frantic calls from him for help to Karzai."

In spite of his broken promises Mullah Salaam was still one of the few credible local leaders prepared to work with the British. He also proved to be a skilled orator. This week he took his antiTaleban campaign to elders in the rainswept village of Chaghali, ten miles from Musa Qala.

"It is enough now," he urged the 30 men huddled around him. "Our dead have been eaten by the dogs." He gestured at a small group of British and American officers. "You can see around you these people from noble nations have come to build you streets and schools. If they should ask you to leave your religion then you have a right to fight them, but not because they come to bring you streets and schools."

The village was in an area roamed by Taleban led by Mullah Abdul Bari, who remains at large. Mullah Salaam wasted little time in using his own past connection with the militant commander in his address.

"Abdul Bari is our brother," he said. "He can come and sit among us . . . He is from this land. Speak with him. But don't let him be stupid. If he is not on the right path then don't let yourself be sacrificed for him. Tell him to take his jihad somewhere else."

His eloquence and leadership have impressed the British, who reconsidered him for the job of district governor, not least because there were few volunteers for the post.

"The first time we heard Mullah Salaam speak he spoke bloody well," said Major Guy Bartle-Jones, the head of the British Military Stabilisation Team. "In fact, he dominated the whole show. He gave the government message: antiTaleban, counter-narcotics, interspersed with Koranic verses. He came across as an accomplished politician, far away from the reports from Kabul, where he had been pilloried as a fraught and frantic man. So we reported back up the chain that he was a charismatic, good orator. And the question was suddenly: 'Is this a credible governor?'."

Today the new governor's challenge is to navigate the dark waters of Helmand's politics, unite warring clans and reconcile his erstwhile Taleban comrades into the political process. His very survival will be an issue in itself: he claimed that two suicide bombers have already been sent to kill him. He remains, however, Musa Qala's best hope, and has certainly won the backing of the British, albeit with a small caveat.

"We have in him a credible governor who is making an impression upon us and the people," an officer in Musa Qala concluded. "He is a compelling individual. But we still don't know what his ulterior motives are."
Because of his skills at oratory and his having spoken "bloody well" to the locals, he was given governorship of Musa Qala, despite the fact that he could not assist with any significant military presence during the battle for the very area he now rules.  It is a pitiful substitute for the "awakening" in Western Iraq, where the Anbaris vowed to fight al Qaeda to the last child of Anbar.
Mullah Abdul Salaam has talked a good game for the moment, and perhaps he means what he says.  Who knows?  But proper counterinsurgency requires force projection.  The strong horse wins in counterinsurgency because the population bets on proven winners.  Cheap imitations of the Anbar awakening won't work in this region of the world.  In Anbar, commitment by Marines and other U.S. forces over time won the battle for the region, this battle consisting not only of kinetic operations, but also in good governance, increased water and electricity supplies, repaired infrastructure, and other amenities associated with modernity.  Al Qaeda had nothing to offer except violence.  The Anbaris made their choice.
The road in Afghanistan will be just as hard or even harder, given that the Anbaris are somewhat more secular than the Afghans, but the counterinsurgency can be won (despite the ridiculous and highly emotional British claim that Mullah Abdul Salaam is the 'last hope' of civilization).  It will take U.S. commitment, not artificial props to be successful.  No ostensible harm to the COIN campaign in Afghanistan has been done, but a great deal can be learned from this silly and unfortunate episode.
Prior:
Musa Qala: The Argument for Force Projection
Clarifying Expectations in Afghanistan
Review and Analysis of Afghanistan Counterinsurgency Campaign
Gates Sets Pretext for Review of Afghanistan Campaign
British in Negotiations with Taliban
Fates of Afghanistan and Pakistan Inextricably Tied
The British-American War Continues: MI-6 Agents Expelled from Afghanistan
Commitment to Iraq and Recommitment to Afghanistan