BY PGF

10 months, 1 week ago
Reading through this draft copy of a free chapter from the upcoming book Preparedness Pays, we noticed some remarkable things. The willingness to have a sense of humor and also go slow in prepping is essential. Fear drives errors, causing waste monetarily and time in do-overs. Worse yet, nobody wants to find a mistake to be evident when finally needing preps.
It's good to read material that challenges our present assertions. This is what mature adults do in order to hone themselves by adjusting to new information. That last sentence seems weird to have to say, but here we are in 2022. It's only a sample chapter, and possibly later, more is discussed along the lines of Solutions Based Prepping, but we found object-based prepping to be less adaptable and flexible.
A couple of examples of Solutions Based Prepping are in order. A person needs hand tools. An electric screwgun, however, can drive screws. The object only has one purpose. But when looking for solutions, it can drive screws into wood or metal. It can also remove screws. It's usable not only on living structures but other structures, vehicles, heavy equipment, and light machines. When pressed by circumstances, humans with practical knowledge and learning in the use of rotating hand tools of all types will find solutions-based usages never before thought of for devices. This is the value of head knowledge to expand practical use applications when a result is needed. Humans are clever with their hands; this is why.
A second example is growing food. Where the author thinks of people and food, we think of solutions; food growing. Farming is not only about feeding people. Some are canned/preserved for later, and some can be used to feed protein animals. Some can be given in goodwill to neighbors for their rabbits in hopes of establishing a relationship. If things go well, that relationship may revolve around prepping and could even grow to mutual aid or security support. Perhaps you'll come up with a barter exchange? But even if a relationship doesn't bud, they'll hesitate to shoot you, but most importantly, God will see the gift and bless you in abundance returning the benefit. Worse comes to worst; throw extra food on a compost heap or leave the corners of your garden not gleening in full all of the bounty; allowing some seed to return to the ground will be blessed by God. Those are just a few solutions-based things you can do with a garden.
So instead of thinking about feeding a cow, a pig, rabbits, 12 chickens, and six people with separate food sources, you can start doing arithmetic for items of dietary overlap. We know you engineering types are out there, doing preps by math; you're not fooling us! Heh.
Like the screwgun, having a garden in abundance gives you solutions for problems you may not yet perceive. A person needs tools and food. Tools and food solve a myriad of possible problems and those yet unseen while opening many potential doors.
The sample chapter also got us thinking about proximity to disaster, natural or man-made—the proximity of distance and time matters. Take Ukraine's inability to grow food right now. Food inflation is spreading globally due to supply-demand dislocations in the market. Ukraine is far away geographically from the US, so the effects are growing more slowly here than in Europe, and the closer to the war, the bigger the problem of cost to supply. But there's also a time factor. In a free market, we in the US wouldn't worry much about the lack of foodstuffs grown in Ukraine, but we don't have a free market. Farmers would crank out food to profit from these higher prices, but the US agriculture industry is so heavily regulated by multiple agencies that current markets don't work to fill supply for growing demand. Even if regulation was much lower, time to fill gaps in supply at higher prices is still a factor. Some disasters are very long in the making.
Waiting for "somebody" to "solve" Ukraine and US regulatory problems is a terrible plan; having local food sources, teams, friends, neighbors, barter, co-ops, etc., is much needed.
Instead of buying things, start building and making things! This will prepare your mind and hands for leaner times to come. The closer your sources for all necessities in both time needed to produce and geographic distance, the more control you'll have over resolutions for your immediate area and family.
None of this is a knock on the chapter; it got our mental juices flowing, which is a good thing; we look forward to the book. You can approach your preparations as solutions based using the book's eight objects. That might help to find weaknesses that need addressing, further adjusting to what works while rounding out approaches so as to not miss critical sources and needs.
One thing we don't like is scenario-driven prepping. Though examples and illustrations are important, planning for certain contingencies is even more spending and stockpiling-intensive than object-based prepping alone. Having said that, we'll again offer this very simple Risk Matrix to help get started or find solutions when getting stuck about how to proceed. But also consider the geographical distance from source problems and time factors to tribulation development in your risk assessments.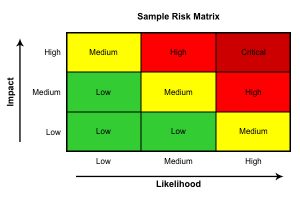 Note about food and debt: US grocery stores are still throwing away tons (actual) of fruits and vegetables daily. The restaurants, at least in this area, are still packed even at these higher prices. It's shocking the lack of foresight and acceptance about what's happening, and therefore it's no wonder credit card debt is rising sharply. We're blessed with abundance, but debt is not abundance; it's a liability. Do yourself a long-term favor, trust your gut about what's happening, cut out the extras and avoid debt.
"If a bird's nest chance to be before thee in the way in any tree, or on the ground, whether they be young ones, or eggs, and the dam sitting upon the young, or upon the eggs, thou shalt not take the dam with the young But thou shalt in any wise let the dam go, and take the young to thee; that it may be well with thee, and that thou mayest prolong thy days." – Deuteronomy 22:6-7
Don't overtax the land that you've been blessed with; it's God's, not yours. Prolong your days that it may go well with thee.
Somebody will object and say; we're under grace and not under the law. Well, just keep industrial farming, relying on chemical fertilizers, gleaning one hundred percent of every field every season, never rotating crops, and not leaving some ground fallow for a year on a rotating basis. It'll be apparent one day soon: God will rest His land if modernity won't.