BY Herschel Smith

4 years, 6 months ago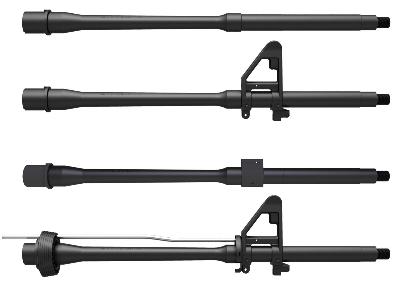 I was doing some research on barrels and was a bit puzzled to find that so many top flight manufacturers (e.g., Daniel Defense, BCM, etc.) are still putting "government profile" barrels on their guns.  The best research I can find on why such a thing exists shows the idea to be extremely dumb.
Marine Lt. Col Dave Lutz was the program manager for the M16A2 project from 1980 to 1983. He was later the VP for Military Operations at Knights Armament Company. Some years ago he shared the story of the government profile barrel on AR-15.com.

It all started with a drop gauge test. The gauge wouldn't pass through the bore, so the assumption was that the barrel was "bent."

We (Marines) were replacing a lot of "bent" barrels that were determined to be "bent" because the Armorer's Bore Drop Gauge would not freely pass through some barrels during Ordnance Inspections (LTI's). So the Logisitcs people had "Barrels Bending" on their list of "M16A1" things to "Improve" right after listing "Handguards Breaking."

AR-15 lore tells us that GIs were using their rifles as pry bars to open crates, and they were bending the barrels by the muzzle doing it. Another story tells us that aggressive bayonet drills were the source of bending. This is the one that Lt. Col Lutz ascribed to, at least somewhat.

We "experts" thought this bending was from rough handling like during bayonet drills, etc., as an absence of any mid-barrel handguard damage in these rifles made one assume the fulcrum of such bending was the bayonet lug. So we made that part of the barrel thicker because we did not want the excess weight of a full length heavy barrel.

The last line of that quote highlights something interesting. There was internal pressure to make the entire barrel thicker. The Marines have always prided themselves on their marksmanship skills. A lot of their techniques and choices of rifle components have origins in competition. The Marines were the driving factor in the adjustable rear sights of the M16A2 as well.

Lt. Col Lutz and his team realized that a heavy barrel all the way through was not a practical solution for a lightweight combat rifle like the M16. So they made only the front of the barrel thicker to increase strength.

In testing using the bayonet lug as a fulcrum, and applying calibrated mechanical pressure to the muzzle, the new barrel was about 9 times more resistant to bend and take a set than an M16A1 profile. So we went with this "improvement."

With the problem solved, the new barrel design went into effect. Only later did the team realize the actual cause of the drop gauge failure was something entirely different.

However, soon after I started using a borescope with a video recorder and monitor to inspect "bent" barrels. What I found was a mound of bullet jacket material at their gas ports. This build up was caused by a burr left from drilling/reaming the gas port. This was where the Armorer's Drop Gauge was getting stuck. When we removed this "mound", the barrels would all pass the Drop Gauge.

Realizing that the "solution" they presented didn't actually solve a problem, they tried to course correct. Colt listened, and even put out civilian M16A2 copies that still had the standard lightweight profile. But the government was already too far down the road. The new technical data package was already written and put into effect. There was no going back.
First, I question their testing of the resistance to bending of a "government profile" barrel.  They obviously never got real engineers involved in this problem.  The highest bending moment in a cantilever beam will be where it is pinned, which in this case will be at the receiver.  As best as I can tell, not only didn't they solve a real problem, they didn't even solve the pretend problem.
Second, engineering resources would have performed a failure mode and effects analysis of the problem.  A failure investigation team of engineers should have been commissioned, not a military team.
Third, if you believe the problem is that Soldiers or Marines are using their rifles to pry open boxes or crates, then teach them not to do that.  That's stupid.  I remain unimpressed with folks who try to mistreat, abuse and beat up their guns only to complain when they don't work.
The second law of thermodynamics says that entropy always increases.  Fatigue, metal lattice stretching and deformation, metal creep, rust, corrosion and a host of other problems will affect any machine.  I once read that someone complained that he had used the butt of his rifle as a hammer for tent stakes and other things, and thus wanted "Milspec" parts so they don't break.
Listen to me.  Milspec isn't better.  Milspec isn't worse.  Milspec means that something was fabricated and built according to a specification, nothing more and nothing less.  Some guns and parts are better than Milspec, and some are worse.  Some are just different than Milspec because the buyer wants a different machine for a different purpose or with different parts simply because that's what he wants.
The takeaway is this: don't use your rifle butt as a hammer.  It isn't a shovel, it isn't a hammer, it isn't a pry bar, and as for bayonet charges, you're not going to do one.  Ever.  If you're doing a bayonet charge, you failed to do whatever you needed to do to make it a stand-off fight.  Your rifle isn't a spear.
And the top end AR-15 manufacturers need to get away from fabricating "government profile" barrels.  They're dumb.
If you think I wrong or don't know the full history of government profile barrels, you can weigh in with comments.