BY Herschel Smith

2 years, 1 month ago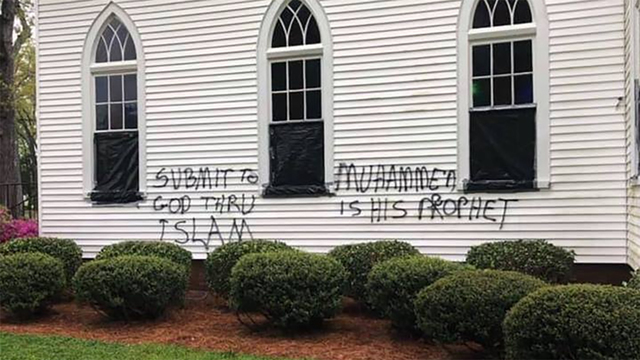 ANDERSON CO., SC (WSPA) – Deputies are looking for the person or persons responsible for vandalizing a church in Anderson County.

The Anderson County Sheriff's Office says someone broke windows and spray painted messages on the side of Midway Presbyterian Church on Midway Road.

According to deputies, the windows in the church were over 125 years old.

The words "SUBMIT TO GOD THRU ISLAM" and "MUHAMMED IS HIS PROPHET" were spray pained in black onto the siding of the church.

Elders of the church tell 7News they did not let the act of vandals disturb their services and lunch on Sunday.

"It was very disturbing because we feel like this was an individual act and we don't hold any religious group responsible for it," said Bob Harrell. "We think it most likely was some misguided young people. However, we do take it very seriously and we'll do everything we can to assist law enforcement."
As I've said, prepare now.
If you are a member of a church and attend worship regularly, do you have a security plan?  No, having an armed cop on duty isn't a security plan.  Do you have a number of armed congregants in the building?  Have you trained together as a group?  Do you have overwatch?  Do you have security cameras?  Do you have patrols?  I'm talking about 24/365 security, or a recognition that if you don't have that kind of security on your building, as the country trends towards Europe, you may lose the building.
Tomorrow will be too late.  This may be a prank, but it may not be.  You live in a different American than what your mother and father knew.
It didn't take long after the church abdicated its responsibility to be salt and light before American went to hell.  I've often thought that premillennial dispensationalism (the belief that God has two different people, the Jews and the church, saved in different ways, with the church pulled out of the world in the "rapture" before the real fireworks begin), with its belief that "you don't polish brass on a sinking ship," was the best crafted lie in history to neuter and render the church powerless and lifeless.
I once asked a close friend, who is a dispensationalist, the following question.  "There isn't a single time in history when God allowed His people (the church is His people) to abdicate responsibility to be salt and light, to turn over the arts and sciences to the godless, to give their children over the Baal, and follow the world rather than Christ, and get away with avoiding the consequences of their actions.  What makes you think God will do that for the church, since it has gotten in bed with Hollywood, allowed abortion on demand, voted for all manner of scum, failed to teach the world about God's law, and turned its children over to the state for education?  What makes you think that God will snatch us out and allow us to avoid the consequences of our own behavior?"
His answer: "Just because it's never happened doesn't mean it won't."  That, people, is the voice of irrationality.
Prepare for judgment.  It is coming upon America, and you're here at the beginning of it.