BY Herschel Smith

1 year, 4 months ago
I appreciate the folks on reddit/firearms keeping me up to date on the latest attempts at communist gun control in the North Carolina House of Representatives.  H.B. 86 is summarized as follows.
AN ACT TO REQUIRE A PERMIT FOR THE PURCHASE OF AN ASSAULT WEAPON OR LONG GUN; TO REQUIRE A 72-HOUR WAITING PERIOD BEFORE A PURCHASED  FIREARM MAY BE DELIVERED OR OTHERWISE POSSESSED; TO PROHIBIT THE SALE OF AN ASSAULT WEAPON OR LONG GUN TO PERSONS UNDER A CERTAIN AGE; TO PROHIBIT THE SALE OR POSSESSION OF A BUMP STOCK OR TRIGGER  CRANK; TO REQUIRE THE SAFE STORAGE OF A FIREARM; TO REVISE RECIPROCITY LAW FOR A CONCEALED HANDGUN PERMIT; TO REQUIRE THE REPORTING OF A LOST OR STOLEN FIREARM; TO REQUIRE ANY PERSON WHO OWNS A FIREARM TO CARRY FIREARM LIABILITY INSURANCE; TO LIMIT THE SIZE OF AMMUNITION MAGAZINES; TO REPEAL THE PREEMPTION OF LOCAL  REGULATION OF FIREARMS; AND TO ALLOW THE DESTRUCTION OF A SEIZED FIREARM.
I see that the totalitarians are shooting for the moon.  This has every fevered wet dream that has ever crossed the mind of the statists except outright ban of so-called "assault weapons," which I'm certain would be in there without at least a hint that this bill might fail.
Age limits, waiting periods, fees to make it more expensive to own a firearm, charges for people who had access to a firearm when someone invaded their home and used it in self defense (i.e., "safe storage"), permitting for long guns as well as pistols, etc.
So instead of going in the right direction, which would be to do away with the pistol permitting scheme, which we all know is merely a way to raise revenue for the county sheriffs, they are going in the wrong direction, which is to expand this bastard program to long guns.
Well, allow me to take a very little time and help you to understand how most of us think about the issue of weapons.  We believe that ownership of the means of self defense and the amelioration of tyranny is a God-given right, not subject to amendment by men.  The constitution, which forbids what you are trying to do, is a covenant, an agreement between men concerning how we will live.  When either side breaks the covenant, it is forever broken, releasing the offended party from its obligations, and consequences necessarily follow from that.
All gun control, since God expects, even requires, that men defend home and hearth by whatever means is necessary, is wicked.
The Bible does contain a few direct references to weapons control. There were many times throughout Israel's history that it rebelled against God (in fact, it happened all the time). To mock His people back into submission to His Law, the Lord would often use wicked neighbors to punish Israel's rebellion. Most notable were the Philistines and the Babylonians. 1 Samuel 13:19-22 relates the story: "Not a blacksmith could be found in the whole land of Israel, because the Philistines had said, "Otherwise the Hebrews will make swords or spears!" So all Israel went down to the Philistines to have their plowshares, mattocks, axes, and sickles sharpened…So on the day of battle not a soldier with Saul and Jonathan had a sword or spear in this hand; only Saul and his son Jonathan had them." Nebuchadnezzar king of Babylon also removed all of the craftsmen from Israel during the Babylonian captivity (2 Kings 24:14). Both of these administrations were considered exceedingly wicked including their acts of weapons control.
The Almighty is the Lord of men, not tin pot dictators, and it is He who demands fealty.  Whether this bill gets a hearing, what ultimately happens means absolutely nothing concerning our rights.  It can only damn you in eternity as you attempt to supplant the edicts of a Holy God.  Our rights stand firm, do not change, and will not bend, since they are a function of the very character of the Almighty.
But just in case any of this isn't clear enough to you, let me share what's currently happening with and to the communists in Maryland, who are also attempting gun control.
Here I am with Wicomico County Sheriff Michael Lewis, who says he "will not comply" with onerous gun laws like long gun licensing and confiscation.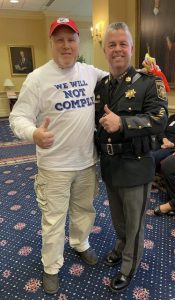 The brave gun owners of Maryland are saying, "We will not comply."  And rest assured, whether North Carolina gun owners show up in droves or not to any such hearings in the North Carolina Senate or House, neither will we.
At some point, totalitarians must hear the word 'no'.  Your move.