BY Herschel Smith

7 years, 5 months ago
Bob Unruh writing at World Net Daily:
A new statistical report from the federal government says that violent crime is surging for the second straight year while firearm violence remains essentially at the same level as it was in 2003.

The data could undercut Barack Obama's ongoing campaign to control guns.

[ … ]

The report, called "Criminal Victimization, 2012," was released by the U.S. Department of Justice's Bureau of Justice Statistics.

It said there "was no measurable change in the rate of firearm violence from 2011 to 2013 and from 2003 to 2013."

… there were 460,720 "firearm victimizations" in 2012, down from 467,930 in 2011 and even down from the 467,350 in 2003.
While violent crime rates rose for blacks, they remained stable for whites and Hispanics.

Residents in urban areas continued to experience the highest rate of violent crime, and residents in the West had higher rates of violent victimization than residents in other regions of the country.
The anti-gun lobby is running out of excuses and sooner or later will have to admit that they are simply collectivists and don't want members of the hive to be capable of self defense.
But another thing we learn is that violent crime (whether with a gun or not) is a culturally and racially concentrated phenomenon.  And to further demonstrate the point, what do you notice about this gun crime map?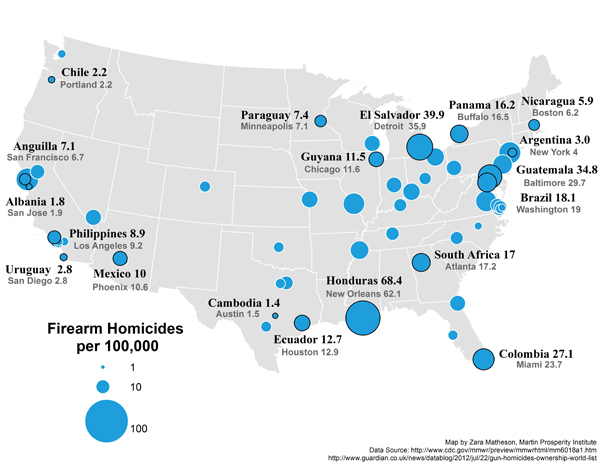 I'll let the readers weigh in.