BY Herschel Smith

8 years, 9 months ago
Four law-enforcement officers were wounded Friday in a suburb of Sacramento, Calif., during an attempt to take a wanted gang member into custody.

The shooting occurred in Roseville, a suburb about 20 miles northeast of the state capital.

Helicopters circled overhead and armored vehicles and other police cars flocked to the area following an initial report that a U.S. Immigration and Customs Enforcement agent had been shot.

A sporadic gun battle lasted into the night and the commotion snarled traffic for hours. Police responded by setting up a checkpoint and pointing guns at motorists, as this Associated Press photo shows.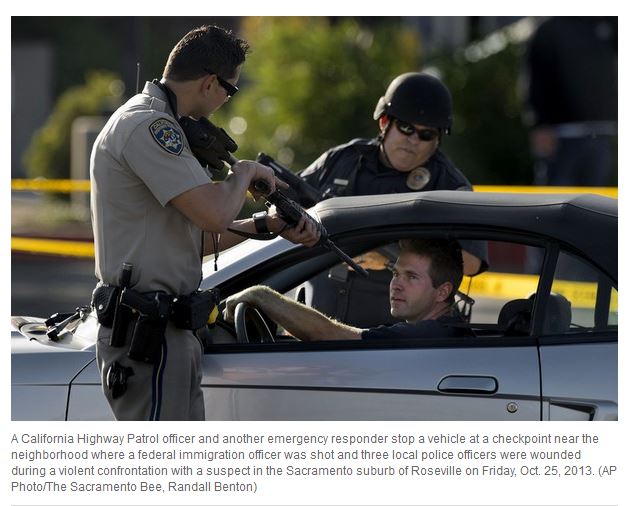 I have sent a note to the California Highway Patrol demanding to know why this officer hasn't been arrested and charged with endangerment and assault with a deadly weapon (which includes perceived threat as well as potential danger).  I asked that they not respond that "the officer is observing trigger discipline," because that's not a good enough excuse for me.  I would have been arrested and charged with a crime.
I'll let you know if I get a response, but I'm not holding my breath.  The CHP apparently allows criminals to work in their ranks.  I wonder how this guy would feel if he received a Christmas card in the mail of his picture shown through a high powered scope, cross hairs centered on him?