BY Herschel Smith

10 years, 8 months ago
Paragould, Arkansas, that is:
In response to a recent increase in crime, Paragould Mayor Mike Gaskill and Police Chief Todd Stovall offered residents at a town hall meeting Thursday night at West View Baptist Church what could be considered an extreme solution — armed officers patrolling the streets on foot.

Stovall told the group of almost 40 residents that beginning in 2013, the department would deploy a new street crimes unit to high crime areas on foot to take back the streets.

"[Police are] going to be in SWAT gear and have AR-15s around their neck," Stovall said. "If you're out walking, we're going to stop you, ask why you're out walking, check for your ID."

Stovall said while some people may be offended by the actions of his department, they should not be.

"We're going to do it to everybody," he said. "Criminals don't like being talked to."

Gaskill backed Stovall's proposed actions during Thursday's town hall.

"They may not be doing anything but walking their dog," he said. "But they're going to have to prove it."

[ … ]

"To ask you for your ID, I have to have a reason," he said. "Well, I've got statistical reasons that say I've got a lot of crime right now, which gives me probable cause to ask what you're doing out. Then when I add that people are scared…then that gives us even more [reason] to ask why are you here and what are you doing in this area."

Stovall said he did not consult an attorney before announcing his plans to combat crime. He even remained undaunted when comparing his proposed tactics with martial law, explaining that "I don't know that there's ever been a difference" between his proposals and martial law.
Statistics isn't a good enough reason to stop citizens on the streets.  As best as I know, Arkansas is a so-called stop and identify state, but only for loitering.  Additionally, even in stop and identify states, the stop has to be a valid "Terry stop."  It cannot be because you just want to, or because crime is high in a given area.
But beyond the unconstitutionality of this approach, it is one more step in the militarization of police tactics in the United States.  And don't expect the courts to stop this kind of thing – they agree with the police and almost always side with them.  They are, after all, both part of the "criminal justice system."
I asked my former Marine son to survey this picture and tell me what he thought.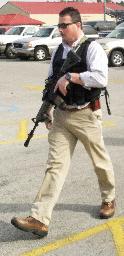 His response:
Fat ass Johnny-Soldier-Boy wannbe, who has no business walking around the streets like that.  He should consider himself to be a peace officer, and if he wants to do CQB or room clearing, he should sign up, get the training, fly across the pond and do it for real.  Pitiful.  Just pitiful.
Pitiful indeed.  If the crime is so high that patrols are needed, then the Governor of the state should call out the National Guard.  Otherwise, the police should simply do their jobs.