BY Herschel Smith

11 years, 3 months ago
There has been a recent proliferation of commentaries advocating the notion that no one needs an AR for self defense or hunting.  They are good for nothing except killing and maiming innocent human lives, and should be banned.  Some even go so far as to claim that we have no constitutional right to own an AR, which elicited my response in Do We Have A Constitutional Right To Own An AR?  While I do not believe that the government has a moral right to dictate my belongings, and we do in fact have a constitutional right to own weapons of all sorts, it's always good to retrieve the conversation from the theoretical and ensconce it squarely in the practical.  A recent incident in South Carolina does exactly that for us.
The owner of the Guns and Ammo Gunsmith store in North Augusta, S.C. thought he was going to die tragically. Three men had driven a van into his store, executing what they hoped would be a quick "smash-and-grab" robbery.

Instead, they met owner Stephen Bayezes, who opened fire on the three intruders after the commotion set off an alarm, hitting each one at least once. He says he is not proud of what he was forced to do, but added sometimes "you've got to." The incident occurred on Aug. 9, but the owner says a set of tire marks on the store's floor and an unfinished wall are daily reminders of the night that he almost lost his life.

"It's a haunting thought. It literally is a haunting thought when you see the tire tracks, you hear the tires," Bayezes told WRDW-TV. "Everybody assures you that you just did what you had to do to protect your family. They say it'll heal over time, but when does time go away? It's something that nobody ever wants to do."

But he says he had no choice after he heard one of the robbers shout, "Shoot the mother f**ker!," followed by the sound of a gun cocking. "I mean, they would've shot me. In my mind, with no reservation. If that firearm had been loaded, I might've been a statistic."

With his fight-or-flight reflexes in full gear, Bayezes started shooting, striking all three men, killing one while the surviving two escaped.

So, what happened to the two suspects? WRDW explains:

The Aiken County Sheriff's Office says Eddie Stewart and Franklin Robinson will be charged with burglary 1st, grand larceny and possession of a weapon during the commission of a violent crime. Both suspects are still in the hospital and will be taken into custody once they are released.

The Aiken County coroner says the third suspect, 20-year-old K'Raven Goodwin of Eastover, S.C., died from multiple gunshot wounds on Thursday morning.

The whole altercation took but one minute, he said. The burglars escaped with roughly 50 guns that night, however all of them have been returned safely.
The scene below shows the carnage sustained by the business.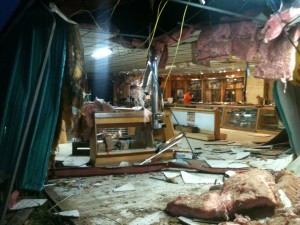 The report says that this is the same type of weapon Bayezes used to defend himself and his wife.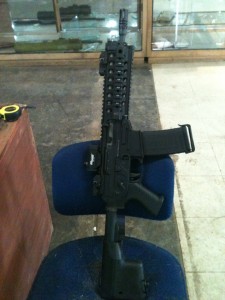 This report doesn't clearly state the details of Bayezes's reaction, but the Aiken Standard does.
A North Augusta gun store owner used a semi-automatic weapon when he opened fire on three men who broke into his business early Thursday, killing one and sending two others to the hospital with gunshot wounds, officials said.

The break-in occurred around 4 a.m. at the Guns and Ammo Gunsmith, located on Edgefield Road in North Augusta, said Aiken County Sheriff's Office Sgt. Jason Feemster, a spokesman for the agency.

Stephen Bayazes Jr., 57, who lives in an attached apartment in the rear of the business with his wife, said he awoke to a loud bang and the silent store alarm going off.

Police said he got out of bed, grabbed his AR-15 weapon and found three men inside the store.

The men crashed a vehicle into the business and were smashing display cases and taking guns when he said he heard one of the men shout, "kill that (expletive deleted )."

He told investigators he emptied a .223-caliber 30-round magazine and then retreated to his room to reload.

When he returned, he said he saw the vehicle pulling out from the business.
He used one of those evil "high capacity magazines" to defend his home, one of those features on so-called assault weapons that no living man is supposed to need.  He emptied his magazine.  I would have too.
But on to hunting.  Discovery Channel viewers may have taken note of a new series called Yukon Men.  It's an interesting show on the hardships of living in the Yukon, but more to the point, take note of what happens in this video.
The young man uses an AR to take down the Caribou, and it's a good size animal.  I also know someone who has taken down a large deer with the same caliber round (5.56 mm, or .223, and my friend was using "pointed soft point" ammunition for the deer).  The young man smartly remarks that the caliber he is using is good because it doesn't destroy the meat.  This is meat he needs to eat in order to live.
It's preposterous to assert that a high capacity magazine isn't useful for self defense.  Clearly it is, and just as clearly, use of an AR (or similar modern sporting rifle) is useful and in common use for hunting.