BY Herschel Smith

12 years, 2 months ago
Two very important individuals in the military (and now consulting) community, Barry McCaffrey and Robert Scales, have penned a much-anticipated study entitled Texas Border Security: A Strategic Military Assessment.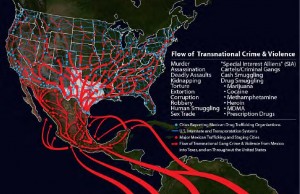 The state on the ground in the war with the Mexican cartels is remarkable.  We've already discussed how the Mexican cartels have adopted military-style tactics, techniques and procedures.
Mexican drug cartels are using military weapons and tactics while also recruiting Texas teenagers to carry out their operations, which are evolving into full-blown criminal enterprises, experts said.

Texas Department of Public Safety Director Steven C. McCraw said last week in a report given to Congress that the cartels "incorporate reconnaissance networks, techniques and capabilities normally associated with military organizations, such as communications intercepts, interrogations, trend analysis, secure communications, coordinated military-style tactical operations, GPS, thermal imagery and military armaments, including fully automatic weapons, rocket-propelled grenades and hand grenades."
There is apparently massive corruption in the U.S. border patrol, and the Mexican cartels have law enforcement officials at the local, state and national levels on their payroll.  In order to combat the smuggling operations across the Rio Grande, Texas is creating a marine division.  The reach of the cartels goes into the High Schools in Texas where they are recruiting children for cartel work.
McCaffrey and Scales add to the bleak picture by showing how the cartel strategy has changed from control through locations South of the border to control via operations at least one county deep into Texas, and they discuss the increased criminalization and violence associated with the cartels.  The bleak picture dovetails with an assessment by Robert Bunker at Small Wars Journal.
Ten years after the 9/11 attack by Al Qaeda, the United States has reached a pivotal strategic decision point in our national policies. Are we to continue with our national security policy of focusing on that terrorist entity (and its group of networks) as the dominant threat to the US and the homeland or will the Mexican cartels (and their supporting gang networks) now be recognized as replacing Al Qaeda as the number one threat to our government and safety of our citizens? While the violence potentials of Al Qaeda are universally recognized— we will never forget the thousands of our dead mourned after 9/11— the violence associated with the criminal insurgent potentials of the Mexican cartels and their ability to corrupt and undermine governments in the Western Hemisphere must now be considered far more threatening to our nation.
The cartels' influence expands to thousands of U.S. cities and communities, and there are on the order of 18,000 cartels members or associated workers in Texas alone.  The ability to intimidate and corrupt is unmatched in U.S. history – there is no national analogue to which the U.S. can refer to combat this menace.
The task for McCaffrey and Scales is big, and the bar set high.  As for their recommendations?  They sweep across a range of options, coordinated relationships, and increased efficiency in law enforcement.  Counterintelligence and sting operations are of course important, as is rapid response capabilities and increased manpower.
McCaffrey and Scales do recommend the involvement of state troops (i.e., National Guard), but all efforts in this program are seen as led by Texas Rangers.  It is fundamentally a civilian-led operation.  Perhaps this focus is in deference to the Posse Comitatus Act (Section 1385, Title 18 U.S.C.), but it isn't at all clear that U.S. troops should be forbidden or even could be forbidden from participating in border security under this act.
Furthermore, McCaffrey and Scales have a problem with their recommendation to use National Guard under the current circumstances.  Recall that in Arizona, a National Guard-manned post was attacked and overrun by cartel fighters.  Immediately after this, the following assessment was proffered.
Unfortunately, I must report that "Armed does not always mean "armed" as most Americans would understand. There are various states of being "armed." These are called "Arming Orders (AO)" which define where the weapon "is," where the magazine "is," where the bullets "are" and where the bayonet "is." They start at Arming Order One which could best be described as a "show of force" or "window dressing" in the worse case.

After considerable searching, I was able to find a complete copy of the Memorundum of Understanding/Rules of Engagement pertaining to the National Guard Deployment ("Operation Jump Start"), which I could then review.

After reviewing the MOU/ROE, I contacted several senior "in the loop" National Guard Officers that I have previously served with, to determine how many soldiers would be "armed" and their Arming Order number. After confirming The El Paso Times article that "very few soldiers there would carry weapons," I was advised that during the next 90 days, amongst the few soldiers that have weapons, no soldier will have an Arming Order greater than AO-1, which means that an M-16 will be on the shoulder, there will be no magazine in the weapon (thats where the bullets come from), and the magazines stored inside the "ammunition pouch" will in most cases have no ammunition, they will be empty.

It was also conveyed to myself that in the unlikely event that a soldier is ever harmed on the border, the Arming Order will not be raised. Every individual I spoke to envisions no circumstance where there will ever be soldiers at AO-3/4, where a magazine with ammunition would be immediately available. Instead the soldiers will simply be kept farther away from the border if needed. They will be deliberately kept out of harms way.

I know you are thinking (maybe screaming), "but Why?" The easy public relations answer is that a soldier could kill someone. The National Guard is going to ensure that there is not a repeat of the incident in which Esequiel Hernández was killed by a US Marine along the Border.

There are also numerous regulations pertaining to weapons. There is a requirement that a soldier must qualify with his weapon on an annual basis. Reasonably, you must be "qualified" with your weapon before you may carry a weapon. However, ranges for weapons qualification are extremely limited. National Guard soldiers normally perform their once a year required qualification when they go to Annual Training at Ft. Stewart, Ft. McCoy…… This year they are going to "the border" and unless there is a "regulation M-16 qualification range" down the road, they will not be able to get qualified. There is also the question of weapon storage and how do you prevent theft.
Even disregarding all of this, the rules for the use of force will prevent the effective use of the National Guard to accomplish border security.  That is, unless something drastically changes.
I have recommended that we view what is going on as a war against warlords and insurgents who will destabilize the state both South and even North of the border.  I have further recommended that the RUF be amended and the U.S. Marines be used to set up outposts and observation posts along the border in distributed operations, even making incursions into Mexican territory if necessary while chasing insurgents (Mexican police have used U.S. soil in pursuit of the insurgents).
While militarization of border security may be an unpalatable option for America, it is the only option that will work.  All other choices make the situation worse because it is allowed to expand and grow.  Every other option is mere window dressing.
While McCaffrey and Scales have done a service in their outline of the scope and magnitude of the problem, their recommendations are, needless to say, underwhelming.  They kick the can down the road, and the road only becomes more dangerous with time and distance.  Above it was said that there is no national analogue to the menace at the border.  The only analogue to this problem is the most recent campaigns in Iraq and Afghanistan.  The problem has exceeded the ability of law enforcement to cope.