BY Herschel Smith

14 years, 1 month ago
Bill Gertz reports on intelligence leading up to the Taliban attack at COP Keating, Kamdesh Afghanistan.
Defense Intelligence Agency Director Lt. Gen. Ronald L. Burgess Jr. recently testified before the Senate Select Committee on Intelligence that there were three intelligence reports indicating Taliban forces were preparing to attack a remote U.S. combat outpost in eastern Afghanistan, according to defense officials.

Gen. Burgess appeared before a closed-door meeting of the committee on Oct. 22 and was asked by senators about the advance warning of a Taliban attack, first reported in The Washington Times, and whether the intelligence warnings were ignored.

About 100 Taliban fighters carried out the attack on the outpost near the town of Kamdesh on Oct. 3 in what U.S. Army spokesmen said was a surprise strike that left eight U.S. soldiers dead.

Gen. Burgess explained in testimony to the committee that the military had three intelligence reports on the issue, but that the reports were among many human-source reports that had not been verified by other means, such as electronic intelligence. As a result, the reporting was not deemed "actionable" intelligence, said defense officials familiar with the testimony.

The officials spoke on condition of anonymity because of the sensitivity of the issue.

Democratic and Republican spokesmen for the Senate Intelligence Committee had no comment, citing rules limiting discussion of closed-door committee meetings.

A DIA spokesman also declined to comment.

One official said the reports indicate that there was an intelligence failure by analysts who he suspects were "waiting for the smoking-gun report from technical systems."

"The bottom line is that in spite of all our intelligence capabilities in Afghanistan, U.S. forces have been surprised twice by massed Taliban forces in a pre-planned attack against two of our outposts," the official said. "That begs the question of whether we have a problem of analysis."

Partially declassified intelligence reports revealed that in the period before the Oct. 3 battle, a new Taliban subcommander in Kamdesh named Ghulan Faroq had been appointed and was in charge of attacking Combat Outpost Keating. The reports also indicated that days before the attack, insurgent fighters in Kamdesh were resupplied with ammunition for large-caliber guns.
Commentary & Analysis
One year and nine months ago we discussed the claim made by General Rodriguez, apparently relying on Army intelligence, that the Taliban were focusing on Pakistan rather than Afghanistan and thus there wouldn't be a Taliban spring offensive in 2008.  We predicted otherwise, and quite obviously defense intelligence got it wrong while we got it right.  Reinforcing this analysis several months later, Colonel Pete Johnson said that the notion of a Taliban spring offensive was a myth that was going to be debunked.  Yet there has been a spring offensive every year, with the security situation in Afghanistan continuing to degrade and the Taliban controlling more and more of both the terrain and the population.
In our analysis of the Battle of Wanat we pointed out that the AR 15-6 Investigation and Findings of Wanat pointed towards intelligence failures in the time leading up to the battle.
One key breakdown in force protection pertained to intelligence. Multiple villagers, including tribal elders, had told multiple U.S. troops that an attack on VPB Wanat was imminent, but the assumption that such an attack would be probative caused little concern among the leadership. But the enlisted ranks included men who knew what was coming. Cpl. Gunnar Zwilling suspected that his days were numbered, while he and his band of brothers in the 173rd Airborne Brigade Combat Team prepared for a mission near Wanat, Afghanistan. "It's gonna be a bloodbath," he told his father, Kurt Zwilling, on the phone in what would be their last conversation.  In fact, there had been daily reports of 200-300 fighters massing to attack COP Bella in the first 10 days of July before transfer of operations to VPB Wanat
We have also discussed in detail the Taliban massing of troops, bringing at times near half-Battalion size forces to bear on U.S. troop garrisons as a favorite tactic.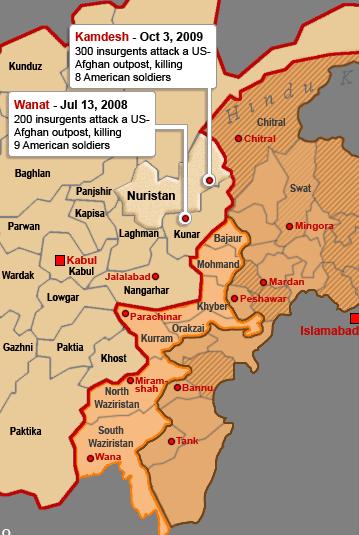 Now regarding the Taliban attack at Combat Outpost Keating at Kamdesh, Afghanistan, we learn that defense intelligence had three reports of imminent danger but failed to act on this intelligence.  What "smoking gun report" would have convinced them to take action we aren't told in the Gertz investigation, but it's important not to get buried in the details of the specific intelligence failure.
This failure is part of a larger problem in defense intelligence.  The problem is both significant and consequential.  It is significant in that it points to a systemic problem, and consequential in that the affects range from denying the presence of a Taliban offensive to the deaths of nine Soldiers at Wanat and eight at Kamdesh.
The point is granted that this administration is at war with the CIA.  But issues at the tactical level, e.g., Taliban massing of forces, imminent attacks, etc., must be acted upon without reference to certainty.  Intelligence is meant to be shared, and if further verification and validation is needed, the proper assets must be deployed to address the need.
I have previously weighed in on the cult of special forces advocating a shift away from (the current fad of) replacing kinetic operations by infantry with Special Operations Forces.  But regarding the proper use of special operators (as I see it), this is an instance of ideal application of several Rangers assigned to and embedded with infantry platoons.  Recon missions based out of the smaller COPs might add to the local intelligence rather than having to rely on electronic and technological verification of other intelligence information.
In any case, just as we are attempting to define the boundary conditions for riskless war, our Army intelligence is attempting to craft riskless analysis.  There is no such thing, and in the mean time, we are failing our Soldiers and Marines in the field at the tactical and personal level.