BY Herschel Smith

13 years, 8 months ago
General Nicholson asks what is apparently the popular and salient question.  Where is the Afghan National Army?
About 650 Afghan soldiers and police officers have joined the estimated 4,000 Marines in the offensive.

"I'm not going to sugarcoat it. The fact of the matter is, we don't have enough Afghan forces," Nicholson said during a telephone briefing from Camp Leatherneck in southern Afghanistan. "And I'd like more."

While there is a plan to send more Afghan troops to the region, Nicholson said, "they're just not available right now."

Nicholson said he would like to have all of his Marine battalions paired up with Afghan battalions – a process he predicted would take at least several months.
Ralph Peters is asking the same question.
LAST week, 4,000 US Marines launched a major operation in Helmand, the poppy- queen province in southern Afghanistan. The Marines performed magnificently, reaching their objectives with minimal casualties — mostly from the 110-degree heat. But something important was missing: Afghans in uniform.

A few hundred Afghan players showed up in the backfield. But the village elders saw American guns.

The Marine mission is to provide security for villagers, build trust and instill confidence in the Kabul government. This would all be far easier if the Afghan military and police were competent, trustworthy and present.

After 7½ years in Afghanistan and despite extensive efforts, we and our NATO allies have produced only a now-you-see-'em-now-you-don't Afghan army. The police are corrupt, partisan and loathed by the population.
There is yet again another discussion of the same thing at the Small Wars Journal, a subject we already briefly addressed.
We have seen this before in Iraq where the goal was training and turnover to the Iraqi Security Forces.  Note however, that Marine operations in the Anbar Province didn't start with ISF assistance, or even end with it.  Given national patience and the fortitude to see the campaign through, there is no reason that the Marines need anyone else to perform counterinsurgency operations in Helmand – at least, not right now.  It's no different from the campaign in Anbar.

Eventually the Marines will leave, just as they left Anbar.  But we are at the beginning stages of true COIN operations, and The Captain's Journal is no more surprised at the lack of functional, reliable ANA troops to accompany and be mentored by the Marines than we are dismayed by the lack of ANA support for the Marine Corps operations.  Surprise and dismay at this development underscores a basic naivety concerning where we stand in Afghanistan.
But the message isn't coming through.  So let's have another round on this issue, this time in pictures.  Here is the latest DoD report to Congress on Afghanistan, and a graph of ANA readiness.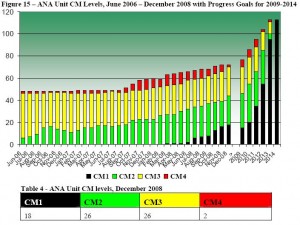 The following description attends the pictorial metric.
As of November 2008, the ANA had seven battalions and one brigade and one corps headquarters rated at Capability Milestone (CM)1: capable of operating independently. Twenty-nine battalions/squadrons, six brigade headquarters, and three corps headquarters were reported at the CM2 level: capable of planning, executing, and sustaining counterinsurgency operations at the battalion level with international support. Twenty-five battalions/squadrons, four brigade headquarters, one corps headquarters, and the ANAAC headquarters were reported at the CM3: partially capable of conducting counterinsurgency operations at the company level with support from international forces. Six battalions/squadrons and one brigade headquarters are reported at CM4: formed but not yet capable of conducting primary operational missions. Finally, there are eighteen battalions/squadrons and two brigade headquarters that are still not formed or reporting.
We must see the better part of this decade as lost time in Afghanistan.  That doesn't mean that Soldiers' and Marines' lives have been wasted, or that our efforts have gone to no avail.  It does mean, however, that we have been barely able to maintain conditions inhospitable to a major Taliban takeover.  We are starting from scratch, with a steadily degrading security situation.  For another pictorial description, see the following video with General Petraeus, and pay particular attention to the presentation around 2:20
This particular graph of security incidents has not come out in the public domain that I can find, but it is helpful.  We must see the situation as similar to the one in Iraq at its worst, and then again, the conditions are even worse than that.  The country is almost non-existent, there is no sense of nationalism, and there is significant drug abuse and incompetency in the Afghan National Army.  It has been estimated that if the ANA were to implement drug testing, it would lose as much as 85% of its forces.
Surprise at this statistic and at the lack of ANA troops to accompany the Marines through Helmand only underscores a basic naivety concerning the situation in which we find ourselves in Afghanistan.  We are starting over, and impatience with the campaign will only bring frustration to ourselves and the Afghanis.  This will be the longest campaign of the long war.