BY Herschel Smith

14 years, 1 month ago
While the Taliban are pushing towards the centers of gravity in Pakistan, they aren't forgetting their central strategy of interdicting NATO supply routes.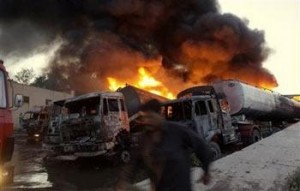 Dozens of militants armed with guns and gasoline bombs attacked the truck terminal in northwestern Pakistan Thursday and burned five tanker trucks carrying fuel to NATO troops  in Afghanistan, police said (AP Photo – Mohammad Sajjad).

Police say militants attacked the truck depot near the city of Peshawar before dawn on Thursday, hurling petrol bombs which set fire to the five tankers. Several truckers drove their vehicles out of the terminal to save them.
The solution is fairly straight-forward, but it requires the willingness to press the "make my day" button with Russia instead of the "reset" button.