BY PGF

1 year ago
The headline is from this article. A better one would be the Reality of Real Profits v. Marxist Ideology Taking Over Wall Street.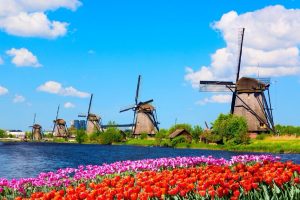 The reality is real profits after expenses are what matters, or a business isn't a going concern. A company must cover production costs, including salaries, and have some cash left (8 to 10 percent is the average target for an S&P 500 company) to reinvest for growth, new products, or expansion into new markets. You can't structure a business around theoretical returns in feel-good social engineering.
In recent weeks there have been giant strides in the effort to challenge the legality of the "Environmental, Social and Governance" (ESG) construct that has become a threatening obsession of the titans of Wall Street. Though ESG remains a unfamiliar acronym for most Americans, Main Street investors whose pension dollars are funding ESG investments are beginning to ask questions.
ESG is a social construct. The Left always projects.
While constituting competing frameworks, reporting systems, and scoring systems for environmental and social reporting for companies, the ESG construct lacks any quantifiable or worthwhile measurements. Put plainly, it is an entirely subjective scheme, created and funded by political, activists. Under the pretense of environmental protection and social diversity, these activists recognized that they had allies in the financial services and banking sectors who could be incentivized to do via the capital markets that which the activists knew they could never achieve using traditional market forces or democratic institutions. In short, voters would never agree to ruin their own economies, livelihoods and futures in the name of political ideology. To be successful, it necessarily needed to be stealthy and unchallenged.
And neither would shareholders vote to destroy real profits for green projects that have no chance of recouping investment costs, knowing that these schemes don't make actual profits in free and open markets. By 'traditional market forces,' the article means, earn real money or die!
In recent travels, giant windmills stood throughout certain parts of the US west. Where is the study on ROI (Return on investment) for these hideously ugly and mostly idle steel versions of the Dutch windmills from the Middle Ages? Forget for the moment monetary ROI; the Left doesn't care about that. Let's talk about Kilowatt Hours of ROI. What is the breakeven for a windmill in terms of energy used to produce it vs. energy output over its installed productive years?
The things are gigantic, made from metals, with miles of wiring for each one, lubrication, transportation and installation, lifecycle maintenance, etc. At what point, having poured millions of kilowatt hours of carbon energy into its production, does a windmill pay for itself in carbon savings by kilowatt hours of energy output? We all know the answer; they take more to produce and maintain in the total lifecycle than they will ever deliver. We're willing to be wrong about this; dear communist greenies, show us the math, please?
Therefore, if one doesn't pay for itself in kilowatt hours of power produced, it can never pay for itself in real money!
That's just one example under the E for Environmental. This is why the Green Energy New Deal is fake. Remember that to implement their Green New Deal completely, they'll need you to suffer to the point where you'll accept whatever they plan to implement if only you have enough food for your children. The S for Social is most assuredly destructive to capital investing. But we're ranting, back to the article.
Recognizing this reality, attorneys general Jeff Landry and Todd Rokita of Louisiana and Indiana issued a letter earlier this month warning their states' pension boards that ESG investing is likely a violation of fiduciary duty and potentially opens their investment staff and investment advisers to liability if they continue allocating funds to ESG-promoting asset managers such as BlackRock.

The Landry and Rokita letters follow another letter sent last month from them and seventeen other state AGs to BlackRock CEO Larry Fink. That letter warns the asset management giant that BlackRock's ESG investment policies appear to involve what they describe as, "rampant violations" of the sole interest rule, a well-established legal principle. The sole interest rule requires investment fiduciaries like BlackRock, to act to maximize financial returns, not to promote social or political objectives.

Yet, it is clear that BlackRock and industry counterparts are doing precisely that. They are attempting to use the ESG pretext of "protecting the environment" to re-orient trillions of dollars of their clients' capital toward what are unquestionably their own political and social objectives. This effort is borne out in the companies in which they invest and the trends they curate and then fund. As is repeatedly touted in the literature of the most prolific ESG advocates, they believe that because their asset management partners, including BlackRock, manage such a substantial percentage of the total investment market, their ESG world view is above constraint of law, or beyond the reach of the institutions that have traditionally protected investors from dubious investment schemes.
Dubious is the exact right word. One might be able to make a contrarian investment in the E, but the S and G exist enforced by law under the runaway woke interpretations of the 13th amendment and 1964 Civil Rights Act. It's not just the most prominent corporations that are involved. Every medium or small (publicly traded in stock) corporation has to sign on to the woke S and G or get shut down by government enforcement. Meanwhile, because of the E, nobody can get funding for projects that make much-needed electricity, such as new nuclear power or natural gas plants.
America is famous for wealth extraction and not just overseas. It's what government and businesses have been doing to West Virginia through coal for decades. The coal leaves on a train to make power for the big cities, and with it goes the profits leaving one of the most mineral-rich states in the union in poverty. Now, much of that coal goes to our self-declared enemy, China. The Left plans this same thing for Texas, Oklahoma, Wyoming, North Dakota, Louisiana, and others by destroying the oil industry.
But don't worry, they'll take your tax money and put up a windmill, if perchance a breeze comes along, maybe you can have an hour of electricity. I was struck by the fact that there are no substations on large farms with 50 giant windmills or more. Every coal, hydroelectric, and nuclear plant that I've seen has electrical substations to concentrate and route the gathered electricity on high-tension wires to population centers. I've even seen a solar farm with a small substation. Maybe the windmills are magic?