BY PGF

10 months, 2 weeks ago
One month ago, we showed you a pattern that was forming in the stock market that could signal bad times ahead. That pattern appears to have completed signaling deep losses to come in the stock markets. A recession, if the pattern holds, is predicted.
Here is the chart today: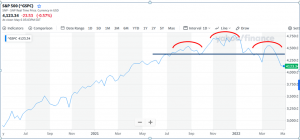 A "Head and Shoulders" pattern has formed, signaling a significant reversal from the prior trend. In English: stocks were going up, now they will go down. The major indexes have already started moving lower. Everything could change when the markets open tomorrow, but the trend has reversed downward.
Couple the pattern with the macroeconomic environment, especially inflation due to wild money printing after the Trump lockdowns, and you have a lousy recipe.
These things take on a life of their own. Every time is different despite the commonalities. This could be the final straw in the 100 years long money changers and war profiteers racket at the central banks. Or, it could be a very mild recession, and soon inflation abates. Momentum has its unique attributes, causing exaggerations both up and down. It could get nasty, and likely will, before it gets better. We just thought you should know.