BY PGF

11 months, 2 weeks ago
The "Head and Shoulders" stock market pattern usually indicates a reversal of the prior trend in (a) stocks.
Charts are read from left to right. Here is an example illustration: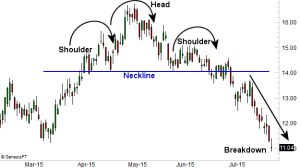 "The Head and Shoulders pattern is one of the most widely recognized reversal patterns and one of the most reliable bearish signals when found in uptrends, thus signaling the end of its [Bull Market] run."

"The reason why it's called a Head and Shoulders is because the first high (left Shoulder) and third or last high (right Shoulder) are both lower than the second or middle high (Head), making the pattern look vaguely like a silhouette of a person's head and shoulders. A trendline can then be drawn connecting the lows after the first two peaks and extending it out to the right. This trendline is called the 'Neckline'." – Quote from a Zacks technical paper on stock market patterns.
Here we are in the S&P broad market index: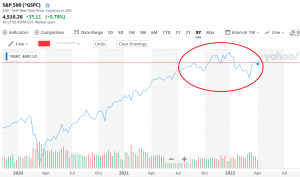 The pattern is circled, and a thin red line indicates the top of each shoulder. April 2020 was the Trump lockdown bottom. The market went up until September of last year; that's when the pattern started to form. The second "right" shoulder appears to be developing now. It could break the second shoulder to the upside, continuing the bull market run. But things don't look good; you know the macro; inflation, war, money printing, dollar losing global confidence, potential food shortages, etc. The market doesn't always break down when this chart pattern prevails, but we just thought you might need to know that it usually does.
Edit: Read this SitRep on Europe over the weekend. WRSA laments; "Where Are The American-Sourced Discussions On These Issues?" Yep, reading Americans about the situation over there is a total waste of time.