BY Herschel Smith

1 month, 1 week ago
Aspirin is one of those drugs that has been around forever. It is commonly used as a pain reliever, anti-inflammatory, and blood thinner. Surprisingly it may also have benefits in treating COVID.

A paper in Anesthesia and Analgesia published last spring titled, "Aspirin use is associated with decreased mechanical ventilation, intensive care unit admission, and in-hospital mortality in hospitalized patients with coronavirus disease 2019."

This was a retrospective, observational study of adult patients admitted to multiple hospitals in the U.S. between March and July 2020, in the early days of COVID. The primary outcome addressed by the researchers from George Washington University was the need for mechanical ventilation, which then, and still now, carries an extremely high chance of never leaving the ICU alive.

This was not a gold standard randomized prospective clinical trial. That would not be feasible in this situation since study patients were already hospitalized and critically ill. Remember in the early days, one needed to be extremely ill before even being admitted to the hospital rather than being sent home until sick enough to return and go straight to the ICU.

But the results were impressive. As reported last week by the Jerusalem Post,

The team investigated more than 400 COVID patients from hospitals across the United States who take aspirin unrelated to their COVID disease, and found that the treatment reduced the risk of several parameters by almost half: reaching mechanical ventilation by 44%, ICU admissions by 43%, and overall in-hospital mortality by 47%.

Why would aspirin be helpful for COVID, a respiratory disease? What if COVID is more than simply a lung disease or pneumonia? COVID is actually thought to be a microvascular disease causing blood clots, as described in the medical journal Circulation,

Although most patients with coronavirus disease 2019 (COVID-19) present with a mild upper respiratory tract infection and then recover, some infected patients develop pneumonia, acute respiratory distress syndrome, multi-organ failure, and death. Clues to the pathogenesis of severe COVID-19 may lie in the systemic inflammation and thrombosis observed in infected patients. We propose that severe COVID-19 is a microvascular disease in which coronavirus infection activates endothelial cells, triggering exocytosis, a rapid vascular response that drives microvascular inflammation and thrombosis.

Note the thrombosis aspect, blood clots forming in the lungs and elsewhere in the body. Aspirin, as a blood thinner, reduces the risk of blood clots, explaining its potential benefit for COVID.

[ … ]

How did aspirin get its start? Over 3,500 years ago, willow bark, known as "nature's aspirin," was used as a painkiller and antipyretic by ancient Egyptians and Greeks, and in a chemical synthesis by a Bayer chemist in 1897.

Aside from pain relief, it was found to have anti-platelet and anti-cancer effects. It's also on the World Health Organization's list of essential medicines, along with another familiar drug, ivermectin. The Harvard-based physicians' health study in the 1980s found that low-dose aspirin reduced the risk of heart attack by 44 percent.

A recently published Israeli study found, "Aspirin use is associated with better outcomes among COVID-19 positive patients." This included a lower likelihood of infection, disease duration, and hospital survival. In other words, aspirin works as both a preventative and as a treatment.
Reader and TCJ correspondent Jeremy sends this my way.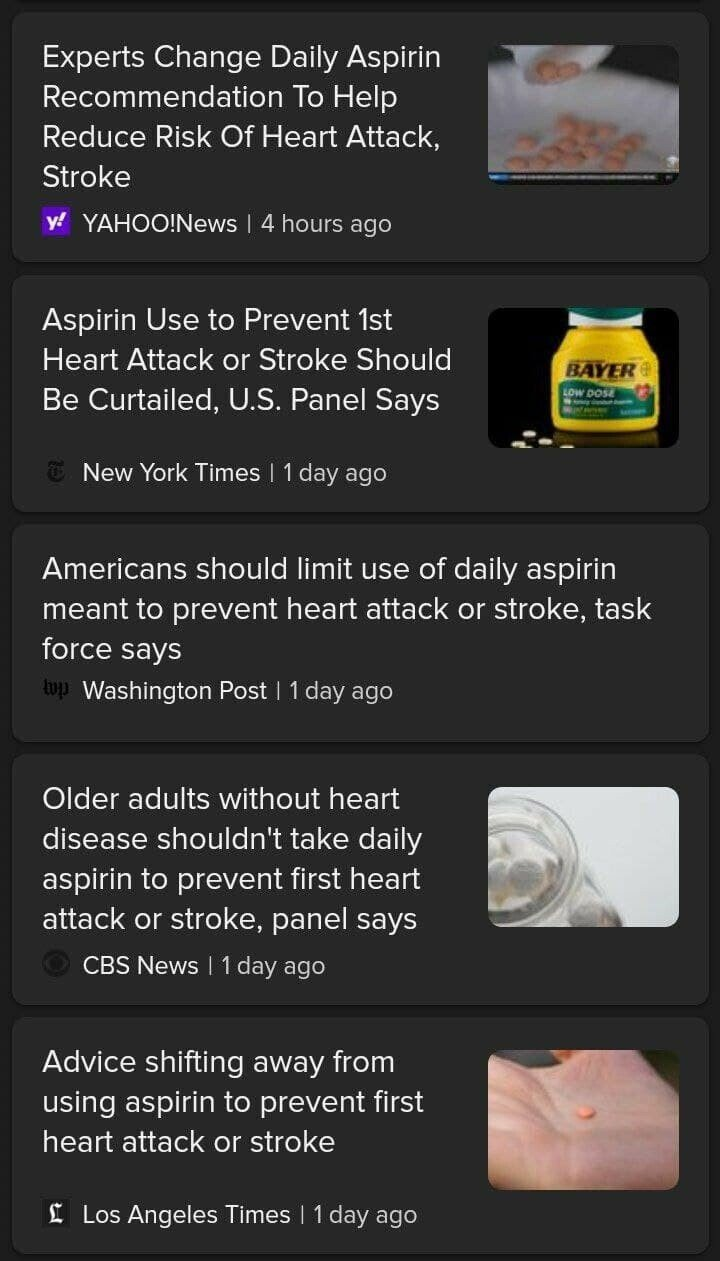 Leave it to FedGov and their mouthpieces in the media.  Interestingly, the top comment at Zero Hedge is this.
"I just visited relatives in small town New England for a few days.  Every single ******* person I ran into told me breathlessly that they had just found out that baby aspirin was bad for them.  People who had taken it for decades without any ill effect were going to give it up; a few had already called their doctor, and of course in each case the doctor had told them to discontinue.  I guess the media feel that not enough trusting old people have been ventilated."
Aspirin has been around since before I was a baby, and my pediatrician prescribed it many years ago.  It's safe, folks.
It's safe, cheap and effective, which is why the system doesn't want you to have it.