BY Herschel Smith

3 years, 6 months ago
Uncle attaches this photo, and says the following.
That story promptly went away for no reason. But the UK press has been covering it. That piece is a few months old. But it does put to rest the conspiracy theory that he didn't really use a bump stuck .. On the right, that is pretty clearly a bump stock.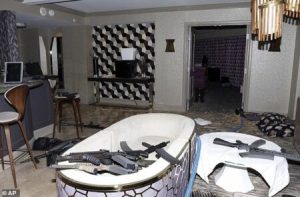 Sorry, but that photo proves nothing.  No one has demonstrated yet that he actually used a bump stock, or even what weapons were used.  Remember, Uncle?  The FBI prevented the ATF from examining the firearms in the room.  Wonder why they did that?
Say, I did notice how clean that room was.  Clean ceiling, clean floor, clean carpet, spotless lamp shades, everything is spotless.  Just like he had discharged thousands of rounds in that very location.  Or perhaps they accidentally let the maid in before they took the picture.  Yea, that's got to be it.
I'll repeat the question my former Marine asked after this event: "Have you ever discharged thousands of rounds in a confined space like that?  Do you know what it looks like after a battle like that?  I have, and I do."