BY Herschel Smith

10 months, 3 weeks ago
David Hunt on the Trench Gun.
The enemy didn't like the trench broom one bit. In September 1918, the German government issued a diplomatic protest, complaining that the Model 97 Trench Gun was illegal because "it is especially forbidden to employ arms, projections, or materials calculated to cause unnecessary suffering" as defined in the 1907 Hague Convention respecting the Laws and Customs of War on Land. When the Americans rejected this, the German high command then threatened to execute any soldier caught with a Trench Gun or even just Trench Gun shells. General Pershing replied that, henceforth, any Germans caught with flamethrowers or saw-bladed bayonets would be lined up and shot. As far as is known, no American or German POWs were executed under such circumstances.
For a lesson in history, visit his article.
But not so fast.  The shotgun is still a weapon of war.  As I've pointed out before, the U.S. Marine Corps used shotguns for close quarters battle in Now Zad, Afghanistan.  I snagged this shot of a YouTube video of fighting there when I was covering Marine Corps work in that theater.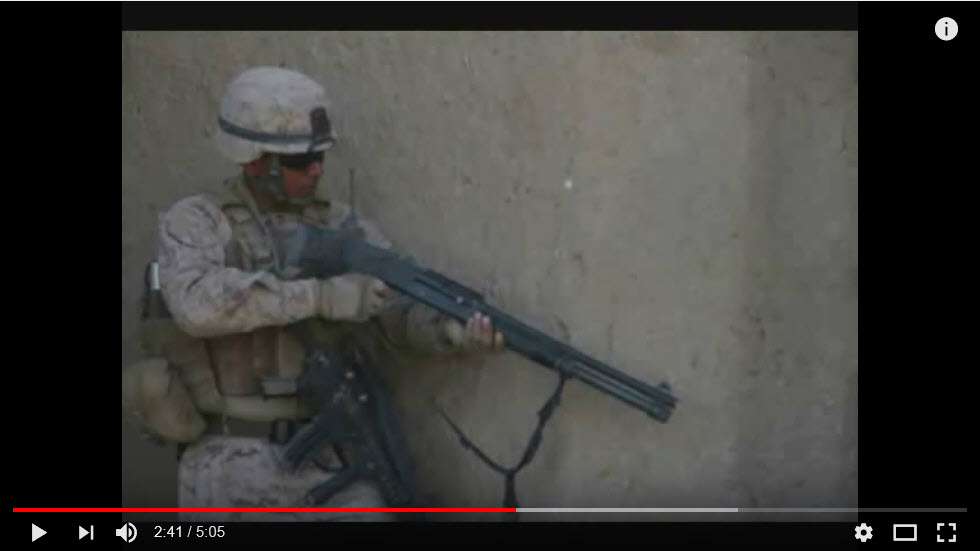 So the next time some loud mouth tells you that "civilians" should not have "weapons of war designed only to kill others," inform them that every soldier or Marine is first and foremost a civilian (in that he came from our ranks and will return to our ranks), and that every weapon that has ever been designed, or improvised, by an insurgency or uniformed army, is a weapon of war.  There are no exceptions, from sticks to rocks, from shotguns to rifles, from revolvers to pistols, from bolt action long guns to machine guns.
That's a Red Herring anyway.  They don't care about the details.  They just want you disarmed of all weaponry.  You're easier to control that way.