BY Herschel Smith

1 year, 1 month ago
In FOIA Response From The ATF: No Bumpstocks Used In Any Crime To Date, I conveyed an ATF response to a FOIA request.  This request was made on behalf of Len Savage, and Len sends me this initial letter making the request.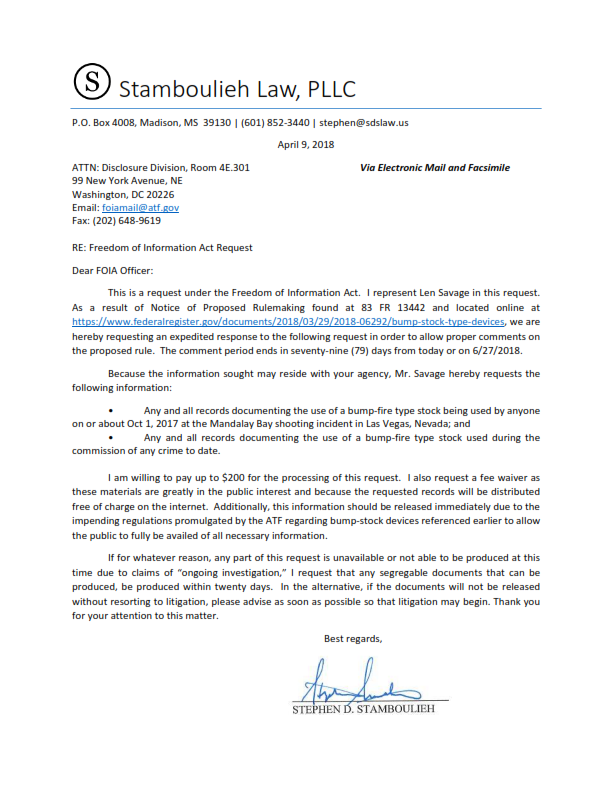 Obviously, they had trouble getting anything out of the ATF.  Len also sent some other email exchanges between him and the ATF which I will eventually post.
In the mean time, David Codrea had this to say.
Herschel has some thoughts. [More]

To reiterate, it's not "us" creating "conspiracy theories": Mr. Stamboulieh, Mr. Savage and I are simply repeating what the government is saying, and if that results in inferences and conclusions, they are the ones who can clear it all up — and won't.

I received the Chisolm letter from the principals the other day along with the document that prompted this response. There's more to say, which I will in a day or so when I finish some other stuff I'm working on first.

The main "spoiler" I'll give away is that the government attorney is being cute here, and I don't think the federal judiciary is going to appreciate that.

Stay tuned.
Okay, I'm a bit out of the loop on this and both Len and David know more than I do about what's going on.  I'll try to stay in better touch with both of them on this.
I accept David's observation that the government is trying to be "cute."  But I'll throw in that they're also being very careful.  I've worked with FedGov lawyers before, and they don't like putting documents out containing material false information.  If any licensee of any kind sends information to FedGov that causes them to repeat it in such a manner that the FedGov owns it, e.g., it ends up in the federal register or other archived government documents, they get really pissed and come after you.
They don't like material false information because for one, it's illegal to communicate it (either to or on the part of FedGov), and two, it's unethical.  If it can be demonstrated that the material false information was knowing and intentional, that can mean disbarment (for a lawyer) or even imprisonment.
I'm sure they're being "cute."  I am also sure they are being very, very, very careful.