BY Herschel Smith

9 months ago
Portugal has the most restrictive gun laws in all of Europe, apart from the UK. But in several aspects, Portuguese weapons law is more severe and extremely perverse because it has a lot of dubious subjective prohibitions. Therefore, our law is – by far – the worst I know in any democratic country. I believe it violates Constitutional Rights and the basic structure of our legal system that is constructed around the principles of the Portuguese Republic Constitution.

The Portuguese legal regime regarding weapons had a radical change in 2006. Before that, the law was based on a 1949 enactment. This underwent some minor changes in 1975 and later more significant changes in 1997, 1998 and 2001. Although quite old, it was a well constructed legal regime in terms of objectivity, technical definitions, and very well balanced when it comes to rights vs. prohibitions.

In 2003 the Government created a special committee. It's alleged aim was to simplify legislation regarding firearms and weapons. Then in 2006 they proposed what became known as the new weapons and ammunitions legal regime "Regime Jurídico das Armas e suas Munições", generally called as "RJAM".

This new package of laws was a total fiasco, being significantly more complicated than the previous law. It included two major enactments – the base law No. 5/2006 and the sport/gun collection law No. 42/2006. Plus several decrees, dispatches, regulations and a vast multitude of lesser legislative acts.

Just the Act No. 5/2006 alone is more complicated and larger than all the laws that existed until 2006 combined. When gathered together with all the other new legislative acts, things became even more complicated and difficult to understand.

All these problems were aggravated because this new regime was, and still is, based in "legal definitions" and "legal classifications" that have several technical mistakes and are so ambiguous that they can be interpreted in various ways.

Meanwhile powerful anti-gun lobby was seeking further restrictions. And they succeeded. The base law No. 5/2006 underwent a major revision by Act No. 17/2009. Five more amendments followed ending with Act No. 50/2013 that has been the last major change in force until today. Now we are facing further changes in connection with the EU Gun Ban.

Was there any kind of grandfathering for the newly banned items?

No. If you buy a gun in a perfectly legal way and you own it because the law in that moment guaranties that it is legal, there is nothing that protects you, nor your property, if the next day the law changes and the guns you legally bought and own becomes forbidden. You can't keep it anymore, and if you do, you will commit a criminal offense that is severally punished.

Changes of the original Act No. 5/2006 always lead to a more restrictive regime. Many items that were legal by 2006 became illegal and are now considered "forbidden weapons"…

And there is no end to that.

The EU Gun Ban implementation proposal now exceeds everything we have seen so far in terms of absurd prohibitions, abuse of power, disregard for private property and increase of subjective and dubious prohibitions. It is now being discussed by the Portuguese Parliament.

[ … ]

It also introduced new prohibitions, and changed in a more complex way some legal definitions, all ammunition with expansive bullets became strictly prohibited except the ones used in hunting. A specific example: the prohibition of rifles and shotguns that resemble "war weapons". Due to that change, several legally owned firearms had to be reclassified from "C class" to "A class" and could not be used any longer.

Those firearms owners had to apply for a different permit that restricted them firearms to what we call "house detention". That means the owner cannot have any round of ammunition that could fit those guns and the guns must be kept inside a vault or a safe house. Never being able to be used for any purpose than the simple possession inside that specific house, locked in a vault and without ammunition.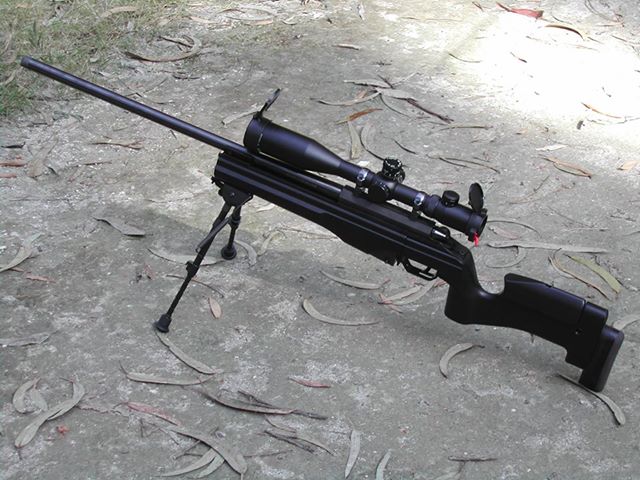 Vítor Teixeira's repeating rifle Sako TRG 42. After 2011 change in Portuguese gun laws, this rifle (according to the opinion of the Portuguese Security Police (PSP) experts) could be classified as a "war weapon", so Vitor chose to sell it off before the law was approved. Later, some of these where indeed confiscated by the police, but other (this is due to the subjectivity of the law) became – again – class C rifles.
Do read the entire interview.  That Sako is a very nice gun, and between the scope and gun he's probably got $6000+ wrapped up in that weapon.  It's now a paperweight because he (or its new owner) has no ammunition – or at least, we are to assume that he doesn't.
The conflicting, confusing nature of the definitions and the various and sundry ways in which the regulations can be interpreted isn't a bug – it's a feature of all good gun control legislation.  The piecemeal erosion of rights is emblematic of what's happening in the U.S. as we watch.  He said that the most recent gun control regime makes even more weapons illegal, and "there is no end to that."
No, there never is.  And the Fudds who didn't care about bump stocks may one day see their bolt action deer rifles locked in gun safes with no ammunition, unable to kill deer, because it's considered by the controllers to be a weapon of war.
I've warned before about classifying guns as weapons of war versus hunting guns, or any other such bifurcation.  The U.S. Marine Corps used shotguns to clear rooms in Now Zad, Afghanistan.  They also used Winchester Model 70s in the initial stages of OIF as sniper rifles.  It didn't bother them at all that Carlos Hathcock chose that very weapon in Vietnam (before its manufacture was outsourced to Japan, of course).
9mm Glocks, .45 ACP 1911s, bolt action rifles, high quality optics, night vision, knives, shotguns, body armor, and good comms gear are all still in use in the military and always will be (in some form or another).  The controllers think all of that is either a weapon of war or appurtenant to it.
Incremental cooperation with the controllers means gradual loss of liberty.  Compromise is for men who have no principles.  The only mistake the expert made in the responses was in his assertion that anything that is a God-given right can be "very well balanced when it comes to rights vs. prohibitions."  That's where all the problems began.
The controllers want to own that purview of mankind precisely because it is domain God has retained to Himself.  The state has set itself up as god, and there is no compromise good enough when the only acceptable sacrifice is absolute fealty.