BY Herschel Smith

4 years, 8 months ago
While perusing this piece on new rifles from the SHOT show (most of which I find far too pricey), I ran across an ammunition type I hadn't seen before, the .350 Legend.  That's because it's brand new.
The 2019 SHOT Show saw the release of the latest cartridge from Winchester—the .350 Legend. The new cartridge is a .223 case blown out to have straight walls, making it a perfectly viable choice for those states which require the use of a straight-walled rifle cartridge for deer hunting. The bullet diameter is listed as .357″, and the rimless design will require the cartridge to headspace off the case mouth.

Winchester is currently offering five different loads for the new cartridge: a 150-grain Deer Season XP at 2350 fps, a 180-grain Power-Point at 2100 fps, a 160-grain Power Max Bonded at 2225 fps, a very affordable 145-grain FMJ in the USA ammo line at 2350 fps, and a Super Suppressed 265-grain load at 1060 fps.

I had the opportunity to shoot the .350 Legend at SHOT Show's Industry Day at the Range in a Winchester bolt-action rifle, and it was plenty accurate and pleasant on the shoulder. They had the Deer Season XP load and the USA Full Metal Jacket loads on hand; point of impact between the two was so close at 100 yards that a hunter could easily use the much more affordable FMJ ammunition for off-season practice as well as plinking, and switch to the Deer Season XP for hunting. In Winchester's comparison to the veteran .30-30 Winchester, the .350 Legend shows to have an energy advantage of 120 ft.-lbs., yet delivers less recoil than the old deer classic.
It would appear that the idea is a straight-walled cartridge that isn't quite the punch in the shoulder that the .450 Bushmaster is, but still with a lot of power.  I confess that I had thought before about the possibility of a carbine chambered for .357 Magnum.  This is a step up.  For the 150-grain bullet they get 2350 FPS, whereas by comparison, for the 300 Blackout at 125-grains, it's pushing 2215 FPS.  It's got the 300 BO beat.  They must have partnered with CMMG, because there's already a gun for it.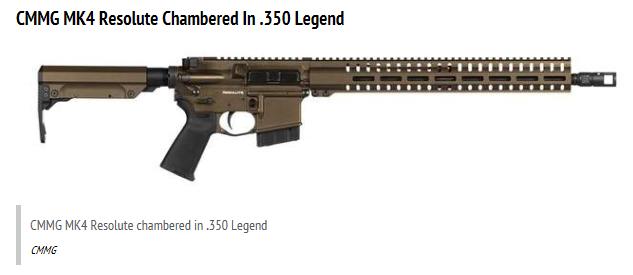 CMMG makes nice-looking, well-functioning guns.