BY Herschel Smith

4 years, 9 months ago
A Shreveport police officer is under an administrative investigation after he accidentally fired his department-issued gun while teaching two summer interns about gun safety.

Cpl. Marcus Hines accidentally fired his department-issued .40-caliber Glock handgun around 11 a.m. on Wednesday, June 20, while inside his office, according to a police report.

Hines told the department that neither he nor the two public information office interns — a 21-year-old woman and a 22-year-old man — were injured.

Hines's work assignment is to serve as a department spokesman. Calls to him Thursday evening regarding the incident were not returned.

According to police reports, Hines and the interns recently returned from watching the department's special response team receive tactical training when Hines began to discuss department-issued weapons and gun safety.

During the conversation, Hines unholstered his gun, removed the magazine and then removed a round from the chamber. He was telling the interns how one should always point the gun in a safe direction when it fired, said Chief Administrative Assistant Ben Raymond in a statement.

The round penetrated the carpet of Hines' office. Police later removed round fragments near Hines' desk and took photos of the scene, police said.

After the gun went off, Hines followed police protocol and contacted a supervisor. Hines was then taken to Willis-Knighton Work Kare for substance-abuse screening, police said.

Hines told police he was trying to make the weapon "safe" when the gun went off.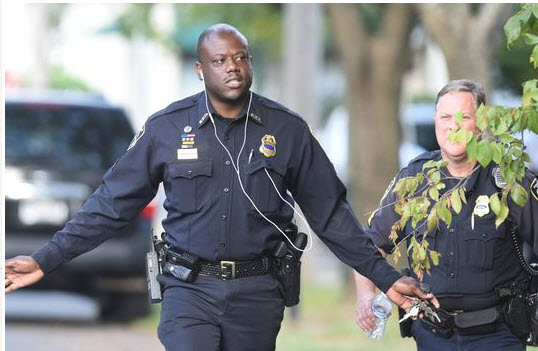 I know.  It just went off.  I hate it when that happens to me.
But here's a tip that's helped me a lot.  Take those dumb ass ear buds out when you're on duty and trying to keep life safe for folks.