BY Herschel Smith

2 years, 5 months ago
Looking almost like an oversized pistol, the Heckler & Koch MP7 is a cross between a submachine gun and a carbine that serves around the world in the hands of law enforcement and special operations units.

In the late 1980s, NATO developed requirements for a next-generation personal defense weapon that would be more effective against body armor than current pistol-caliber PDWs.

While submachine guns based on the .45 ACP or 9mm deliver plenty of stopping power against unarmored targets, the growing availability of capable and affordable body armor meant that something new was needed.

So German gunmaker Heckler & Koch developed the MP7 to meet these NATO requirements and it has served across the world since entering full production in 2001.

Some of the most commonly-spotted submachine guns in the hands of law enforcement and other professionals are the MP5 and its successor, the UMP. These guns typify the classic submachine gun, being automatic weapons chambered for pistol cartridges.

The MP7, however, is chambered for the 4.6x30mm cartridge. The steel core 4.6x30mm was developed specifically to be a lightweight pistol-ish round delivering the penetration more like a rifle cartridge. The smaller, lighter round means that more ammunition can be carried and that it has a minimal recoil even in full-automatic shooting.

The 4.6mm cartridge was developed by HK for the MP7 and its companion sidearm, the UCP pistol. The UCP never got past the prototype stage, but the 4.6x30mm has definitely made its mark in the MP7.

The MP7, currently being produced as updated models MP7A1 and MP7A2, weighs less than 5 pounds with a loaded magazine and is only 25-inches long with its adjustable stock fully extended. The barrel is 7.1 inches long and the magazine feeds into the pistol grip, creating a compact, easy to handle package.

The action is a gas-operated short stroke piston like that of HK's HK416 rifle and is rated at 950 rounds per minute.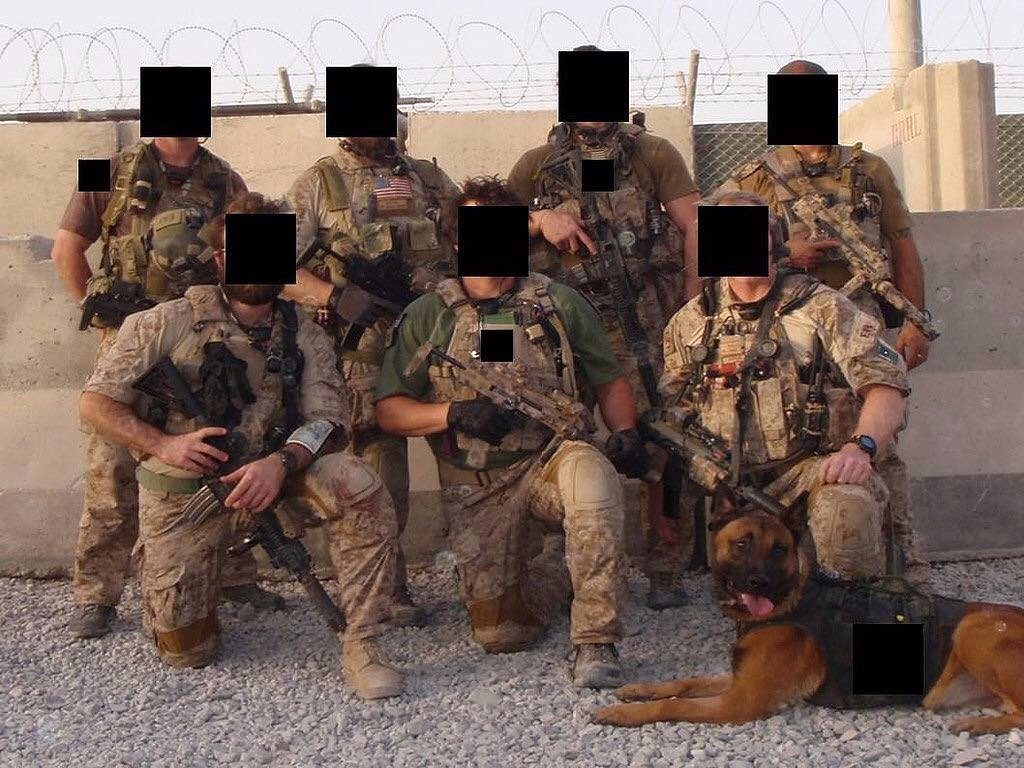 From the Business Insider article, several SEAL Team 6 members, some of whom are carrying MP7s.
This is a curious article and a curious revelation.  That's all I can say about it.  Well, not really.
I recall having had discussions with Kevin O'Brien (WeaponsMan) before he passed away, and he once remarked to me in a rather puzzled way how SpecOps was now using shorter and shorter barrels, even much less than 10″.  It's a strange development, frankly.
In this case not only have they chosen a PDW for warfighting, they have chosen a smaller caliber than the 5.56 mm.  If you look at the data for this round, it doesn't send bullets down range at anything close to the 5.56 mm, and seems to me to basically be a knockoff of the 5.7 X 28, which I shoot with the FN 5.7.  In fact, the technology doesn't advance the round itself beyond the 5.7 in the least, and the weapon itself seems rather pedestrian if you don't consider the fully automatic capability.
Regarding the high rate of fire, I don't see it gaining the shooter any advantage since it would only be used for area suppression, and besides that, the shooter would have to carry a lot more ammunition in order to make full use of the rate of fire.
Also, selection of this weapon for continual use, or even just one specific mission, assumes that the only gun fight in which you'll find yourself will be CQB.  I don't think anyone can predict the future this way, and I would rather be prepared for other exigencies with selection of a weapon that can fill a number of roles like the 5.56 mm carbine.
Regarding ammunition availability, where I am there is plenty of 5.7 X 28, and I suspect that no one else within 500 miles of such a gun fight would have access to 4.6 X 30.  I simply wouldn't want to deploy even on a single mission with an ammunition type that was unique to me.
Finally, it just seems to me based on what I've seen over the last several years that the U.S. Army is hell bent on singlehandedly keeping H&K in business, but just over an hour down the road from me is an FN plant with mechanics, gunsmiths and designers who could have delivered a nicer firearm to the Navy shooting 5.7 X 28, a more capable round, where the dollars would have stayed in the U.S. and the weapons would have been American-made.
I'm not impressed at this love for H&K.  Anyway, remember that H&K hates you and thinks you suck.