BY Herschel Smith

7 years, 7 months ago
When a Portage couple heard a knock on their door a year ago, they were shocked to see 20 armed police officers standing outside, yelling an expletive at them to open their door.

Portage SWAT then searched their home as they were forced to watch before someone realized they were at the wrong address, according to a lawsuit filed by Jon Groski and Stacey McFadden against the city, the Portage Police Department and a number of officers.

Mayor Jim Snyder could not be reached for comment.

According to the lawsuit, filed Thursday in the U.S. District Court in Hammond, the couple and their 4-year-old daughter were at home in the 3300 block of Oakwood Street on the morning of April 13, 2015, when they heard loud banging on their door.

Groski looked through a window and saw 20 officers all wearing black with assault rifles on his doorstep, the lawsuit says, and one of them yelled at him "Open the (expletive) door, right (expletive) now."

When he asked what was going on, another officer told him "It doesn't (expletive) matter," the lawsuit says.

It adds that when Groski did open the door, they rushed in with their weapons drawn at everyone in the house.

The lawsuit says that police never actually identified themselves as officers and never produced a warrant. After searching the house for some time, one officer made a comment about being at the wrong house, according to the suit.

The suit says that Groski and McFadden later learned police were trying to serve a warrant on someone who did not live at the house and that that person was not wanted for a violent crime.

It argues police used excessive force against the family and would not let them leave during the search. They are suing for unspecified compensatory and punitive damages.
This is the troupe of goobers responsible for this.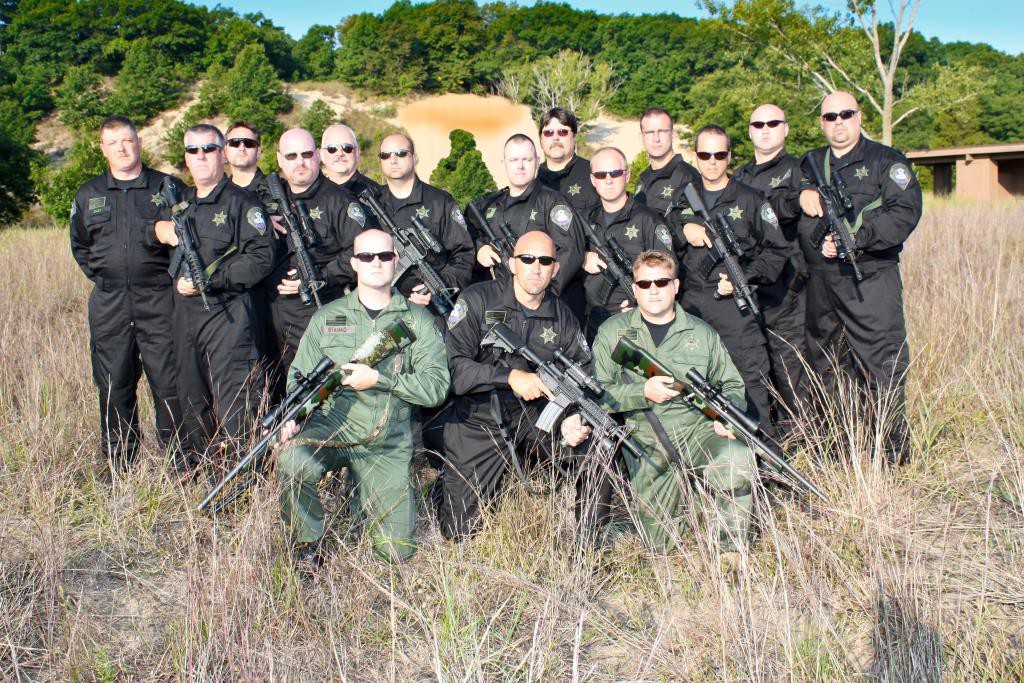 They think it's acceptable to force their way into another man's home, property not their own, point guns at his family, and tell him it's none of his business why they're doing it.  To boot, this is yet another wrong-home raid, and making this even richer, the man they "wanted" wasn't even wanted for a violent crime.
Hey folks, put the carbines down, get out of the monkey costumes, take the shades off (no, they don't make you look cool), take some classes in scientific forensics (perhaps even including – gasp! – Calculus and physics), and be useful to your community.  As it is, you're doing no one any good.  You're collective drains on society, loads on the turbine.  You're not earning your keep.
Do your investigative work, go door to door, knock on the doors, be friends of the community, ask questions, and so on, and for heaven's sake, dress up in a formal uniform, shirt and tie and try to at least look like you're a professional.  Defenestrate the tactical gear and jump suits and lose the bellies.  You look stupid.  But before you do any of that, read the constitution for what you can and can't do, and don't even think about deferring to a rubber stamp judge to prove that it's okay for you to be abusive to citizens.  God won't care what that judge said.