BY Herschel Smith

7 years, 10 months ago
"Thou shalt not kill," God to Moses to the world.
"Blessed are the poor in spirit, for theirs is the kingdom of heaven," Jesus Christ, Son of God, to the world, Matt 5:3.
"You shall not curse a deaf man, nor place a stumbling block before the blind …," God to Moses to the world, Lev 19:14.
This is a picture of the Bataclan.  Look at it.  And look at it some more.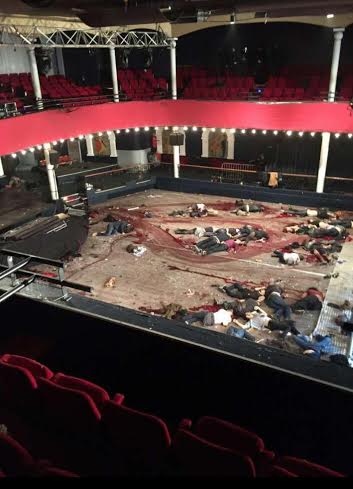 Take note of what one woman said about the attack.
Miss Wilson, 49, originally from New Orleans, also told how she witnessed the gunmen deliberately targeting concert-goers in wheelchairs. The gunmen hunted down disabled people who were sat in an area specially set aside for wheelchair users.
The mass killing of women and children, the most defenseless among us, in Iraq, isn't an accident or incidental feature of militant Islam.  It's who they are.  It's what they do.  There is no mercy, there is no compassion, there is no love, there is no respect, there isn't even honorable war.  There is only wretched evil, queued up straight from the pit of hell.
Self denial is all that is left in Europe.  It must be the Jews, since this band played in Tel Aviv recently (no more anti-Semitic ideology can be found anywhere than the American university – this is what they're thinking, you know it is) .  Except that it's not really the Jews.  ISIS has declared that the American blood is best, and we will taste it soon.  It must be American strikes in Iraq and Syria, except that ISIS attacked France.  Gun control laws work, except that the attackers all had guns.  Semi-automatic guns are the culprit, except that one of the attackers used a pump action shotgun.  The police will protect us, except more than 100 perished in Paris that awful night.
The world is a confusing place to the progressive mind at the present.  Don't be confused with them.  Germany won't close her borders, France will remain an open society, and not to be outdone, America failed its test on 9/11 more than a decade ago.  Our borders are still open, and we still invite disparate cultures from across the globe to ensconce here.
But no civilization in more than a millennia has been able to peaceably coexist with Islam.  Add to that the effects of Hispanic and Latino immigration, the financial pressure on the middle class from all of this additional baggage, and a government that increasingly wants to enslave its people, and a pressure cooker of historic proportions is being set up.
Everyone in the French government is shocked.  No thinking man is shocked.  This was the inevitable deliverance of a ruling class who hates us.  America is the product of Continental and Scottish Calvinism, unquestionably a Christian nation.  The current administration, along with ISIS, hates who we are.  This is coming to America – it is already in America – and it is our responsibility to be ready for it.