BY Herschel Smith

8 years, 8 months ago
I've had a Kel-Tec PMR-30 for a while now, and wanted to do a review of it.  But I had decided that I wouldn't publish on this gun until I felt that I had a feel for what it did, why it did it, and how to operate it properly.  This is a unique gun for a number of reasons, and proper operation and maintenance isn't intuitively obvious, even to an experienced gun owner like me.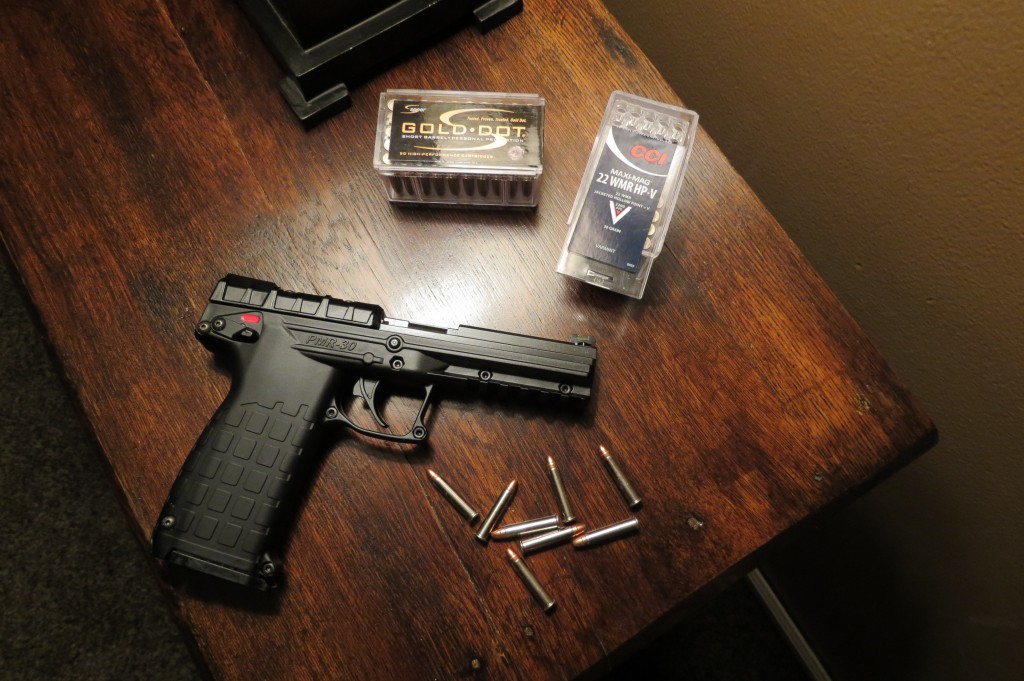 The Kel-Tec PMR-30 is a .22 WMR (or .22 magnum) pistol that fits 30 rounds into the magazine.  It is light, very narrow framed, and odd in its parts and manipulation.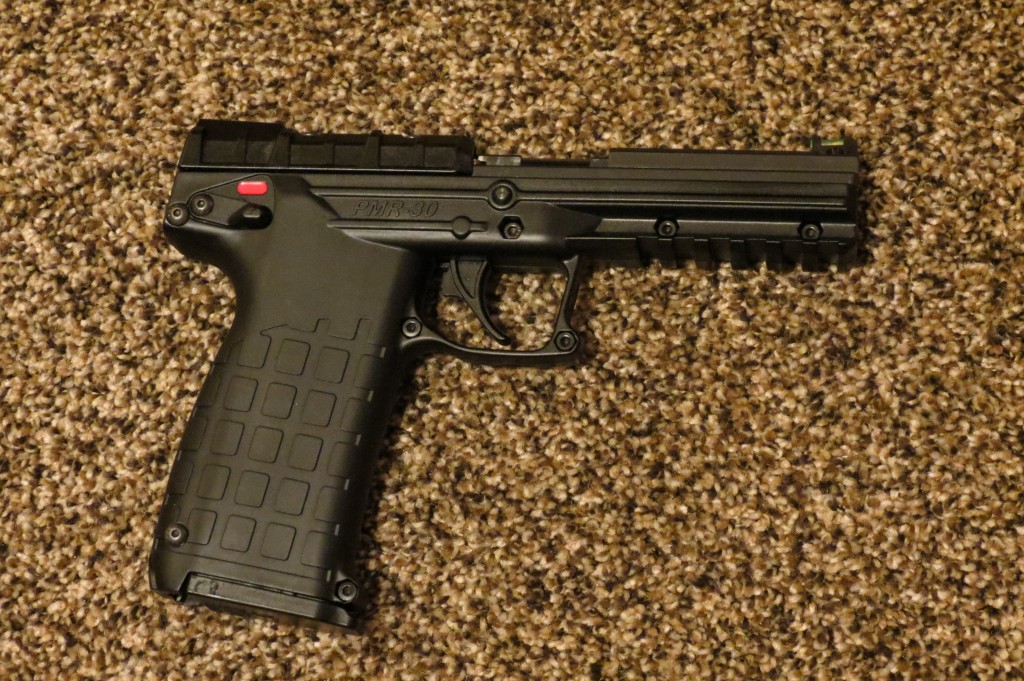 Below I show the Kel-Tec alongside a Smith & Wesson 1911 E Series pistol in order to show that the PMR-30 has a long barrel (both of these guns have a five inch barrel).  But in spite of the double stack magazine loading, the frame is still so narrow that the form and fit is different, requiring time at the range in order to accustom yourself to it.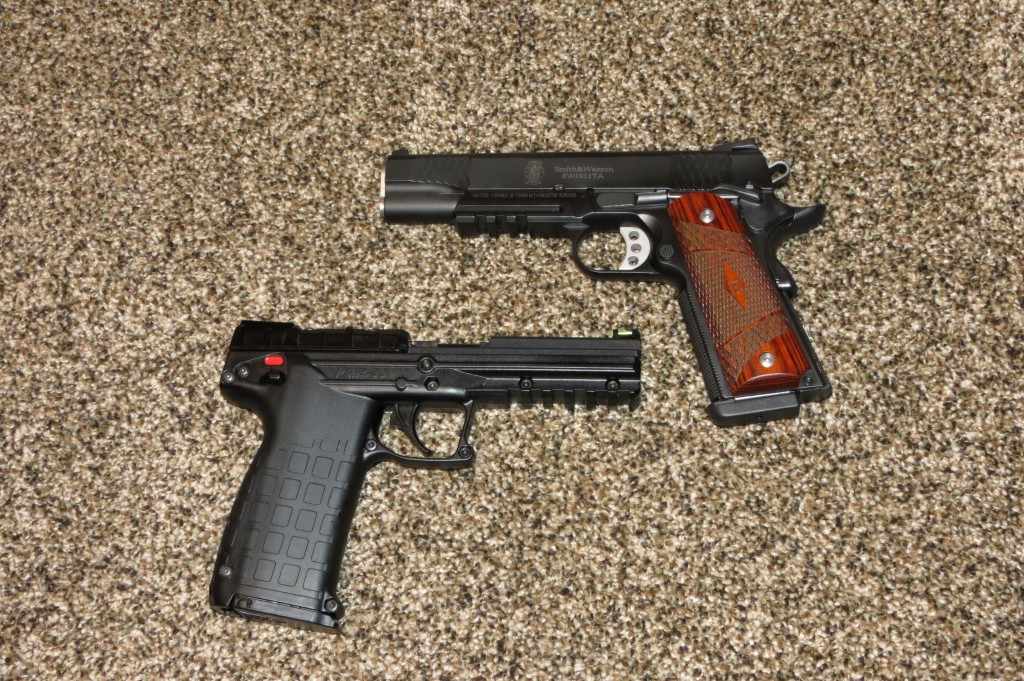 It disassembles into an assortment of parts that looks different than any other polymer frame pistol (e.g., my XDm or my M&P), and certainly different than the 1911 pictured above.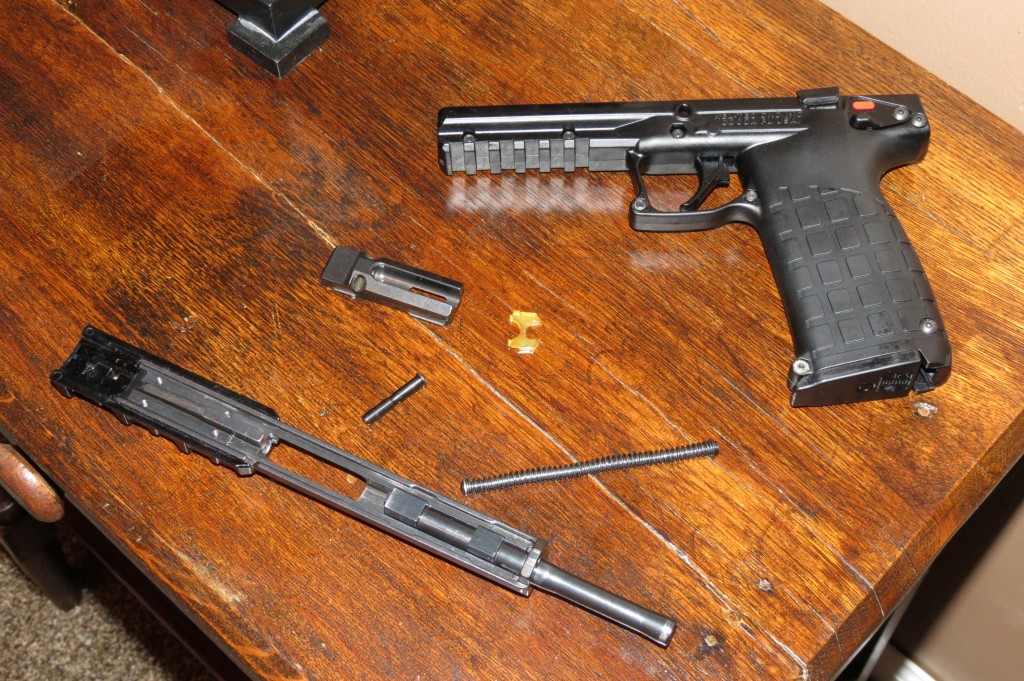 But the PMR-30 is a finicky weapon, and one of the parts that failed on me after about two years of shooting is what I'll call the slide retaining pin, pictured below.  The one that failed is pictured alongside the replacement from Kel-Tec, and as you can see, there is a stress concentration point in the design of the pin half way across the width of the slide.  This pin goes through the slide and holds it in place.  You can see the residual gun oil on my wife's antique furniture, so perhaps she isn't reading this article.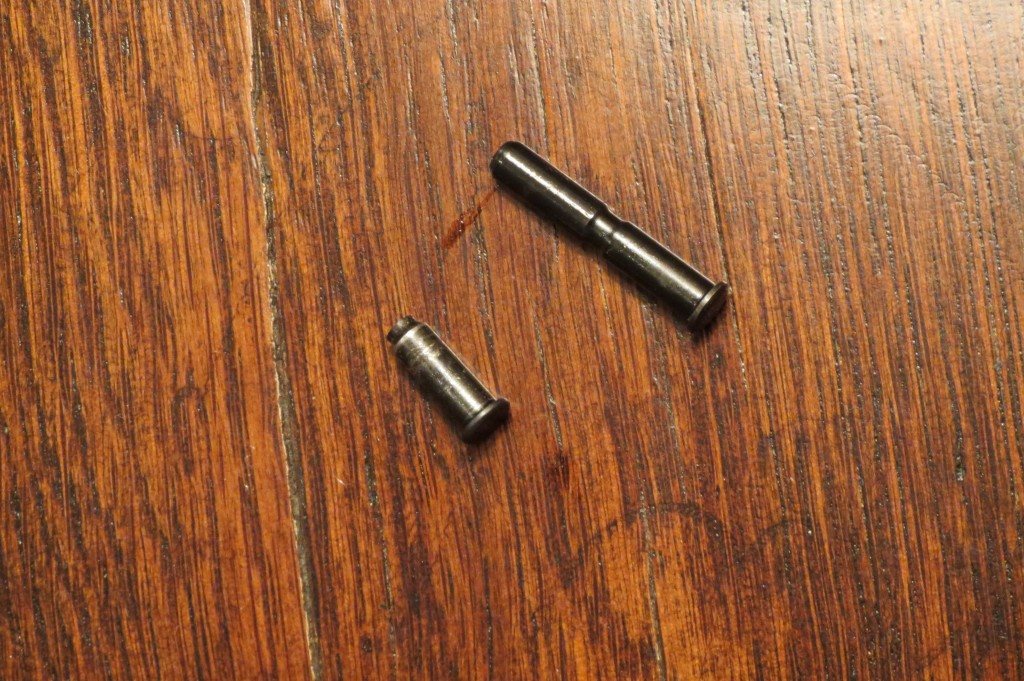 Another failure occurred about a year and a half ago with what Kel-Tec calls the "recoil spring guide lock ring."  Once after shooting I attempted to disassemble the gun for cleaning and ended up having to force the slide off of the frame, with the result being that this ring elongated and became essentially a straight pin sitting on my kitchen floor somewhere (this happened because the ring had seized between the recoil spring guide rod and springs for some reason unknown to me).
After sweeping the kitchen, finding what was once the lock ring, and doing my own gunsmithing and reforming and reinstalling the ring, it worked fine and has worked ever since then.  The lock ring is shown below in what is admittedly a poor picture.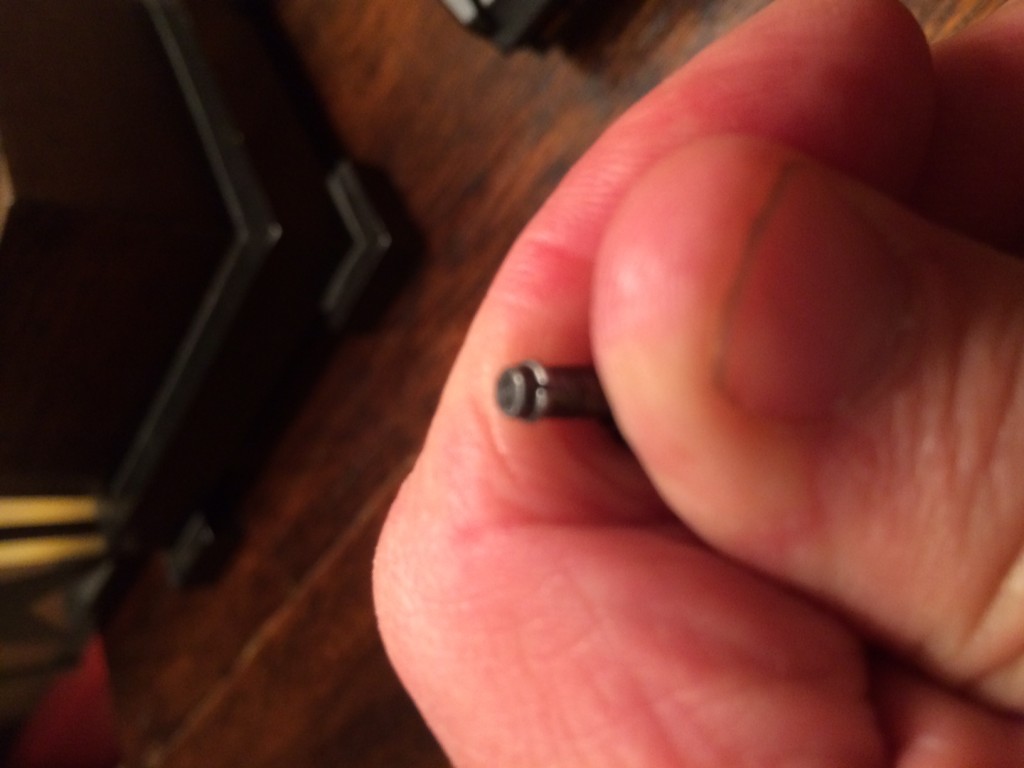 The PMR-30 has both a good and bad reputation within the gun community, good because it is a remarkably fun gun to shoot, and bad because it is remarkably finicky and picky.  I have suffered my share of failures to feed, failures to eject, and strange little parts failures with this gun.
That said, I have landed on what for me has made the difference in a horrible little bitch to shoot and a delightful partner at the range.  It all comes down to ammunition and magazine maintenance.
Pictured at the very top is nothing but personal defense ammunition in .22WMR.  I don't shoot common .22 magnum ammunition any more in the gun, and I have had no failures since shooting high quality ammunition.  Rimfire ammunition is notoriously unreliable and dirty ammunition anyway and requires careful cleaning of the weapon after use.  Use of high quality ammunition makes the experience much more reliable with the PMR-30.
As for the magazine, it has a polymer follower combined with a polymer magazine frame, and the two don't slide against each other very reliably unless I use a little oil in between the follower and magazine just prior to shooting.  I have not had any so-called "rimlock" failures, and I find that it's relatively easy to load the ammunition.
I don't want to repeat the other PMR-30 reviews out there, and there are a lot of them.  I also don't want to repeat the ballistics gelatin tests of .22WMR ammunition (and there are plenty of them).  You don't need me to perform Google and YouTube searches for you.
Basically, the .22WMR goes a full 14 inches or more into ballistics gelatin, and cavitates along the way.  The PMR-30 has a reputation for extreme muzzle flash, and I can vouch for this.  The round leaves energy in the barrel because of the slower burning rimfire load, but it still manages to achieve some 1375-1400 FPS muzzle velocity.
Readers know that I am a fan of .45 ACP, and this is my choice of personal defense weapons and ammunition.  Would I recommend carrying .22WMR for personal defense?  You'll have to wait a moment to find that out.
The negatives of the PMR-30 include the polymer magazine, and I would willingly give up a little weight to have more reliable feeding of ammunition with a stainless steel magazine.  Also, if you are going to have reliable rimfire ammunition, you need to purchase high quality round, these being expensive enough to roughly compare to 9mm.  So if you're going to shoot for training or carry a smaller defensive round, why would you choose .22WMR rather than 9mm?
The positives of this weapon and .22WMR are numerous.  First of all, I like the fiber optics sights.  Next, the .22WMR round has so little recoil that I can shoot it and retain or regain my sight picture with no effort.  This allows me to lay rounds on target much faster than I can with say .45 ACP or .40S&W.  I always end my range time with rapid fire of at least a couple of magazines, and no matter how much range time I put in, .45 is a hairy chested, big boy round, with a lot of powder pushing 230 grain fat boys.  That's why I like it.  But it is difficult to maintain accuracy with rapid fire.  With the .22WMR it is effortless.  This means that for every two rounds of .45 I can put on target, I can put five or more .22WMR on target.  This means something, including in personal defense situations.
The magazine is long, and can hold up to 30 rounds.  I rarely put 30 rounds in, but whether it's 20 or 25, this is a lot of rounds before reloading.  Would I carry .22WMR for personal defense?  I consider that to be an illegitimate question.  Hypotheticals don't matter in personal defense.  The question is, "Have I carried the PMR-30 .22WMR for personal defense before?"  The answer is yes.
I carry different firearms at different times for different purposes and under different circumstances.  I would also recommend this round as a good backup round (say in an ankle holster).  Is it what I consider the premier personal defense round?  Of course not.  My choice for premier personal defense round would be a tossup between .357 magnum and .45 (both of which I have shot extensively).
But you may not have access to your premier round when you want it, or you may find it uncomfortable or unwieldy to carry.  I would certainly rather have this gun than not, especially given that I can lay so many rounds down range so quickly and accurately.
This gun is not a good recommendation for a single personal defense firearm for those who can only afford one weapon.  This gun is an extremely fun range toy, good for training purposes, capable of accurate rapid fire, and acceptable for personal defense in the absence of whatever you consider your premier personal defense round or as a backup weapon.