BY Herschel Smith

10 years, 1 month ago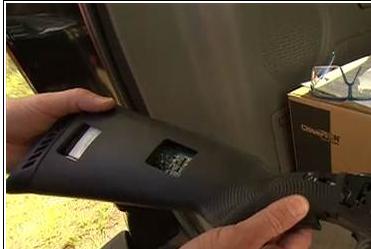 Manufacturers are looking into new sensor and biometric technology to restrict gun use to the owner.

They're called smart guns. When placing a sensor ring on the gun, it shoots. Without it, it can't.

It's part of technology designed so only the authorized user can fire the weapon.
Another design uses biometric technology that recognizes your grip.

"One of the major designs is where it accepts either a fingerprint or a thumb print so it will release the firing pin or the trigger area so that it can fire, so if it doesn't recognize it, it won't allow the gun to fire," says Santa Maria gun shop manager Joe Degeus.

Making it useless, if the gun were to fall into the hands of a child or a criminal.

"It is kind of like James Bond," says Degeus. "But you got to remember, with technology comes the opportunity for more mistakes."

Gun owners say it sounds good in theory but argue the technology is lacking.

"If that system jams up or if we have a problem with it, I'm in a bad situation," says gun owner Joshua Miller. "Because the criminal that's coming at me…he's not going to have any limitations so his gun's going to fire every time."
Take it from a registered professional engineer.  You see that picture above with the solid state electronics inside the gun?  It is obscene.  Not only that, it's stupid.
There are even old school shooters who don't believe in such a thing as the grip safety (Beaver tail) on my XDm.  I am not among that crowd, but the notion that I would rely on a gun with solid state electronics for my own protection is absurd, leaving aside the problems I have with it being amenable to governmental control.
Every gun you have should be capable of personal defense.  Some guns (and cartridges) are better for concealment, some better for target shooting, some better for more sophisticated and formal competition such as 3-gun or IDPA, some are better for hunting, and some are best for personal defense.
But whether .17 HMR, 5.6 mm or .338, every gun you have should be at least minimally capable of use in some sort of defensive situation, even if not the best suited for that purpose.  This is true because you might be in a position where you have to pick it up and use it for that very purpose in a crisis.
Having solid state electronics as yet another failure mode in any of those guns is not an option for me, and I suspect, for 99% of all other shooters.  So here's a note to manufacturers.  You go right ahead and "dabble" in smart gun technology.  I will purchase such a gun when hell freezes over.