BY Herschel Smith

11 years ago
On September 13, 1994, the U.S. Congress passed the ridiculous, obscene, ill-conceived, and meddling assault weapons ban.  It had a sunset provision wherein it expired within ten years of passing the law (see also HR 3355).  Enjoy the day as one of the better, more memorable celebrations in America.
I intend to celebrate by enjoying the entertainment and studying the science of the shooting sports, which I have previously defined this way.
While ATF lawyers might disagree, for something to have a "sporting purpose" means nothing more than it can be taken to the range and operated by the owner to his or her entertainment or training.  The shooting skills – whether for official competitions such as IDPA or 3-Gun, or for unofficial activities such as regular range visits for the purpose of betterment at the science of firearms operation – are sports.  All of them.  Period.  This is non-negotiable.  If it is a firearm, it has a sporting purpose.
Here are some of the weapons we will enjoy and study this weekend.  These would all be considered "assault weapons" under the ban.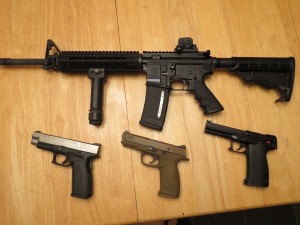 In the future, Congress is advised to stay out of our business.
Prior:
No One Needs ARs For Self Defense Or Hunting?