BY Herschel Smith

11 years, 7 months ago
Remember this visit to Moscow?  Remember this goofy-ass picture?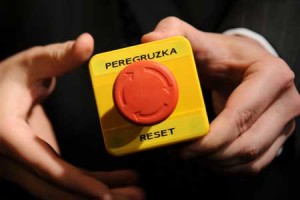 Perhaps the button has malfunctioned.
Russia's most senior military officer said Thursday that Moscow would preemptively strike and destroy U.S.-led NATO missile defense sites in Eastern Europe if talks with Washington about the developing system continue to stall.

"A decision to use destructive force preemptively will be taken if the situation worsens," Russian Chief of General Staff Nikolai Makarov said at an international missile defense conference in Moscow attended by senior U.S. and NATO officials.

The threat comes as talks about the missile defense system, which the U.S. and its allies insist is aimed at Iranian missiles, appear to have stalled.

"We have not been able to find mutually-acceptable solutions at this point and the situation is practically at a dead end," Russian Defense Minister Anatoly Serdyukov said.
Perhaps a better idea would be a reset in our so-called "smart diplomacy."