BY Herschel Smith

12 years, 10 months ago
Omar Fadhil sees the Maliki-Hakim-Sadr alliance as shaky.  Perhaps he is right, and while he sees Maliki as being at a crossroads, I still have serious doubts as to the future security and independence of Iraq (independence from Iran).  Maliki's "Hail Mary" pass on the vote recount has found no fraud.
In an embarrassing rejection of Prime Minister Nouri Maliki's efforts to overturn his rival's lead in Iraq's inconclusive parliamentary election, a laborious manual recount of votes in Baghdad has turned up no evidence of electoral fraud and will not change the final outcome, officials said Friday.

The recount was ordered nearly a month ago after Maliki's Shiite-dominated electoral slate alleged that as many as 750,000 ballots had been manipulated, with the worst violations occurring in Baghdad.

Had the allegations been upheld, the recount could have eroded the two-seat lead of former Prime Minister Iyad Allawi's faction. Allawi, a secular Shiite supported by Sunni Arabs, is claiming the right to form the next government as the head of the largest, if not majority, bloc in parliament.
Not finished yet, the duplicitous, lying and treacherous Ahmad Chalabi and the so-called Iraq "Justice Commission" intend to keep pursuing their political opponents in spite of being shut down by a panel of Iraqi judges.  Whether they  continue down this path or not, the entire effort is a front for Iranian interests, and everyone knows it.
The U.S. Marines are no longer in Anbar, and the balance of the U.S. forces are no longer effective in Iraq, because of the Status of Forces Agreement.  Confined to their bases with requirements to ask permission even to move outside the wire, they cannot assess atmospherics or gain intelligence.  They are effectively shut down except for training or assistance when requested by the ISF.  Security has degraded, and the ISF still relies on the U.S. for logistics, supplies, transportation and maintenance.  We are in the strange position of being Santa Claus without any authority over any aspect of the situation on the ground, both preventing the ISF evolution and maturity to a legitimate military force and watching as things unravel.
Abe Greenwald (h/t Michael Totten blogging at Instapundit) gives us a more optimistic picture in Kurdistan, a necessary read for anyone interested in Iraq.
The Kurds of the area known as the Kurdish Regional Government want to secure a free, democratic, and thriving Kurdistan. They are on their way to pulling it off. Personal safety here (where I am a guest of the KRG) is a given, so that most of the time, you forget you're in Iraq. Parts of Erbil resemble Miami, Florida. There are rows of manicured palm trees, bustling retail strips, car dealerships, and everywhere the organized rubble of construction …

Praise for America is ubiquitous. The Kurdish foreign minister told my group matter-of-factly, "It was your men and women, in uniform who shed blood, who overthrew Saddam." I heard a group of smart Kurdish students cite chapter and verse on American exceptionalism.

The Kurdish nation is bound to America like few others. Kurdish hopes for autonomy — after a history of being the victims of ethnic cleansing and mass slaughter — first became a precarious reality when George H.W. Bush instituted the northern no-fly zone over Iraq in 1991, three years after Saddam Hussein's Anfal campaign wiped out up to 100,000 Kurds with chemical weapons. With American protection in place, the Kurds began building infrastructure and honing their political vision. When George W. Bush toppled Saddam's regime in 2003, the Kurds, who make up about 20 percent of the Iraqi population, began building what they promote as "the other Iraq" in earnest.
Nibras Kazimi sees what is happening in Iraq as merely political bickering.  Strangely, he offers us several pictures, one of Ahmad Chalabi (on the very left) with Ayad Allawi.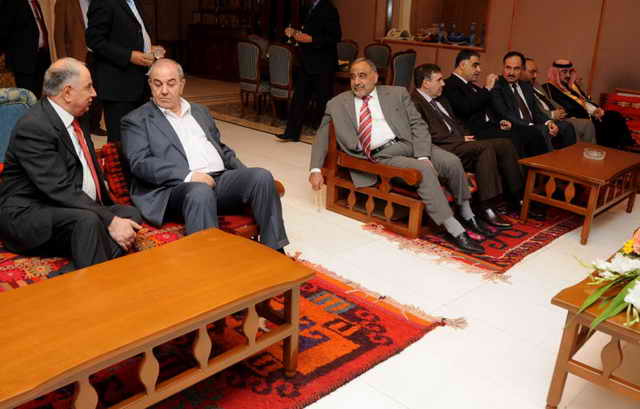 And this proves what?  That Allawi has to sit with the criminal Chalabi at the same table?  If it is an attempt at an exoneration of the situation in Iraq at this present, then in reality it becomes more a reflection of Kazimi's previous service to Chalabi.
With the likes of Sadr, Maliki, Hakim and Chalabi driving the ship, Iraq is set up for a long, difficult voyage.  Abe Greenwald closes his commentary with this observation.
In discussing the achievements of the Iraq war, those of us who support the Iraqi liberation have developed a journalistic tic whereby we must attach the disclaimers fragile and reversible to every positive development. This is probably wise, but in the effort to shed the "triumphalist" label, we've neglected to emphasize something else about achievements in Iraq. They are precious. Nowhere is this more achingly obvious than in Iraqi Kurdistan. There is a population of 4 million overwhelmingly Muslim, pro-American, pro-democracy political and cultural reformers in an oil-rich, strategically critical location in the Middle East. Somehow, the current U.S. administration sees no significant U.S. interest in this treasure, won with the blood of the American soldier. For a White House and a State Department that tout engagement as a panacea, the neglect to engage Baghdad leadership and keep the Iraqi experiment on a positive course is egregious.
Egregious indeed.  It was so when President Bush confirmed the Status of Forces Agreement, and it is so as President Obama continues down the path of appeasement of Iran.  In order to stop Iranian hegemony, the SOFA would have to be undone, U.S. basing rights would have to be permanently confirmed in Kurdistan, and a covert war engaged to undermine the Iranian regime and foment an insurgency inside of Iran.  This is the only option to avoiding a large and bloody confrontation with the radical Mullahs who see things in an eschatological context.  Ironically, what the American political left cannot see is that strong action now is the only alternative to horrible actions later.
Sadly though, Iran may become the only winner in Iraq.  All of this has precisely a zero percent chance of happening with this current cowardly and confused administration.  With the report that Greenwald gives us above, Kurdistan gives us the only shining beacon of light available in the region.  Will it be enough without increased U.S. involvement?