BY Herschel Smith

13 years, 9 months ago
Regular readers already know my history regarding special forces (and read here also special operations forces).  While on the one hand advocating specialized billets for certain forces that would  be too expensive to establish across the board, I have also strongly advocated against the reliance on SOF as direct action troops while relegating GPF (general purpose forces) to counterinsurgency efforts and policing the population.
SOF troops come in the middle of the night and kill high value targets (always members of some one's family), disappear into the night, and leave the GPF to explain the next day why it all occurred.  It's horrible for the campaign, bad for morale within the GPF, bad for maintenance of capabilities within the GPF, and bad for the overall qualifications of SOF and SF.
Furthermore, it misses the point of why SF were created.  Finally, it allows the degradation of the qualifications and capabilities of GPF by rule, regulation and law.  To rehearse yet another sore spot, I have strongly opposed women in combat billets, and yet with the division of SOF to perform DA missions and GPF to perform COIN, it makes it easier to justify women in these billets, especially if they operate out of huge bases rather than from combat outposts.  The Army in the Korengal Valley has proven that GPF can do what is needed in terms of DA missions and other combat.  The Marines in the Helmand Province have also shown why only males are allowed in combat billets (with combat loads of 120+ pounds).
The Small Wars Journal has an interesting commentary on whether SOCOM has outlived its usefulness.  You can read the entire commentary at the SWJ, but a few comments are lifted out and given below.
… many outside the military establishment are enamored with the myth and romanticism of Special Operations. There are so many "groupies" among staffers and in academia that it is hard to see Special Operations for what it really is and what it has become. And within the military, Special Operations has been "hijacked" by a group of hyper-conventional Ranger types and other supporting elements that Special Operations and most important, its heart and soul – Special Forces – has lost its way …

USSOCOM has allowed itself to become dominated by the hyper-conventional side of SOF with domination by the so-called direct action forces to the detriment of Special Forces, Civil Affairs, and Psychological Operations. The cultures of these two types of forces hinder effective cooperation and coordination. There is probably more disdain between the direct and indirect forces of SOF than there is between SOF and conventional forces.
The entire paper is worth the study time.  A comment made by MAJ Mike Dhunjishah is also telling:
As a former 7th SFG officer who has been away from group for several years, I find it interesting to talk to my contemporaries who, upon returning to group, find that SF has indeed "lost its way." I'm not sure who is to blame, but it seems as if Army SF is focused on DA at the expense of UW. After 9/11, Army SF filled a void that General Purpose Forces (GPF) could not regarding DA missions. However, now, 8 years later, the GPF have developed the capability to do all but the most complicated DA missions. Therefore, it is time for SF to do what SF was created to do; conduct missions that the GPF cannot. We need to refocus on the hard stuff, read UW, before we lose our institutional knowledge. Great article on some of the hard questions Army SF and the Special Operations community in general needs to address.
Finally, as one pictorial depiction of just what is being said, see this photo taken from Foreign Policy.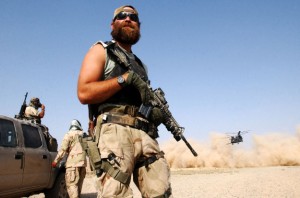 I'll let you read Foreign Policy's take on why this bearded SOF is not good for the campaign.  But take note of what has happened.  This special operator no longer looks anything like any of the Afghanis, even if he is SF and not SOF.  If he is SOF performing direction action operations along with other SOF operators, then with the backwards ball cap, sleeveless shirt and lack of a uniform, he simply looks like an undisciplined thug.  Nothing more.  He doesn't need to look like he does.  He has no compelling reason to appear thuggish and silly.
Again to the position that I have pressed: just like Force Recon Marines, attach all SOF to infantry (and Force Recon has no business with SOCOM, as they are simply another Marine billet attached to infantry).  If an infantry unit needs a specialized billet, then train to that billet.  Rely on GPF to perform most if not all DA missions, and this reliance will shape the force.  It's time to end the absurdity that has become SOCOM.  If you want the romantic notion of direct action SOF operators who perform missions like those that can be found in Call of Duty: Modern Warfare 2 (air support from the AC-130), then train a few operators to do this.  It's still better to make this capability more widely distributed rather than less, and to attach these troopers to infantry.
Prior:
Special Operations Forces Navel Gazing
Fathers and Sons, Diamonds and Goats
Special Forces category