BY Herschel Smith

13 years, 12 months ago
From Islandpacket.com: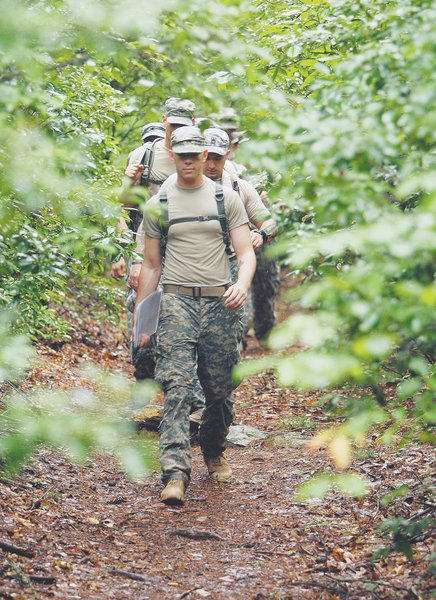 Drenched in sweat, Army Capt. Aaron Hall peeled off his soggy socks and applied a liberal dose of foot powder before slipping on a dry pair and rallying his troops back to their throbbing feet. For an outfit used to being ferried from fight to fight in armored vehicles, a 50-mile march through the Appalachians was a little much.

Perhaps no unit better exemplifies the challenges presented by the Army's transition from desert warfare in Iraq to rugged mountain campaigns in Afghanistan than the 3rd Infantry Division's 4th Brigade, whose tanks and Bradley assault vehicles were among the first to rumble into Baghdad in the 2003 invasion.

Under a 2007 plan to grow the Army and diversify its forces, 4th Brigade is the only mechanized unit being ordered to ditch its tanks and Bradleys and relearn how to move through a war zone on foot.

Which is how Hall and his soldiers found themselves zigzagging through the mountains of north Georgia, trying to cover 50 miles in three days. Even after serving last year as a platoon leader in Iraq, Hall wasn't used to that kind of exertion.

"Whenever they said 'road march,' it was pretty much get in your Bradleys and ride 20 miles," said Hall, 28, of Canton, N.C. "Now, it's put on your boots and your rucksack and start walking. We're our own transportation."

Commanders say the retooled brigade should be ready to deploy again late next year.

About 40 percent of the 3rd Battalion, 15th Infantry Regiment's soldiers are holdovers from the unit's previous incarnation as the 4th Battalion, 64th Armor Regiment.

After the unit returned from its third Iraq deployment in December, its tank drivers, gunners and mechanics transferred to other units as the switch to light infantry took hold. Many infantrymen trained to fight with Bradleys, tracked vehicles that resemble small tanks, stayed and now are getting used to fighting on foot.

As a mechanized infantry unit, each soldier had a designated seat in a vehicle. As light infantry, a rifle company of 135 troops has just five vehicles — Humvees and trucks — to share.

1st Sgt. Chad Brown learned to count on the Bradley's speed and lethal weaponry during his three tours in Iraq. His soldiers would travel to drop-off points shielded by the vehicle's thick armor, then conduct foot patrols under cover of its mounted machine gun and 25 mm cannon.

"Going from mech my whole career to light infantry, there is a concern of, 'Oh man, where is the heavy firepower?'<2009>" said Brown, 34, of Kingsley, Mich. "I've been shot at sitting in Humvees and in Bradleys, and obviously I feel much more comfortable sitting in a Bradley."

For soldiers used to the protection of armored vehicles, getting them comfortable with the added exposure of maneuvering on foot is mostly about back-to-basics training, as that's how troops just entering the Army learn to fight, said Maj. John Grantz, executive officer of the 3-15 Infantry.
Captain Hall is doing Marine-style humping.  But wait … WAIT … WAIT!  Maybe not.
In the interests of prompting, promulgating, promoting, protracting and prolonging highly destructive inter-service rivalries, I must ask the question, "where is the body armor?"  You know, that extra 32 pounds of weight (with the IBA) that drags you down?  And I see a day-pack (with hydration), but not the full backpack that comes in at 75+ pounds.  Tisk … tisk …
Recall our Marine in Helmand with 120 pounds plus a mortar plate?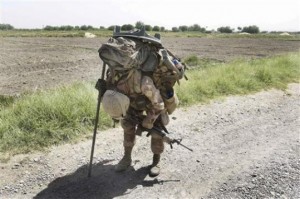 Okay, so much for the internecine rivalries.  I will be out of pocket for the weekend carrying a little bit less weight on my back through the Pisgah National Forrest and avoiding anything electronic or web-based including this web site.  Have a great weekend.  Go Army!  Go Marine!