BY Herschel Smith

14 years, 2 months ago
I have had my eyes on a knife at the MCX (Marine Corps Exchange) at Camp Lejeune for a while, and Sunday it was purchased for me.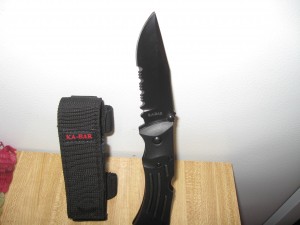 This is considered by Ka-Bar to be a utility knife (at least, it is included under the rubric "utility" on their web site).  But I must admit that in a long history of ownership of knives I have never held such a solid, hefty knife with such close machining precision in the action.  It has a stainless steel blade with a partially serrated edge, and it is extremely sharp.  Its folder is heavy enough that it has the feel of something special – something different than the simple camping and hiking knife.  It has a no-slip grip.
The sheath shows that Ka-Bar knows that this is more than a utility knife.  It holds the knife tight and has a belt loop or two loops for molle strap attachment to a tactical vest, vertical or horizontal orientation with Velcro and snap closure.  This would be a good gift for a Soldier or Marine deploying to Iraq or Afghanistan.
Ka-Bar has their own description.  They call it the Mule Folder, Serrated Edge.  I'm not saying anything about the price at the MCX compared to commercial price.