BY Herschel Smith

14 years, 3 months ago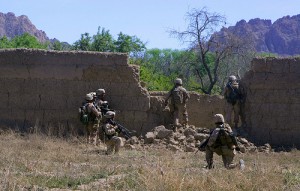 NOW ZAD, Helmand Province, Islamic Republic of Afghanistan – U.S. Marines maneuver through a wall to conduct site exploitation after a precision aerial attack during a combat operation in the abandoned village of Now Zad, Helmand Province, Islamic Republic of Afghanistan, April 3, 2009.
The residents of Now Zad were forced to abandon their homes nearly three years ago out of fear for their lives due to the strong presence of insurgents. By conducting combat operations here, Marines are bringing Now Zad closer to the reintroduction of Afghan-led governance.
The Marines of Company L, 3rd Battalion, 8th Marine Regiment (Reinforced), the ground combat element of Special Purpose Marine Air Ground Task Force – Afghanistan, have served in Now Zad since November 2008.
Now Zad, Afghanistan is in the news.
The 2nd Battalion of the 7th Marine Regiment had deployed to Afghanistan last spring to train Afghan police. But when Karell's platoon arrived in Now Zad, the largest town in a remote northern district of Helmand province, they'd rolled into a ghost town.

The Afghans who used to live here, more than 10,000, had been gone for several years, their abandoned mud-brick homes slowly melting into the dusty valley. Insurgents were using the place for R&R. At night, all you heard were the jackals, ululating like veiled, grieving women. The fact that Now Zad had no civilian residents, much less any police, had somehow escaped the notice of the coalition planners who had given the Marines their mission.

"They saw what they wanted to achieve but didn't realize fully what it would take," Task Force 2/7's commander, Lt. Col. Richard Hall, said at the time. "There were no intel pictures where we are now because there were few or no coalition forces in the areas where we operate. They didn't know what was out there. It was an innocent mistake."

So, with no police to train or civilians to protect, the Marines in Now Zad were left with the job of evicting the insurgents who had taken over the town.
Joshua Foust has an interesting take on this kind of narrative.
I think we're starting to reach the point at which you can only tell the same story so many times: U.S. military comes to town, finds out things are worse than they realized, learns their training sucks, and must adapt. Cue gunfire, the agonizing death of comrades, and the realization that you finally get it, and the guys who come to replace you in a few months will be better off as a result. Rinse, repeat.
Well, perhaps intelligence missed it.  Perhaps it would have been better to have known what Now Zad was like before deploying.  But Marines are generally trained at the range (iron sights at 500 yards), close and hand to hand combat in MCMAP, room clearing, language, culture, checkpoints and traffic control, squad rushes, fast roping, and other infantry tactics.  It's unlikely that they will face anything in Now Zad for which they cannot adapt.
The Captain's Journal has a different take on things.  Notice the tip of the hat to population-centric counterinsurgency with the horrible notion that there were no civilians to protect.  We have been as strong an advocate as possible of the idea of protecting the population from the Taliban.  But recall that in the context of the Army's presence at the Korengal Valley we also discussed enemy separation from the population – and targeting the enemy – as another line of operation.
But it will not always be this clear.  The enemy is who we are after, but to get to them at times requires focusing on the population.  Every situation is unique, and thus rather than finding a center of gravity, it is best to see the campaign as employing lines of effort.  In spite of the lack of adequate troops, the campaign will not be an either-or decision, focusing on the enemy or the population.  It will be both-and.

At times this will be extremely difficult, with the insurgency embedding with the population, shielding themselves with women and children, and hiding from U.S. forces.  Counterinsurgency thus proves to be a difficult mix of direct action military engagements, streetside conversations, visits to homes, learning the population and culture, and rebuilding the infrastructure.  There will be enough of this to go around for everyone in the campaign.

But just occasionally, the insurgents will separate themselves from the population, attempt to mass on a location, and go into conventional military formation.  When this happens and when U.S. forces can find it, it pays to kill them on the spot whether they are a direct threat or not.

Why are U.S. forces present in the Korangal valley?  The obvious answer is to kill the enemy.  It's the perfect circumstances, crafted by the insurgents themselves.  No women, no children, no surrounding infrastructure to be destroyed, only the enemy and U.S. troops.  We dread the difficulty of population-centric counterinsurgency and pray for such engagements.
Intelligence failure or not, Lt. Col. Hall shouldn't be apologizing for the fact that there are no civilians in Now Zad to protect.  This exigency should be the occasion for celebration.  It happened for the Marines in Garmser, and it's happening again in Now Zad.  God must love the Marines.
In counterinsurgency, rarely does the opportunity present itself to have an unhindered killing field to defeat an enemy militarily.  This is it.  Several hundred hard core Taliban fighters have garrisoned themselves in Now Zad without any civilian inhabitants whatsoever.  This question was asked earlier and answered by us in Major Combat Operations in Now Zad Afghanistan.  Why are the Marines there?  Answer: Because the Taliban are.
But in this marvelous AP report, we learn – again – that there aren't enough troops to clear and hold.  More are needed, and this is General McChrystal's job.  Finally, when population-centric counterinsurgency doctrine makes us question why Marines are killing the enemy, as Col. Gian Gentile would point out, the doctrine is no longer our friend.  We must allow the forces to discover the center of gravity.  In this case, we don't look a gift horse in the mouth.
Prior Featured Article: Taliban Tactics: Massing of Troops