BY Herschel Smith

11 years, 4 months ago
TheStar.com gives us a very important look into IEDs, patrols and counterinsurgency from Camp Carwile, Afghanistan.  The entire report is duplicated below since all of it contributes to our own analysis.
CAMP CARWILE, Afghanistan – The United States has 39,000 troops in Afghanistan and thousands more on the way, but soldiers are finding it increasingly difficult to keep the area around the capital safe from roadside bombs and gunfire.

Last Monday, four American soldiers stationed at Camp Carwile, just a few hours outside Kabul, were killed by roadside bombs that blew their armoured Humvees into the air. Two days later, three more patrols were hit by bombs. In that incident, no one was killed.

U.S. patrols are using cellphone jammers to try to thwart radio-controlled bombs, and they are installing vehicles with metal detectors. But while these techniques may be effective on dirt roads, on highways insurgents are switching to pressure-plate bombs that explode when driven over; setting off bombs with command wire; and putting explosives in concrete and steel culverts under paved roads.

Taliban fighters set up beyond the tree line hundreds of metres away and wait for American patrols.

"Sometimes they dig a hole in the main asphalt highway, put in the bomb, fill it in, melt tires overtop, and then spread dirt over that section," says Lt. Alvin Cavalier, whose platoon scours roads for improvised explosive devices. "No one can say they aren't effective."

Besides the threat of IEDs, soldiers say they're constantly targeted by mortars and gunfire, and efforts to cultivate relations with villagers are meeting with difficulty.

"We took out this high-value insurgent target a month or so back, and people here were acting like he was Robin Hood," says Sgt.-Maj. Dewayne Blackmon. "The whole town was in mourning over his death. They closed all the stores like he was a local hero. How do you change something like that?

"I understand it, I really do," Blackmon continues. "The Taliban shows up and says, `If you cooperate with the Americans, we will kill you.' They don't know how long we are really going to be in Afghanistan. So what choice do they have?

"This war isn't going to be won on technology. We need to be doing a better job relationship building."

Even relations between U.S. and Afghan soldiers are sometimes fractious. Afghan soldiers are no longer allowed on the U.S. section of Carwile after some were discovered stealing from American soldiers, and now, while U.S. troops live two or three to a room in wooden cabins and enjoy amenities such as a gym, large-screen TV and ping-pong table, Afghan troops live together in a single canvas tent, exposed to bone-rattling winds whipping off the nearby mountains.

"The Americans keep promising they'll help us build a hut, but it never comes," says Fawad Seddiqi, a 20-year-old translator who works for the U.S. Army but lives in the Afghan section of the base.

U.S. troops say they have reason to be wary of local Afghan soldiers and police. In March, Cavalier headed out from Carwile with his platoon on a routine patrol to scour the roads for bombs. During the patrol, a suspected drug smuggler and Taliban conspirator was detained. But the soldiers were ordered to turn the suspect over to Afghan police.

Two hours later, when U.S. Special Forces arrived at the base to question the suspect, he'd vanished.
Analysis & Commentary
This report documents a failing counterinsurgency effort – failing because wrong strategy has informed the tactics, techniques and procedures.  To begin with, why are Special Forces being brought in to interrogate a suspect?  Because of knowledge of Dari or Pashto?  Not a knowledge that is likely any better than their translator.  This is a misuse of Special Forces, who ought to be embedded as trainers with the Afghan forces (SF) or attached to infantry (SOF).
Speaking of translators, Sgt. Maj. Blackmon is right.  The U.S. needs to build better relationships.  During the Marines' tenure in Anbar, the Arabic translators were often considered as Marines themselves, and in fact, Iraqi translators have been allowed Stateside and joined the Marines.  What is their translator doing garrisoned with the Afghans?  A translator is perhaps the most important asset in the U.S. arsenal.  Why isn't he happy and fulfilled in his job?  Why is a situation allowed to exist where he has unaddressed complaints?
Speaking of being garrisoned, why aren't the forces out on foot patrol for extended periods of time?  What good does having a large screen TV and ping pong table do for the counterinsurgency effort?  Sgt. Blackmon is right again.  Technology will not win the war, from TVs to armored vehicles and cellphone jammers.  Infantry on foot will.
Every technological advantage we have will be turned against us with some low level, cheap and easy defeater by innovative insurgents.  MRAPS and other armored personnel carriers are merely ways to keep the U.S. from engaging both the enemy and the population.  Infantry belongs on foot.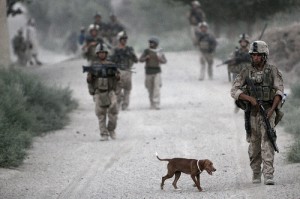 Corporal William Ash, a squad leader from 1st Platoon, Bravo Company, Battalion Landing Team 1st Battalion, 6th Marine Regiment, 24th Marine Expeditionary Unit, NATO International Security Assistance Force (ISAF), along with a stray dog lead a patrol through a city in Helmand Province, Afghanistan. When the platoon moved into the area, they found two stray dogs, and each time the Marines head out on patrol the dogs are right at the Marines' side.
Camp Carwile may be a good place to rest, eat and relax in between patrols, all the while providing good force protection.  But this force protection has a purpose.  It is to allow resupply, regrouping and recuperation.  It should only be a temporary station between protracted, continual multi-day foot patrols from smaller FOBs and combat outposts.
Killing insurgents like Sir Robin Hood will convince the population that it's too dangerous to fight the Army.  Spending time with the population will convince them that the Army is able to protect them from people like Robin Hood, who in reality, brings violence and takes what little wealth they have.  Sgt. Blackmon needn't worry – they don't really want Robin Hood there.  They want security.