BY Herschel Smith

13 years, 12 months ago
For the Aussies, it isn't clear, but it had better be from home or they'll get pissy.
There have been few if any complaints about the Dutch troops in Afghanistan from the other countries in the coalition forming the International Support and Assistance Force (ISAF). Generally they are regarded as valuable colleagues doing a good job.

However, there is one problem being experienced by the 800 Australian troops who share the Tarin Kowt military base in Uruzgan province with Dutch troops. The Dutch are in charge of the mess and the Aussies are less than happy about the food. There have been so many complaints about the Dutch food being "tasteless" and "not fresh" that the issue has been raised in the parliament in Canberra.

At a special defence budget hearing, Australia's military commander air chief marshall Angus Houston commented: "It's not Aussie food, it's European food. People have been quite strong in their views about the European food". Senator David Johnston said, "I think it was an insult to them. The least they could expect when they are deployed for six months is that they can eat proper food".

The Dutch cooks at Tarin Kowt serve around 2500 soldiers a day, a mix of Dutch, Australian, French, Slovakian and British troops. The food is prepared in the Netherlands, frozen and then shipped to Karachi in Pakistan. From there it goes by road to Afghanistan. With delays at the border, the journey can take as much as two or three months. Because of food safety considerations, ISAF bases are not permitted to use local Afghan fruit or vegetables. Those are flown in from Dubai.

Houston told the Australian parliament: "We listen to our people. Our people have indicated they'd like some Aussie food." A team of Australian military cooks has been rushed to Afghanistan.
Hmmm … proper food.  Well, the eating establishment looks something like this.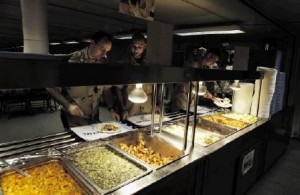 It is fairly well known that Australia won't allow any troops but their Special Operations Forces to actually participate in kinetic operations in Afghanistan.  Now here is a picture of vittles for the U.S. Marines in Helmand (Garmser, where is there no electricity).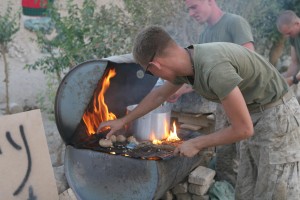 Well, perhaps if Australia would allow their infantrymen to deploy and perform infantry tactics and maneuvers in Afghanistan, they wouldn't be so obsessed with "proper" vittles at a posh FOB as the Aussie SOF.