BY Herschel Smith

14 years, 11 months ago
Nine months ago in Plan B for Supplying Troops in Afghanistan The Captain's Journal addressed alternatives to the highly dangerous and unreliable passage through the Khyber pass and Torkham Crossing.  Since then our coverage and analysis of the issue of logistics has been unmatched in open source literature, including the forecasting of this very strategy almost one year ago.  If the testing for alternative means of supply have not been studied seriously for the last nine months, the studies are serious now.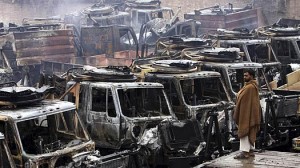 .
Perhaps the Taliban are observing the old military axiom that amateurs study tactics, while professionals study logistics. In a pair of attacks over the weekend in northwest Pakistan, militants destroyed more than 150 Humvees and other vehicles bound for U.S. troops and allies fighting in Afghanistan — the third attack on NATO supply lines inside a month. Those attacks have highlighted an ongoing vulnerability along the overland routes through mountain passes along the Afghanistan-Pakistan frontier that are used to transport more than 75% of the supplies sent by the U.S. to its 32,000 troops in Afghanistan. So, as President-elect Barack Obama prepares to send more troops to join the fight in Afghanistan, Pentagon planners are scrambling to figure out how to keep those already there — and the anticipated reinforcements — supplied with food, fuel, bullets and everything else a modern army needs.

"Without adequate sustainment, the operational deployment cannot maintain constant pressure on the enemy," Lieutenant Christopher Manganaro, a young U.S. officer in Afghanistan, has written in the professional journal Army Logistics. And the Pentagon can't do it all with airplanes. "Few airfields in Afghanistan can support aircraft larger than a C-130," Manganaro added, "limiting the number of high-value items that U.S. Army units can transport by air."

Militants hijacked a convoy of more than a dozen vehicles nearly a month ago, and last week 22 trucks were destroyed by fire at a truck stop. U.S. military officials downplay the impact of recent attacks, noting that about 350 supply vehicles travel the route every day. Still, they're nervous enough to have begun looking for alternatives.

That's because the choke point in the Khyber Pass is an attractive target for the enemy. Marine General James Cartwright, vice chairman of the Joint Chiefs, was asked in September how much trouble his forces in Afghanistan would be in if Islamabad shut down supply lines through Pakistan. "It would be challenging to sustain our presence," he answered. "It is very difficult then to get to this landlocked nation in a way that would provide the quantity of resources that we need, particularly as we see ourselves growing." Bearing in mind projected future deployments, the U.S. will need to deliver up to 70,000 shipping containers (15% of them refrigerated) a year to its troops in Afghanistan.

The U.S. has recently tested alternate supply lines, and "we're working our way through to understand rail, pipelines, customs, what would it take, are they there in a sufficient scale to allow us to do this? And so we're working this one pretty hard," Cartwright added. The impact of a shutdown triggered by Taliban attacks would have the same result.
The alternatives earlier included routes such as through Uzbekistan, which is problematic in its own right since there is no means of transit of supplies to the points of dispatch in Uzbekistan except via air from Germany (Russia is not likely to allow significant supplies through its territory given the recent tensions over Georgia and the Ukraine).
Since the force projection and force size must increase if Operation Enduring Freedom is to succeed, and since logistics is problematic no matter the force size (but more problematic given a larger force size), the recommendations of The Captain's Journal nine months ago were prescient then and even more important now.  Logistical alternatives must be found, but the surest way to pressure the Taliban in Pakistan is to engage in kinetic operations against them in Afghanistan.  Pakistan must be part of the equation for logistical supply to NATO, but they cannot be the only variable in the equation.
Prior:
Large Scale Taliban Operations to Interdict Supply Lines
More on Lines of Logistics for Afghanistan
How Many Troops Can We Logistically Support in Afghanistan?
Targeting of NATO Supply Lines Through Pakistan Expands
Logistical Difficulties in Afghanistan
Taliban Control of Supply Routes to Kabul
Interdiction of U.S. Supplies in Khyber Pass