BY Herschel Smith

15 years ago
Glenn Reynolds links the Small Wars Journal on a potential surge in Afghanistan, and Michael Yon weighed in saying that in his opinion the proposed 25-40K troops won't be enough.  Then Glenn asks a salient and insightful question: How many troops can we support, logistically, in Afghanistan?  Glenn has been carefully examining the reports.
The Captain's Journal has a right to weigh in on this subject because first of all, we have been advocating a surge for Afghanistan for at least one year, manned partly by an expeditious withdrawal of Marines from the Anbar Province as recommended by Commandant Conway (we are, after all, a Marine blog).  Second, we make very few forecasts,  but when we do, we have good track record of accuracy.  When Army intelligence was claiming that there wouldn't be a spring offensive in Afghanistan, we said that there would be a two-front Taliban offensive, one by the Tehrik-i-Taliban in Pakistan and the other in Afghanistan by the followers of Mullah Omar.
We also described the strategy of interdiction of NATO supplies into Afghanistan many months before it began to occur.  Afghanistan is land-locked, and transportation of supplies and ordnance to U.S. and NATO troops occurs basically in three ways.  Ten percent comes into Afghanistan via air supply.  The other ninety percent comes in through the port city of Karachi, of which the vast majority goes to the Torkham Crossing (and then to Kabul) via the Khyber pass, with some minor portion going to Kandahar through Chaman.
This interdiction of supply routes by the Taliban is an integral part of their offensive.  The Taliban have been successful in stopping and confiscating some of the supplies, and Pakistan officials have temporarily stopped transit of sealed containers through Khyber.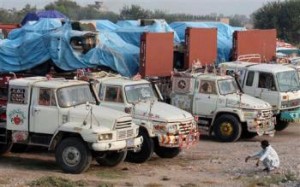 A Pakistani driver sits beside parked trucks loaded with supplies for American and NATO forces, Sunday, Nov. 16, 2008 in Peshawar, Pakistan. Pakistan has temporarily suspended oil tankers and trucks carrying sealed containers from using a key passage to Afghanistan, an official said Sunday, a move that will likely impact supplies heading to U.S. and NATO troops. (AP Photo/Muhammad Iqbal)
So returning to the question of logistical support of U.S. troops, there has been an impact from insecurity thus far, and assuming a closing of the transit routes by Taliban fighters, no logistics would be sustainable.  But ironically, an increase in force projection in Afghanistan will bring its own logistical rewards and unintended [good] consequences.
We tend to see the struggle through Western eyes, and where we see territorial borders, the Taliban and al Qaeda see nothing.  It is we who see the phantom, not the Taliban.  The enemy is a transnational insurgency and knows no borders, and operations against them in Afghanistan will cause pressure in Pakistan as well.  Fighters from Pakistan have been sent to assist fighters in Afghanistan on a regular basis, and Baitullah Mehsud has made it one of his duties to support the anti-government efforts in Afghanistan.  Logistics and the degree to which supply routes remain operational will be a function of pressure on the Taliban, and the coupling of these two variables is inversely related.
Does this analysis not sound convincing because it is open source and proferred by a non-professional?  Very well.  Listen to a jihadi say it: "If NATO remains strong in Afghanistan, it will put pressure on Pakistan. If NATO remains weaker in Afghanistan, it will dare [encourage] Pakistan to support the Taliban, its only real allies in the region."
While analysis at The Captain's Journal relies mainly upon open source information from jihadist web sites, Pakistani, Afghan and other news sources, 95% of which can be Taliban propaganda on any given day, we were right on the danger in Khyber based on these sources, as well as the fact that there would be a two-front spring offensive.  The trick is to know when it's propaganda and when it's not.
The U.S. should continue to work on alternative means of supply, as well as pressure the Pakistan Army to continue operations against the Tehrik-i-Taliban in Khyber and in and around Peshawar.  But the surest way to put pressure on the Taliban is to conduct kinetic operations against them in Afghanistan.  Pressure on the Taliban anywhere will redound to open supply routes.
UPDATE: Welcome to Instapundit readers, and thanks to Glenn for the interest.