BY Herschel Smith

15 years, 1 month ago
Seven months ago The Captain's Journal published Taliban and al Qaeda Strategy in Pakistan and Afghanistan in which we outlined a major prong of the coming strategy to cut off supplies to NATO forces through Pakistan. We followed this up with a discussion of the importance of the Khyber Pass and the Torkham Crossing, the Northern border crossing through which supplies flow, and which has been the target of attacks against fuel tankers and other traffic.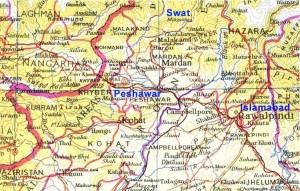 We've also discussed the Talibanization of Karachi, Karachi being the only port through which supplies flow. Thousands of Taliban fighters have entered Karachi in a sign of the increased enemy interest in controlling this vital hub of transit. From Karachi the supplies go to the Southwestern Pakistan city of Chaman to cross into Afghanistan or to the Northwestern province of Khyber and then to the Torkham Crossing, eventually arriving in Kabul unless interdicted by the Taliban. The Taliban have worked to close both of these supply routes. But recently they have moved their targeting South of the the city of Peshawar and the Khyber Pass. In other words, they are expanding – not moving – their points of interdiction. They are now targeting the supplies as they come North from Karachi to Kohat.
The Pakistani army is locked in a fierce battle to stop fuel and arms supply routes to British and American forces in Afghanistan falling under Taliban control.

Last week Pakistani troops launched a series of raids on villages around Peshawar, capital of the North West Frontier Province, in pursuit of a Taliban commander blamed for bomb attacks that have destroyed more than 40 fuel tankers supplying Nato troops in Afghanistan.

They claim that Mohammad Tariq Alfridi, the commander, has seized terrain around the mile-long Kohat tunnel, south of Peshawar, three times since January. He has coordinated suicide bomb attacks and rocket strikes against convoys emerging from it.

The Taliban attacks stretch all the way south from the Afghan border to Karachi, where weapons, ammunition, food and oil supplies arrive at the docks before being transported by road.

Last week western diplomats in Karachi said there had been an alarming increase in Taliban activity in the city. Local politicians said they had been warned by intelligence officials that 60 Taliban families had fled to Karachi from tribal areas close to the Afghan border and had begun to impose strict Islamic law. They had recently posted notices throughout the city forbidding girls from going to school.

The army's antiTaliban offensive in the tribal areas appears to be hitting the militants hard. Last week Maulvi Omar, a Taliban spokesman, said that his fighters would lay down their arms if the army ceased fire. His offer was ignored.

The battle for the tunnel began at the start of the year when Taliban fighters seized five trucks carrying weapons and ammunition. They held the tunnel for a week before they were driven out in fierce fighting. Since then Tariq and his men have returned several times to attack convoys. The army launched its latest onslaught after a suicide bomb attack at one of its bases near the tunnel six weeks ago. Five people were killed and 45 were injured, including 35 soldiers, when a pickup truck packed with explosives was driven into a checkpoint.

When The Sunday Times visited the approaches to the tunnel last week, several bridges along the road bore the signs of explosive damage and bullet holes. Villagers said the Taliban had not fled but had melted into the background to wait out the army assault.
Pakistan is not just strategically important for U.S. interests in Afghanistan. Pakistan is quite literally in a fight for its continued existence. The Pakistan army's juvenile preoccupation with expansion and war with India will become deadly if not relinquished in favor of a realistic view towards self preservation from internal threats.
Intensive negotiations (and eventually, pressure) must be brought to bear to secure the supply lines into Afghanistan, and eventually to obtain permissions for U.S. operations. Currently, 90% of NATO supplies enter through Karachi, while a total of 80% go to Torkham through Khyber, with the remaining 10% going to Chaman and finally to Kandahar. Only 10% come into Afghanistan via air routes. The 10% that comes in via air supply is about to become very important, and unless Pakistan can secure the supply routes, the amount coming into Afghanistan via air supply must increase (e.g., through India over Pakistani Kashmir or other routes).